From Russia with Hate: What's not to like about billionaire Andrey Borodin's life?
A £140m Henley mansion, a supermodel wife: you'd have thought he would be the object of envy? But then there's that string of powerful enemies he left behind who are now threatening his fortune – and life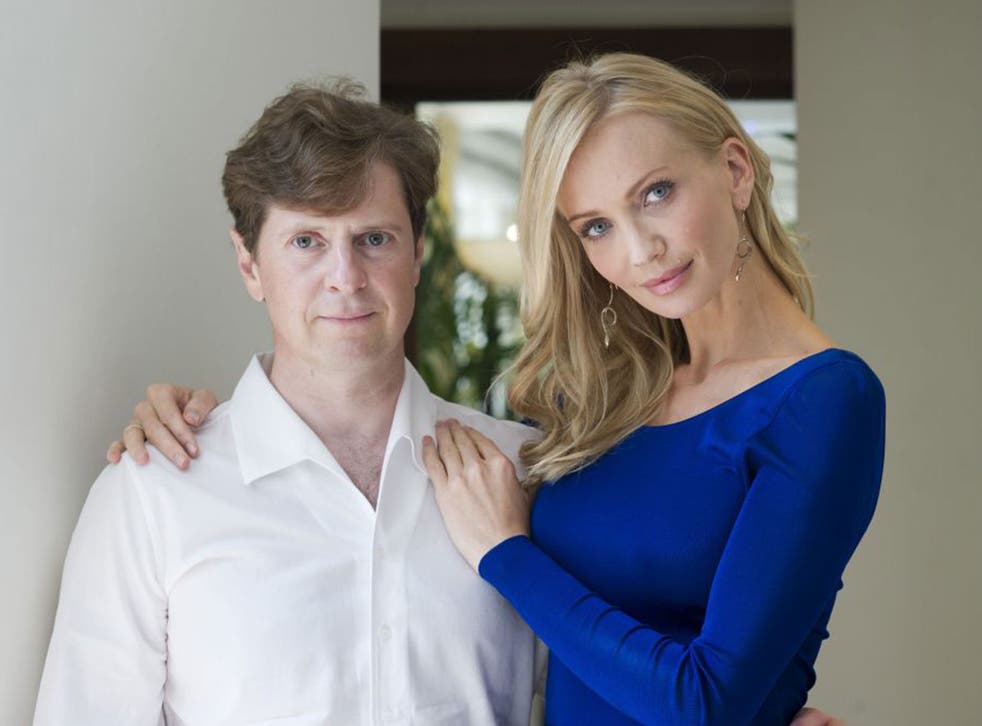 According to local legend, Park Place, a sprawling mansion in Henley-on-Thames whose £140m price tag makes it Britain's most expensive home, is haunted by Mary Blandy, a well-bred young woman who poisoned her father in 1751 with arsenic in the odd belief it was a love potion.
Unfortunately for Andrey Borodin, the billionaire one-time Russian banker who is the present owner of Park Place, there are more concrete threats to his well-being than the esoteric wanderings of Miss Blandy and her novel take on amorous liquids.
The 46-year-old, who currently tops the Kremlin's list of alleged fugitives it wants to drag back to Russia – and, as a result, enjoys Britain's protection as a recipient of political asylum – is being assailed by threats to his life and his fortune from locations as diverse as Chechnya and Switzerland.
In the latest of a series of blows –which Mr Borodin, who occupies Park Place with his supermodel wife, Tatiana and their young daughter, sees as evidence of what happens to those who fall out with Vladimir Putin's regime – the banker is facing legal proceedings in Switzerland aimed at returning at least part of $368m (£244m) in frozen assets to the bank he once ran.
The Bank of Moscow is understood to be preparing a legal claim to claw back funds from Mr Borodin after it was last month declared an "injured party" by the Swiss courts in a wrangle over funds which the Russians claim were embezzled by Mr Borodin and one of his deputies.
Despite buying his Grade II-listed fastness, complete with 18 cottages and 200 acres of park land, and installing himself in one of Britain's swankiest neighbourhoods, the banker continues to be pursued, if not by Ms Blandy, then by various spectres from his previous existence in Russia.
The result is that, although he intends at some point to resume his business career, he finds himself having to dedicate his time not to admiring his view of the Thames but fighting on several fronts to resolve legal cases.
Mr Borodin, who is sought by Moscow on fraud and corruption charges, which he strongly denies, and who was granted asylum in February, told The Independent: "Given that my successful application for asylum in the UK included all details of the Russian criminal investigations and argued that they are politically motivated, I now believe that the Russian authorities are via the media trying to lend credibility to their claims by referring to the Swiss investigation."
He added: "My lawyers are engaging with the Swiss authorities and I am confident that a satisfactory conclusion will be reached in the not too distant future."
The banker, who is the son of a Soviet rocket engineer and a German translator, might be forgiven for thinking that – one way or another – the Russians are out to get him. It emerged in April that Mr Borodin was the target of a potential assassination plot involving a hitman who claimed to have been approached by Chechen political figures and offered as much as £600,000 to kill him in Britain.
The banker, who is a close ally of the former mayor of Moscow Yury Luzhkov, arrived in Britain in March 2011 after a warning that, following years of lucrative success negotiating Moscow's treacherous nexus of business and politics, his star was on the wane.
The details of the assassination plot, brought to the attention of MI5 after the hitman pulled out of the deal, were considered to be credible.
Thames Valley Police approached Mr Borodin with a warning that his life was under direct threat. The Independent understands that the Russian was served with a so-called Osman letter – a formal notice of a potential murder plot, along with advice on how to respond.
The plausibility of the plot, which followed an earlier incident in which a member of Mr Borodin's staff driving his car was followed at high speed on the M4 by another car with false number plates, is thought to have been a factor in the decision by the Home Office to grant him political asylum.
He said: "I understand that the investigation by the UK authorities is ongoing. The UK authorities regarded the death threat against me as credible."
Even this is not the end of the banker's legal troubles. His former wife, Tatyana Repina, has launched a lawsuit claiming $2.2m in relation to child support for their two sons.
Mr Borodin denied any failure to support his children and accused his wife of seeking control of funds set up to provide for the boys. He said: "I can confirm that I have met all my child support obligations put in place after my divorce. In addition, I have set up substantial trusts for my sons' benefit."
The businessman has trodden an increasingly well-worn path between the Moscow elite to the refuge of London, and then onwards to the mansions of the Home Counties. Perhaps unsurprisingly, Mr Borodin has described Britain as "comfortable", with "very nice people".
Rather like Boris Berezovsky, to whom he has been compared, Mr Borodin has moved from the inner circle of Russia's ruling elite to the more exposed status of one of its monied detractors with considerable speed –gaining the protection of the British state and attracting the ire of the Kremlin.
Mr Borodin, who, like his ill-fated predecessor, has started to fund human-rights groups in Russia, sees little evidence that Mr Berezovsky – found dead at his Ascot house some 14 miles from Park Place earlier this year – died of anything other than financial and psychological ruin.
As a technocrat rather than an oligarch, Mr Borodin is a different stripe of exile from Mr Berezovsky, having worked for Germany's Dresdner Bank for three years before returning to Moscow to act as Mr Luzhkov's economic adviser.
The two Home Counties exiles nonetheless share a similar trajectory of falling from a position of considerable influence. Whereas Mr Berezovsky billed himself as the kingmaker who helped Mr Putin to power, Mr Borodin made his reputation as Mr Luzhkov's money man, setting up the Bank of Moscow in 1995 in conjunction with city authorities and eventually steering it to become Russia's fifth-largest bank.
Mr Borodin, named Russia's best banker for two years running in 2000 and 2001, and his bank are accused of making improper loans of more than $440m to shell companies from which the money was then transferred to Mr Luzhkov's wife, Yelena Baturina, the owner of a construction empire.
For his part, the banker claims he was made to sell his stake in the bank for £465m, less than half its value, as part of a political takeover on behalf of the then president, Dmitry Medvedev.
In a recent interview, Mr Borodin said: "In order to take over the Bank of Moscow, which was run by myself and my partners, they started several criminal investigations, which are completely of a political nature and fabricated. I was told that someone at the very top of Russia politics had instructed the court to arrest me. I can definitely imagine it was Mr Medvedev."
Anti-corruption campaigners, including Alexander Lebedev, who part owns the Russian investigative newspaper Novaya Gazeta and is the financial backer of The Independent, have criticised Mr Borodin and the decision by Britain to grant him asylum, which Mr Lebedev has described as "just not right".
The Kremlin has also made its displeasure clear, claiming that Britain has offered itself as a haven to someone facing charges of a "pure criminal nature". As Natalya Timakova, Mr Putin's press secretary, put it when Mr Borodin was granted asylum: "There is now a practice of seeking political asylum – especially in England –whereby it doesn't matter what the seeker has done. What matters is how loudly he shouts about political persecution."
It is a clash of individuals, bank accounts and nations which is unlikely to be resolved any time soon. In the meantime, Mr Borodin, who is unable to travel abroad because of an Interpol "red notice", which he is seeking to have removed, can at least console himself with owning Britain's most expensive gilded cage.
Join our new commenting forum
Join thought-provoking conversations, follow other Independent readers and see their replies