Russian naval fleet sailing towards English Channel with flagship aircraft carrier and nuclear-powered destroyers
Aircraft carrier transporting fighter jets, combat helicopters and cruise missiles to Syria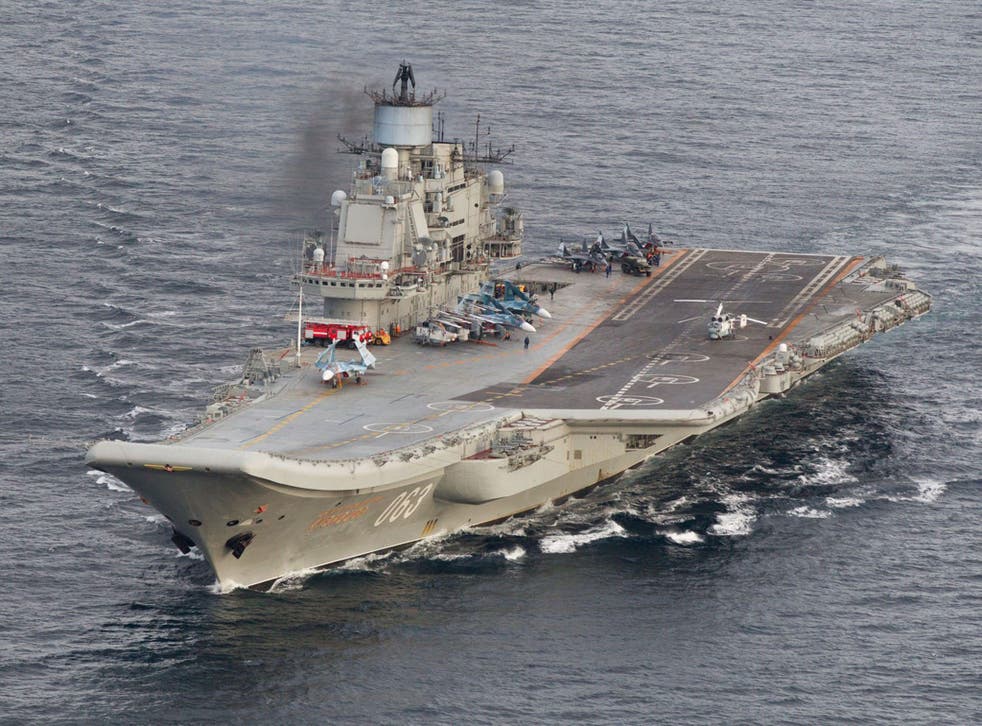 Russia's flagship aircraft carrier is leading a fleet of naval ships heading towards the English Channel as they journey towards Syria.
The nuclear-powered Admiral Kuznetzov is one of seven vessels photographed off the Norwegian coastline on Monday en-route to the eastern Mediterranean, with the most likely passage taking them through the North Sea, Dover Strait and English Channel before heading south.
The Admiral Kuznetzov is loaded with fighter jets, reconnaissance and combat helicopters and cruise missiles to be used to bolster Russia's bombing campaign in support of President Bashar al-Assad.
Norway's National Joint Headquarters said the fleet was shadowed by a Norwegian naval frigate as it passed through international waters.
Major Elisabeth Eikeland, a spokesperson for the Norwegian army, told the AFP news agency the "tone was good" with the Russian ships.
The Admiral Kuznetsov is escorted by the Pyotr Veliky (Peter the Great) battlecruiser, the Vice Admiral Kulakov destroyer, Severomorsk destroyers and several supply ships - all part of the Northern Fleet - the Russian defence ministry said.
Russia's Nezavisimaya Gazeta newsapaper claimed the Russian naval force is the most powerful to sail in northern Europe in two years.
It is the latest show of military power from Russia, after a series of incidents seeing fighter jets approach Nato members' airspace in what has been compared to Cold War-style "brinkmanship".
In pictures: Russian air strikes in Syria

Show all 19
The deployment came amid continuing international tensions over Vladimir Putin's intervention in Syria, with Russia announcing a temporary pause in the bombardment of rebel-held eastern Aleppo on Tuesday as a show of "goodwill".
Monitors say the campaign in support of President Assad has killed thousands of civilians in indiscriminate air strikes violating international law, while Russian authorities maintain they are targeting Isis and other "terrorists".
The defence minister, Sergei Shoigu, announced the Admiral Kuznetsov's deployment last month, saying it would bolster Russia's capability in the region, where it already has around 10 ships.
A spokesperson for the Royal Navy said British forces and Nato "routinely monitor" foreign warships nearing territorial waters.
Join our new commenting forum
Join thought-provoking conversations, follow other Independent readers and see their replies