'You are the antidote to the sadness': Sadiq Khan's powerful message to LGBT Pride in London
Mayor of London hosted LGBT+ community at city hall for first time in seven years
Josh Withey
Wednesday 05 July 2017 17:33 Comments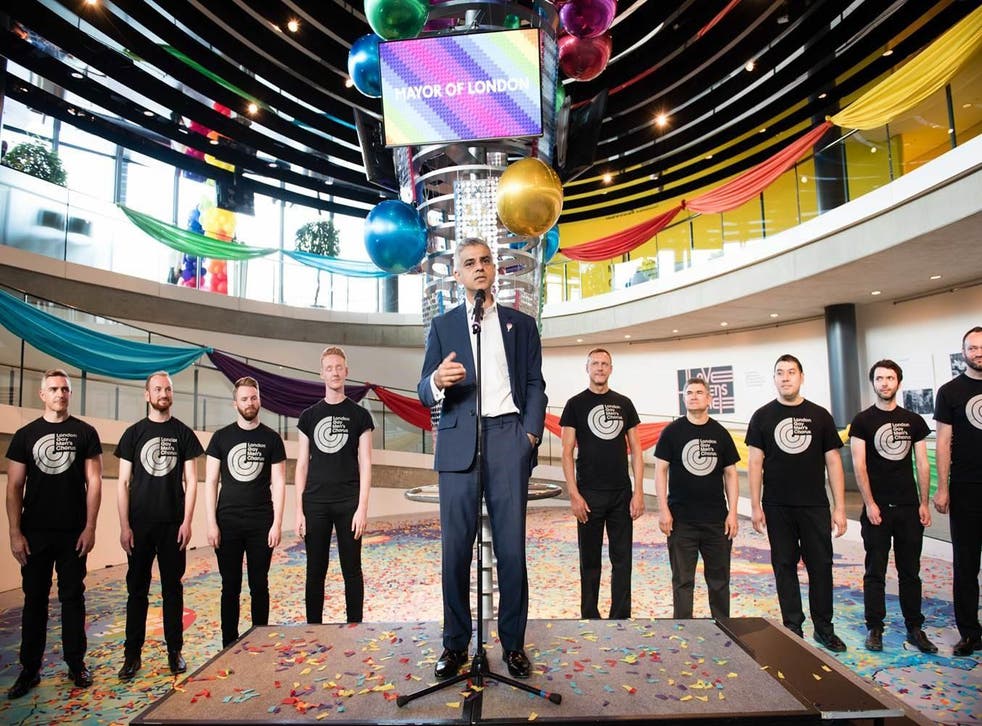 Pride in London, the annual celebration of the LGBT+ community, is to return to the capital's streets this weekend.
The festival takes place over 14 days, and features a range of events - in addition to the hugely popular 8 July parade - aimed at raising awareness around some of the major issues facing the community; including homophobia, biphobia, transphobia and everyday discrimination in the workplace.
At a Pride Reception at City Hall, the first of its kind for seven years, Mayor Sadiq Khan welcomed members of the LGBTQI community, representatives from UK Black Pride, and Pride in London, ahead of the festivities.
While chatting about being the first Mayor of London to appear at a Pride march in the capital, joking about Kylie Minogue songs during his campaign ('I should be so lucky, lucky, lucky, lucky to become mayor') and showing off a T-shirt with the word 'Masc' on it, Mayor Khan had some more serious points to make.
"We're here to have fun. We're here to have an amazing Pride in London on Saturday. But we recognise [...] that these are tough times for those of us who live here," he told those gathered
"These are tough times for the LGBT+ community."
Praising Stonewall co-founder Michael Cashman for his work paving the way for LGBT rights in the country, Mayor Khan remarked that while the capital had come a long way, "there was no space at all for complacency".
"We've got to make sure we're vigilant against anybody who incites hatred.
"And one of the things we have to do is celebrate who we are. As Michael said, I don't want to be 'tolerated'. Nobody should be tolerated for their sexuality or their ethnicity, or their faith, or because of who they are. They should be celebrated, respected and embraced."
Reflecting on last year's Pride, Mayor Khan said that it took place just "days after the tragedy in Orlando" - the horrific gun attack at the LGBT nightclub Pulse, where 49 people lost their lives in 2016.
He went on to discuss the recent attacks in London Bridge and Finsbury Park, saying: "These past five weeks have been the toughest this city has seen for many years.
"These are unprecedented times. But you and me, on Saturday, are the antidote to that hatred. You on Saturday are the antidote to the sadness, the struggle and the grief."
"As long as I'm Mayor of London, you will be welcomed, you will be celebrated and embraced. Love happens here."
After Mayor Khan had finished his address to members of the LGBTQI community and press, noted rights campaigner Peter Tatchell shouted out from the audience, criticising an alleged restriction on the number people allowed to march in the Pride in London parade.
Speaking to the Independent, Mr Tatchell said that City Hall, the Metropolitan Police and Westminster City Council "have a duty to explain why they have imposed an artificial limit of 26,500 marchers in the Pride parade."
Mr Tatchell went on to say that "the ethos of Pride is that it should be open to everyone", adding that "Pride organisers are hugely concerned about the amount of money it costs to put on the parade, but if it was a political march, there would be no cost whatsoever."
In a statement the Independent , Mr Tatchell clarified that:
"I was referring to the cap on participants forced on the Pride organisers by the Mayor, Westminster council and the Metropolitan Police. They never dictate similar limits on the equivalent Notting Hill Carnival. It is outrageous that people who want to march cannot. This goes against the whole spirit of Pride."
Returning to the stage following Mr Tatchell's remarks, Mayor Khan took up the mic again and said:
"We have the largest number of floats this year. We have a record number of walking groups, this year. We'll have more than a million people on Saturday, this year."
He went on to add: "I will defend my record against any mayor in the history of this city. Have a great Pride."
Peter Tatchell said: "Sadiq refused to answer my question. I am a big supporter of the Mayor but I found his unwillingness to respond to a legitimate question very disappointing.
"The Mayor's only riposte was that he looked forward to celebrating Pride with 'a million people' on Saturday.
"Sadiq has been misled. There is nothing like a million people at Pride London. It is one of the smallest Prides in any European capital city, far outsized by Berlin, Paris, Amsterdam and Madrid."
Responding to Mr Tatchell's criticisms, a spokesperson for the Mayor told the Independent: "The Mayor will lead this year's Pride in London parade – which promises to be the biggest ever - with 81 floats and 231 walking groups. Over one million people will line the streets in an event which will celebrate London's LGBT+ community and show that London will always be a beacon of inclusiveness and diversity."
A Pride in London spokesperson also told The Independent that every person who had applied to be in the parade, 'is in the parade'. Adding: "The demand for places in our parade has been greater than ever before.
"In order to meet the requirements of our agreement with Westminster Council and relevant authorities, the size of the official parade does have an upper limit. In response to feedback about space and waiting times we have worked to extend the length of this year's parade and make sure it's not only one of the biggest ever parades London has seen, but also a better experience for all involved.
"Around 1pm people are expected to come and enjoy the day."
Pride in London takes place on Saturday 8 July. UK Black Pride will take place on Sunday 9 July. And the community-style event Pride in the Park is taking place on Sunday 9 July.
Register for free to continue reading
Registration is a free and easy way to support our truly independent journalism
By registering, you will also enjoy limited access to Premium articles, exclusive newsletters, commenting, and virtual events with our leading journalists
Already have an account? sign in
Join our new commenting forum
Join thought-provoking conversations, follow other Independent readers and see their replies