Londoners urged to leave cars at home as polluted air drifts in from Europe
Almost 10,000 people in the capital die from long-term exposure to air pollution every year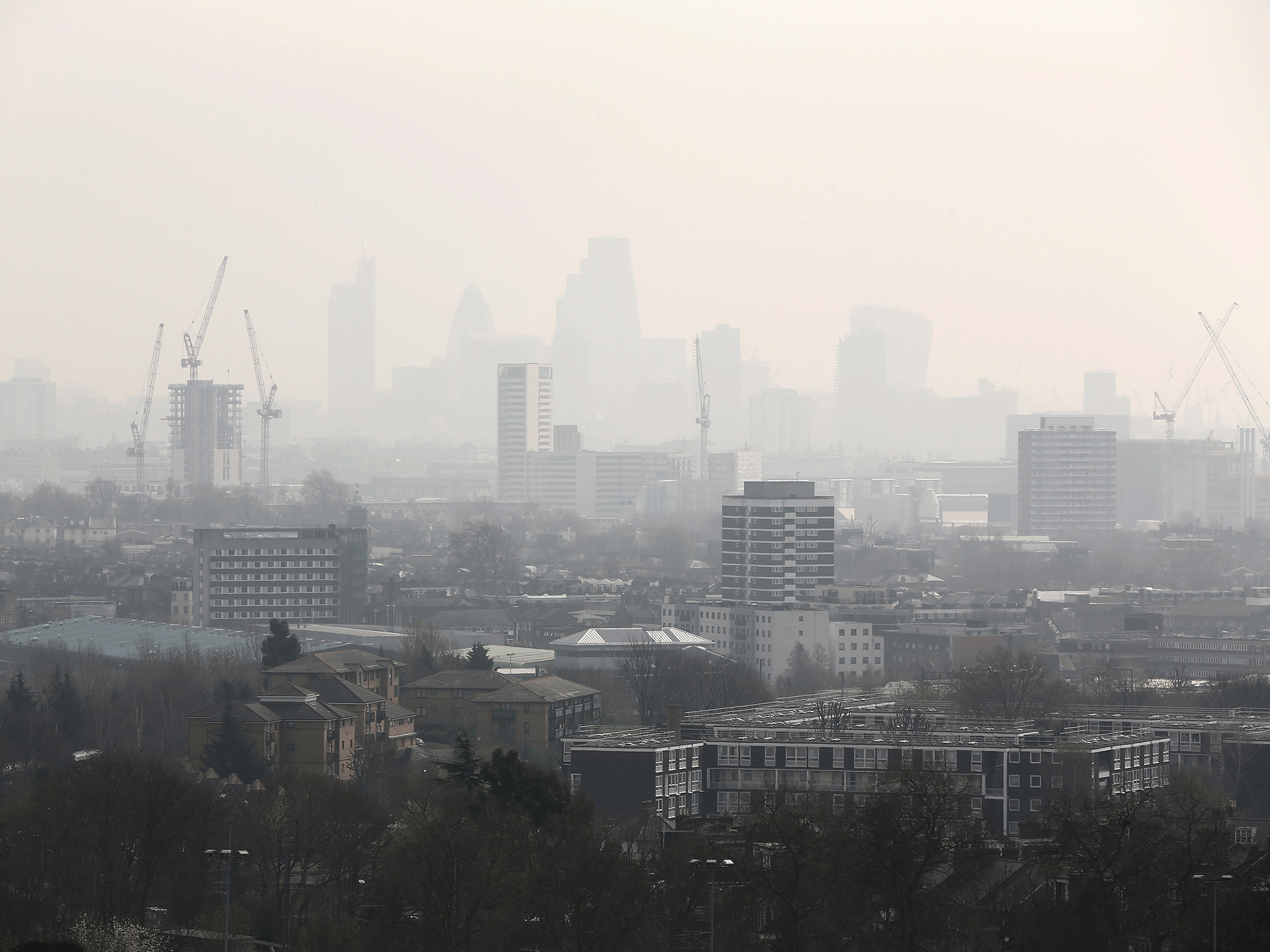 Motorists in London were to leave their cars at home on Monday as air pollution drifted in from Europe.
Westminster and the City were among the worst-affected areas, along with other busy roads, while the rest of London was issued with "moderate" warnings.
Experts at King's College's pollution monitoring centre, London Air, said levels of toxic fumes were thought to be particularly bad in the capital as polluted air flows across the channel from France.
Green Party Assembly Member Caroline Russell said car-free days were no replacement for decisive action on the capital's traffic problem.
"It's great the Mayor has issued air pollution warnings but these don't go far enough, you need to tackle pollution at its source not just tell people that it's happening," she told The Independent.
"I have supported the Mayor's idea for Paris-style 'car free' days but car free days are no substitute for decisive action on air pollution and traffic reduction."
Green Party peer Jenny Jones suggested Mayor of London Sadiq Khan should urge motorists not to drive during the air pollution spike.
Public Health England advice for moderate air pollution cautions adults and children with lung or heart problems, who experience symptoms, to consider reducing strenuous physical activity, particularly outdoors.
Pollution is considered by the size of its particulate matter, with PM2.5 thought to be particularly dangerous for its ability to enter the lungs and seep into the bloodstream.
Diesel emissions are also known to produce high amounts of nitrogen dioxide pollution, thought to be significantly more harmful than emissions from petrol vehicles.
Mr Khan recently announced plans to spend £770 million on cycling schemes over the next five years to make cycling a "safe and obvious choice for Londoners".
Ms Russell, who launched the plan Prioritising People in November to encourage the mayor to do more to deliver healthy streets, said extra investment was the only way to reduce pollution in the capital.
"Obviously the best way to bring pollution down is to make driving a bit less convenient and walking, cycling and public transport much more convenient, pleasant and affordable," she told The Independent.
"Those vulnerable to dirty air risk their health just stepping outside their front doors. How much more are Londoners expected to take?"
According to City Hall, nearly 10,000 people die each year as a result of London's poor air quality.
The Mayor has already pledged to pedestrianise Oxford Street and introduce low emissions zones in the capital to tackle the problem.
Last week, he introduced "anti-idling" pollution alerts at 2,500 bus stops and river piers, the entrances of all 270 Tube stations and on 140 signs next to the busiest main roads into London, with instructions to switch engines off when stationary to reduce emissions.
A spokesperson for Mayor of London Sadiq Khan said: "The Mayor is delivering hard-hitting measures to rid London of the dirtiest diesel long before 2025.
"His immediate plans include charges for the most polluting diesel cars in central from 2017 and bringing forward and extending the Ultra-Low Emission Zone which removes all but the newest Euro 6 diesel vehicles from as early as 2019.
"Across London all heavy vehicles will have to meet the same Euro 6 standard which removes the oldest models.
"The Mayor is transforming London's buses into one of the greenest fleets in the world and last week announced no more pure diesel buses will be procured from 2018. The Mayor is doing everything in his power to tackle London's toxic air and get rid of the most polluting vehicles, but he cannot do this alone and is calling on the Government to face its responsibility and implement a national diesel scrappage scheme now."
Join our new commenting forum
Join thought-provoking conversations, follow other Independent readers and see their replies