Hundreds of thousands of women download safety apps after Sarah Everard's death
'Sarah's tragic murder has shone a light on the fears that many women experience in their daily lives,' says app spokesperson
Maya Oppenheim
Women's Correspondent
Tuesday 23 March 2021 20:33 Comments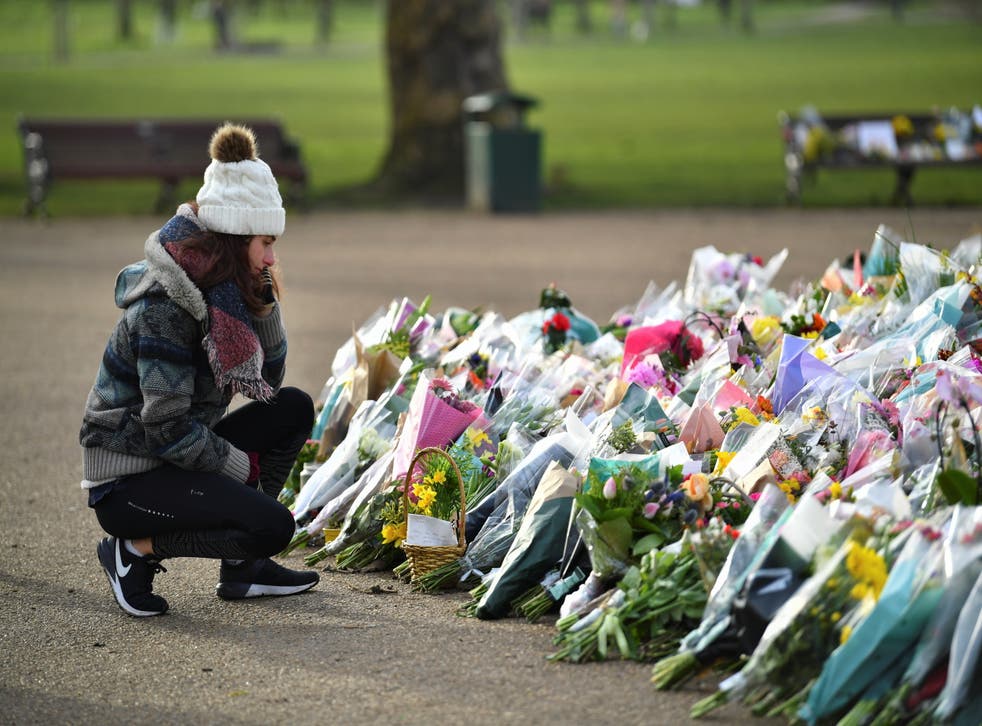 Hundreds of thousands of women across the UK have downloaded safety apps on to their phones in the wake of Sarah Everard's disappearance and death.
The case of Ms Everard, a 33-year-old marketing executive who went missing after leaving a friend's flat in Clapham earlier in the month, has sparked a flood of women staging protests and sharing their personal experiences of men harassing and assaulting them in public spaces.
Hollie Guard, a personal safety app, has gained an average of 2,608 new users each day in the last month - a substantial increase from the average of 395 new users each day it had previously.
Klara Sudbury, a spokesperson for the app, told The Independent the total of new users signing up to the app in March was a record high.
Read more:
Ms Sudbury said: "Sarah's tragic murder has shone a light on the fears that many women experience in their daily lives.
"Many of us are fearful from a young age about the threat of men we do not know and also sadly about men we do know.
"Sarah was allegedly murdered by a police officer - someone who is supposed to protect us. Women shouldn't have to change our actions to keep ourselves safe, but there is technology which can help."
Relatives of Hollie Gazzard, who was stabbed to death by her ex-boyfriend at the hairdressers she worked at in Gloucester in 2014, helped set up the free mobile app.
The application instantly informs your selected contacts, telling them your location and sending audio and video evidence straight to their phones, if an individual shakes or taps the app in a moment of danger.
Two women are killed by a current or ex-partner a week on average in the UK. While the annual Femicide Census estimates stranger killings constitute one in 12 of all killings of women by men. Some 119 women were killed by men who were not known to them between 2009 and 2018.
Safe and The City, another personal safety app, said 25,000 new people had downloaded the app across the UK since Ms Everard's case first emerged in the news - adding there had been a 7300 per cent rise.
Jillian Kowalchuk, the app's founder, told The Independent: "There is more of a spotlight on women's safety concerns in the wake of Sarah Everard's death.
"Women are feeling unsafe. A lot of us will be feeling a lot less safe in the midst of Covid and returning to public safes. The Everard news shakes people and reminds people of their difficult experiences with harassment in public spaces."
Ms Kowalchuk said the app is similar to Google Maps or CityMapper in that it helps people travel from A to B, but explains it utilises official crime data and anonymous reporting of incidents of sexual harassment or assault from the app's users.
"It's not about scaring people but providing information to people to make their own decisions," she added. "We are not prescribing a one size fits all approach. One area can be fine to one person and scary to the next."
She said the app has an SOS button that directly connects users to the police - adding that 500 people in total have used the feature to connect themselves to the police since the app was launched back in 2018.
"It's another available option to call the police in a discreet way," Ms Kowalchuk said. "The app is able to inform people there have been several reports of something happening in an area."
She decided to start the app after two men threatened to sexually assault her when she was walking through an alley in Soho in Central London a few years ago, she said.
Ms Kowalchuk added: "They came out of a backdoor. It felt like a repetitive pattern. They were comfortable doing it. I don't think it was the first time they had jumped on a vulnerable woman. There was nothing I could do to stop them if they wanted to help themselves to me. They were making those suggestions.
"They blocked my way. They were much bigger than I was. It was very threatening and intimidating. I was unnerved. When I reached my friend at a restaurant, she said she'd had so many other experiences. That sparked the idea. I never went back to that restaurant or walked through that area."
A recent study by UN Women revealed 97 per cent of young women in the UK said they had been sexually harassed, while 80 per cent reported experiencing sexual harassment in public spaces.
The poll of more than 1,000 women, aged between 18 and 24, found the sexual harassment included being groped, followed and coerced into sexual activity.
Emma Kay, a co-founder of WalkSafe, another personal safety app, said they had reached 500,000 downloads as of today - adding new people signing up has spiked in recent weeks.
She added: "Tragically due to the death of Sarah Everard, we've seen an increase in women reaching out to us who have taken an increased interest in personal safety. There have been some tragic events. That has spurred people to try and take control of their personal safety.
"We really believe the app shouldn't have to exist. If creating it helps just one person in a bad situation then we feel its worth it."
Register for free to continue reading
Registration is a free and easy way to support our truly independent journalism
By registering, you will also enjoy limited access to Premium articles, exclusive newsletters, commenting, and virtual events with our leading journalists
Already have an account? sign in
Join our new commenting forum
Join thought-provoking conversations, follow other Independent readers and see their replies