Four children killed in Salford house fire petrol bomb attack 'after feud' involving car
Court hears hours before fire, accused shouted: 'All your family's getting it, they're all gonna die'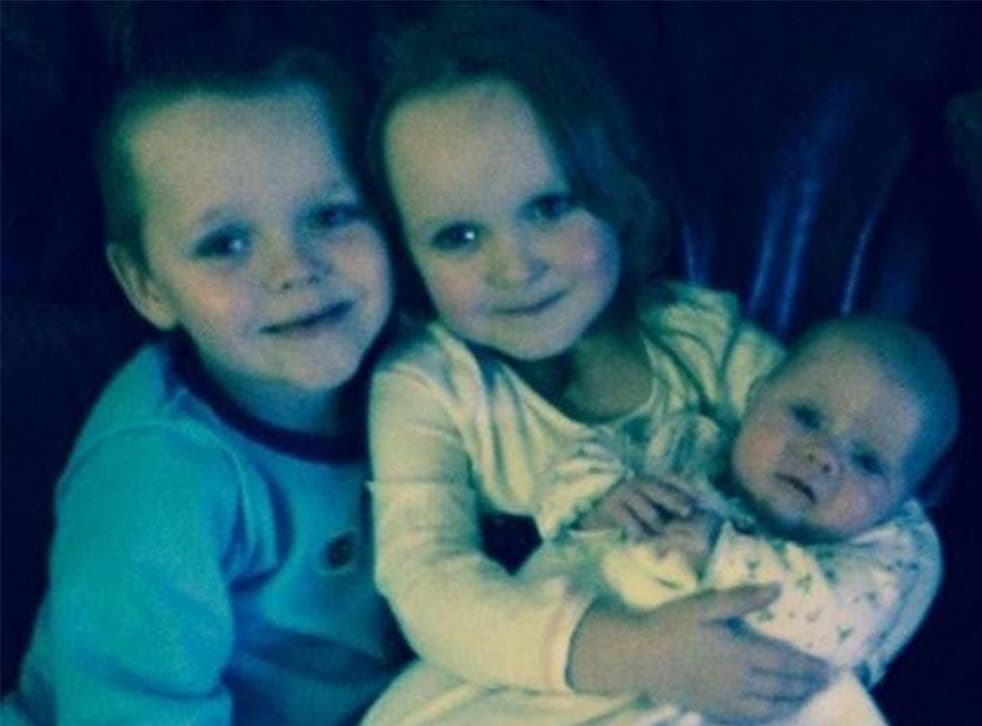 A man accused of murder shouted that a family was "all gonna die", hours before four sleeping children were killed when their home was torched with petrol bombs, a court heard.
Zak Bolland carried out the fatal attack following a dispute with 16-year-old Kyle Pearson, a jury at Manchester Crown Court was told.
Prosecutors alleged that the 23-year-old, along with co-defendant David Worrall, smashed a kitchen window at Mr Pearson's home, tossing two petrol bombs into the house in Walkden, Salford, on 11 December 2017.
One landed near the stairs, blocking the only exit to the ground floor and trapping the victims upstairs as flames engulfed the three bedroom mid-terrace house.
Four of Mr Pearson's younger siblings, Demi, 15, Brandon, eight and Lacie, seven, who had been sleeping in a front bedroom, all died in the blaze.
"Their apparently lifeless bodies were recovered by the firefighters who attended and battled their way through the heat, smoke and flames," Paul Reid QC, prosecuting, told the court.
Their mother, Michelle Pearson, 35, was rescued along with her youngest daughter, Lia, aged three, who died in hospital two days later.
Kyle Pearson managed to escape the fire, along with a friend, Bobby Harris, who had also been staying at the house.
The teen saw the light from his sister Demi's mobile phone at the window before she coughed in the thick smoke then appeared to fall away from the window, the court heard.
Jurors were told that the firebombing was the culmination of weeks of feuding between Mr Bolland and Mr Pearson.
The pair had been friends until the defendant's Ford Focus was set on fire a fortnight before the attack, an incident he blamed on the teenager.
Mr Bolland demanded £500 and sent harassing text messages, before both sides launched attacks, breaking windows at each other's homes. The accused then threatened to fire bomb Mr Pearson's house, the court heard.
The threat led Mrs Pearson to call police on 26 November and the fire service fitted a letter box cover to their property as a result.
An "apparent misunderstanding" meant officers took no action against Mr Bolland for the incident and he returned to the Pearsons' home days later to taunt them, shouting "grass", the court heard.
Ms Pearson again called police and asked for a restraining order, but two days before her children were killed, her bin was set on fire and the word "grass" was spray painted on the house.
Four hours before the fire, Mr Bolland and Mr Worrall attacked the property again, the court was told, before Mr Bolland shouted: "Watch, all your family's getting it, they're all gonna die."
When police arrived they took a statement from Mrs Pearson, one officer checking on the children upstairs, who were asleep.
UK news in pictures

Show all 50
Jurors heard Mr Pearson was "really worried" they would return, taking a door that was not attached to its frame and wedging behind the front door to reinforce it.
Mr Bolland, his girlfriend Courtney Brierley, 20, and father-of-one Mr Worrall, 25, all deny four counts of murder.
They also deny three counts of attempted murder relating to Michelle Pearson, Kyle Pearson and Bobby Harris.
Mr Bolland has admitted reckless arson, a charge denied by the other two.
The trial continues.
Additional reporting by PA