Samim Bigzad: UK Government's attempt to deport Afghan asylum seeker fails after pilot refuses to take off
Passengers alerted to man's plight by campaigners raise concerns with cabin crew at Heathrow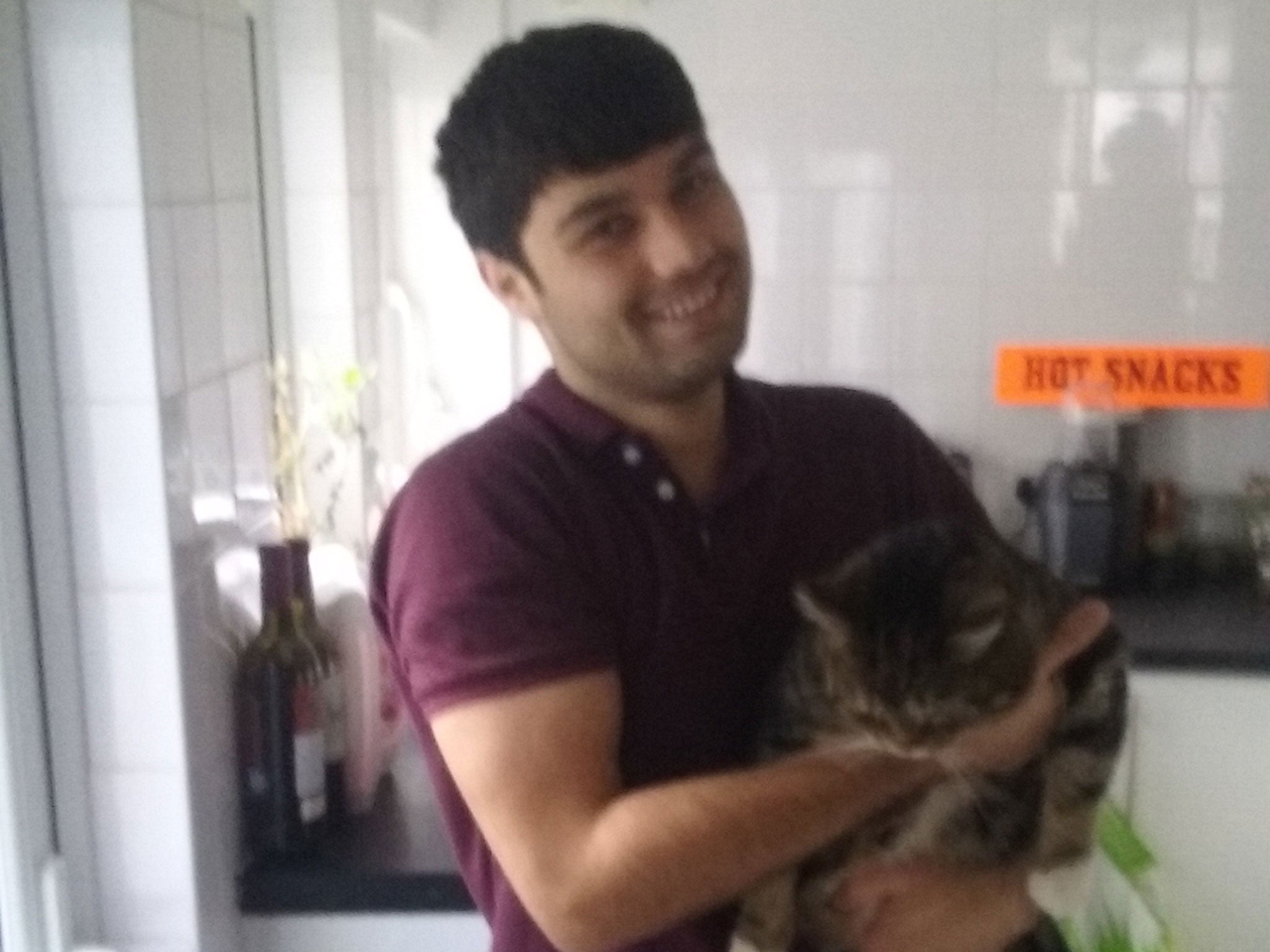 The deportation of a young Afghan man refused asylum by the Government has been dramatically stayed after the pilot of the plane he was supposed to be removed on refused to take off.
Samim Bigzad's friends and family feared their efforts to prevent him being forced back to Kabul had failed when he was detained and booked on commercial flight to Afghanistan via Istanbul.
The 22-year-old's cousin previously told The Independent he feared he would be killed in the city he fled two years ago after being threatened with beheading by the Taliban.
More than 3,000 people had signed a petition appealing for the deportation to be delayed so Mr Bigzad's asylum claim could be reviewed.
Campaigners travelled to Heathrow Airport to talk to unwitting passengers due to be on the same Turkish Airlines flight, in the hope they would raise objections to crew members.
Bridget Chapman, who organised the trip, said activists "very quietly" approached tourists at the check-in gate to explain their flight was being used to forcibly deport Mr Bigzad.
"We asked people to do whatever they were comfortable with raising it with airline staff," she told The Independent.
"Airport security asked us to stop after a while, but by that point most people had boarded."
Another campaigner who travelled to Heathrow, who did not want to be named, said they hoped to alert the plane's pilot to the deportation because of their power to refuse passengers.
"Pilots have a duty of care towards their passengers, so if they feel there's a passenger at risk or who will disrupt the flight, they are obliged to ensure they don't fly on the plane," he added.
Ms Chapman, who is chair of the Kent Anti-Racism Network, said campaigners "genuinely thought they had failed" when the flight eventually took off 45 minutes late.
But later that evening she received a message from a British woman who had been hosting Mr Bigzad in Margate saying he was back in a UK detention centre.
Kavel Rafferty said she had given up all hope for the asylum seeker, who has been staying with her for four months, when she received a phone call from the Brook House immigration removal centre near Gatwick.
"The last message I'd had from him was so sad – it just said 'they've come to take me' and then the phone was switched off," she added.
"But then he rang that night and told me 'the pilot said no'. He was happy and relieved and shocked – it was a lot to go through in one day.
"We don't know the name of the pilot but there are so many people who would like to thank him."
Mr Bigzad's cousin, a British citizen who also lives in Margate, said his family hopes to use the delay to gather more evidence for a new asylum claim.
"There were three guards who tried to force him onto the plane…my cousin was crying and shouting 'I'm going to get killed in Afghanistan'," Arash told The Independent.
"Samim said they were in the tunnel by the door when the pilot came out and said: 'You're not going to take him, I'm not flying. Someone's life is at risk.'
"The guards took him back to Brook House – I really don't know what will happen next."
Turkish Airlines, which also operated a connecting flight planned to take Mr Bigzad from Istanbul to Kabul, has not yet responded to a request for comment on the incident.
Regulations issued by the European Aviation Safety Agency state that a pilot is responsible for the "safety of the aircraft and of all crew members, passengers and cargo on board", giving them power over who boards the plane and when or if it takes off.
With another deportation attempt expected, Arash is attempting to have the Afghan interior ministry send a letter to the British Government confirming they cannot guarantee Mr Bigzad's welfare.
He accused the Home Office of using impossible requests for original documents from Kabul and other bureaucratic obstacles as "excuses" not to offer his cousin protection.
"When you leave a warzone you think you come here and you're going to be alright, you think people will understand your situation but then it goes against you," Arash added.
"People who come from a safe country don't have issues when they come here for work, I don't understand it.
"If Afghanistan was safe, I wouldn't be here myself."
Mr Bigzad was repeatedly threatened by the Taliban because of his work for a construction company that had contracts with the Afghan government and American firms – both regarded as enemies by the Islamist insurgents.
After receiving phone calls telling him he would be beheaded by militants who knew where he lived and worked, he risked his life to reach the UK via Turkey, Greece and France, almost suffocating in a lorry from Calais.
He arrived in Britain in November 2015, moving to Kent to join relatives and care for his father, a British citizen and former Afghan national who suffers from mental illness after being imprisoned and tortured by the Taliban in the 1990s.
But Mr Bigzad was refused asylum and denied permission to appeal. He was detained without warning during a routine appointment an immigration office in London in July.
Protesters demand better security in Kabul
Show all 10
Arash said his cousin "will be killed" if he is forced back to Afghanistan, where the Taliban still controls huge swathes of the country and launches regular terror attacks and assassinations.
The group, which refers to itself as the Islamic Emirate of Afghanistan, captured Kabul in 1996 and has brutally targeted anyone accused of colluding with the government or Western "imperialists".
Charities have called on the British Government to halt deportations as the conflict between the government, Taliban and insurgent groups linked to Isis and al-Qaeda worsens.
Recent months have seen a spike in terror attacks in Kabul – where a suicide bombing killed at least five people on Tuesday – but deportations continue.
Flights resumed last year after the Court of Appeal ruled in favour of Theresa May, then the Home Secretary, and declared the Afghan capital safe for returns – despite the Foreign Office advising against "all but essential travel" to the city for Brits.
A spokesperson for the Home Office said they could not comment on individual cases but insisted all asylum claims were carefully considered on their merits.
"All country policy and information is based on a careful and objective assessment of available evidence from a range of sources including media outlets, local, national and international organisations, and the Foreign and Commonwealth Office," she added.
"We continually review our country policy and information to ensure it is up-to-date, accurate and relevant, so that staff can make fair and considered decisions."
Kabul suicide bombing kills at least 24 and leaves 40 injured
Home Office statistics show that only 34 per cent of asylum applications were granted in 2016, with the rate for Afghan applicants standing at 35 per cent, sparking criticism from humanitarian groups amid worsening violence in the country.
There has also been heavy criticism over the plight of Afghan military interpreters who have been refused asylum despite being targeted by the Taliban because of their "collusion" with British forces.
Ms Chapman said Mr Bigzad was "clearly in danger", adding that his deportation followed a series of controversial asylum decisions on Afghans.
"There's a real push to deport people and specifically around Afghans, they seem to be particularly harsh," she added.
"How can it be safe to return asylum seekers to Afghanistan despite the fact the advice for tourists is not to go?"
Ms Chapman said campaigners would repeat their efforts if the Home Office seeks to put Mr Bigzad on another commercial flight.
"We don't know what made the difference – the piece in The Independent, the social media campaign, if it was a passenger speaking to staff…but something somehow got through to that pilot and I would kiss him if I could," she added.
"We will not let up, we will do everything we can do keep Samim safe."
Join our commenting forum
Join thought-provoking conversations, follow other Independent readers and see their replies