Sarah Reed: Prison officer 'told to delay calling ambulance' after woman's body found dead in cell
Inquest into vulnerable woman's death in prison begins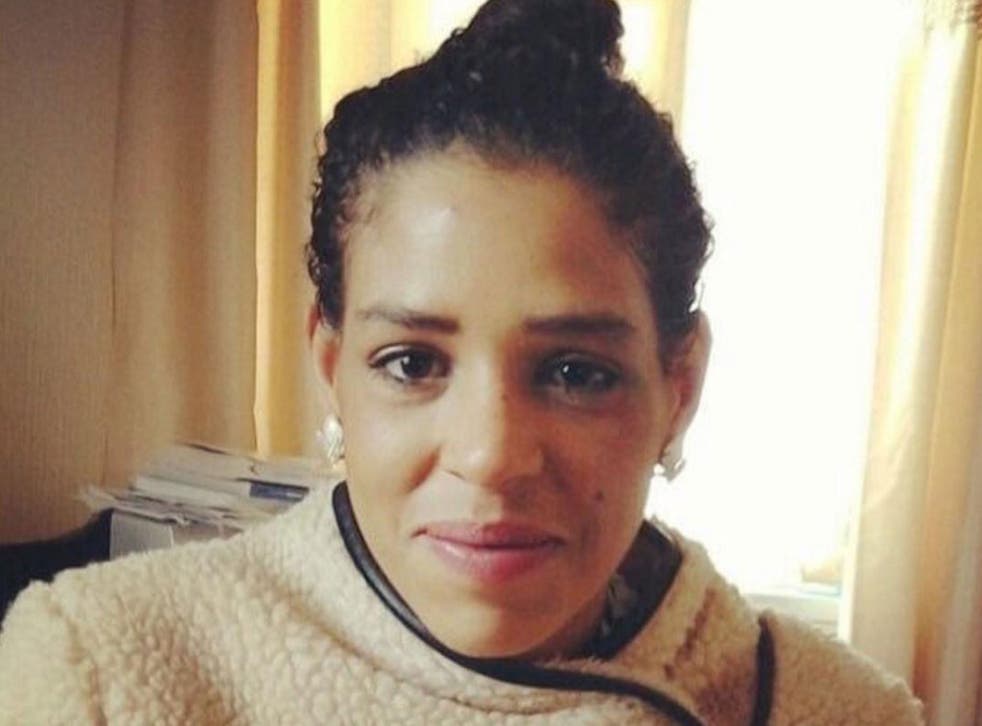 A prison officer has reportedly told an inquest how a colleague suggested they delay calling an ambulance after discovering Sarah Reed dead in her cell at Holloway Prison.
Reed, who was black, died in January 2016 after what her mother described as a "collective failure" of authorities.
She had suffered a long history of mental health problems after her baby daughter, who had muscular atrophy, died suddenly in 2003.
Her death has raised serious questions over institutionalised racism in the mental health and criminal justice systems, the detention and care of vulnerable people under the Mental Health Act and the treatment of women prisoners.
At the inquest, Answar Dinn said he was the first staff member at Holloway to see her on the morning she allegedly took her own life, according to an ITV report of the hearing.
He said she was standing by the sink and did not reply to his "good morning" around 7am, the broadcaster said.
He then heard shouting and banging on the door, and when he next looked through the hatch of the cell, she was lying on the bed with strips of linen tied around her neck.
He said he shouted her name but she did not respond.
Mr Dinn told the jury one of his colleagues suggested he delay alerting the control room with a "control blue" message to call an ambulance, but Mr Dinn shouted, "Call a f***ing code blue now!"
The 32-year-old woman could not be revived.
Her family was not allowed to see her body for three days and were given conflicting accounts of how she was found.
Reed had been taken to Holloway after an altercation at a mental health hospital which campaigners say had seen her defend herself against sexual assault by another patient.
In prison, charged with grievous bodily harm, she awaited trial.
Her family claimed she should never have been moved to prison or denied her medication.
The coroner told the inquest that Reed had never recovered from the sudden death of her baby in 2003, and that she and the father were given the baby's body wrapped in a sheet to take to the undertaker in a taxi.
She also suffered from bulimia, alcohol and substance abuse and schizophrenia.
In 2012 she came to national media attention when CCTV footage caught the moment she was physically assaulted by former police officer James Kiddie after he falsely accused her of shoplifting. He received 150 hours of community service.
Policeman dismissed after assaulting woman - London Live
Her mother, Marilyn Reed, said she had been distressed by her daughter's tired appearance and unusual behaviour in prison the last time she saw her. Reed said she was not able to sleep but they would not give her sleeping pills, and staff had removed the television over the Christmas and New Year period.
Ms Reed told her daughter: "Try and keep your head up, because in about a week you should be coming home."
She was one of 22 women who died in prison that year. Home Secretary Amber Rudd is facing pressure to release an independent report into police custody deaths, and when Theresa May commissioned the report two years ago, she said it would be made available in the summer of 2016.
Court staff had to relocate to a bigger room after initially only allocating 14 seats for the inquest.
UK news in pictures

Show all 50
Shadow Home Secretary Diane Abbott tweeted, "Appalled to hear #SarahReed inquest has room for just 14 despite requests from her family, public interest and this."
Lee Jasper, civil rights campaigner who brought Reed's case to light on his blog, is fighting to amend the Mental Health Act of 1983 which allows people suffering from mental health to be detained without their consent.
On the first day of the inquest he tweeted, "No doubt we will see her character denigrated as a crazy black woman."
The inquest is to last three weeks, with more than 25 witnesses.
Register for free to continue reading
Registration is a free and easy way to support our truly independent journalism
By registering, you will also enjoy limited access to Premium articles, exclusive newsletters, commenting, and virtual events with our leading journalists
Already have an account? sign in
Register for free to continue reading
Registration is a free and easy way to support our truly independent journalism
By registering, you will also enjoy limited access to Premium articles, exclusive newsletters, commenting, and virtual events with our leading journalists
Already have an account? sign in