BAE Systems 'does not know' if British weapons used to commit war crimes, chairman admits
Chairman claims arms manufacturer has 'impeccable record on values'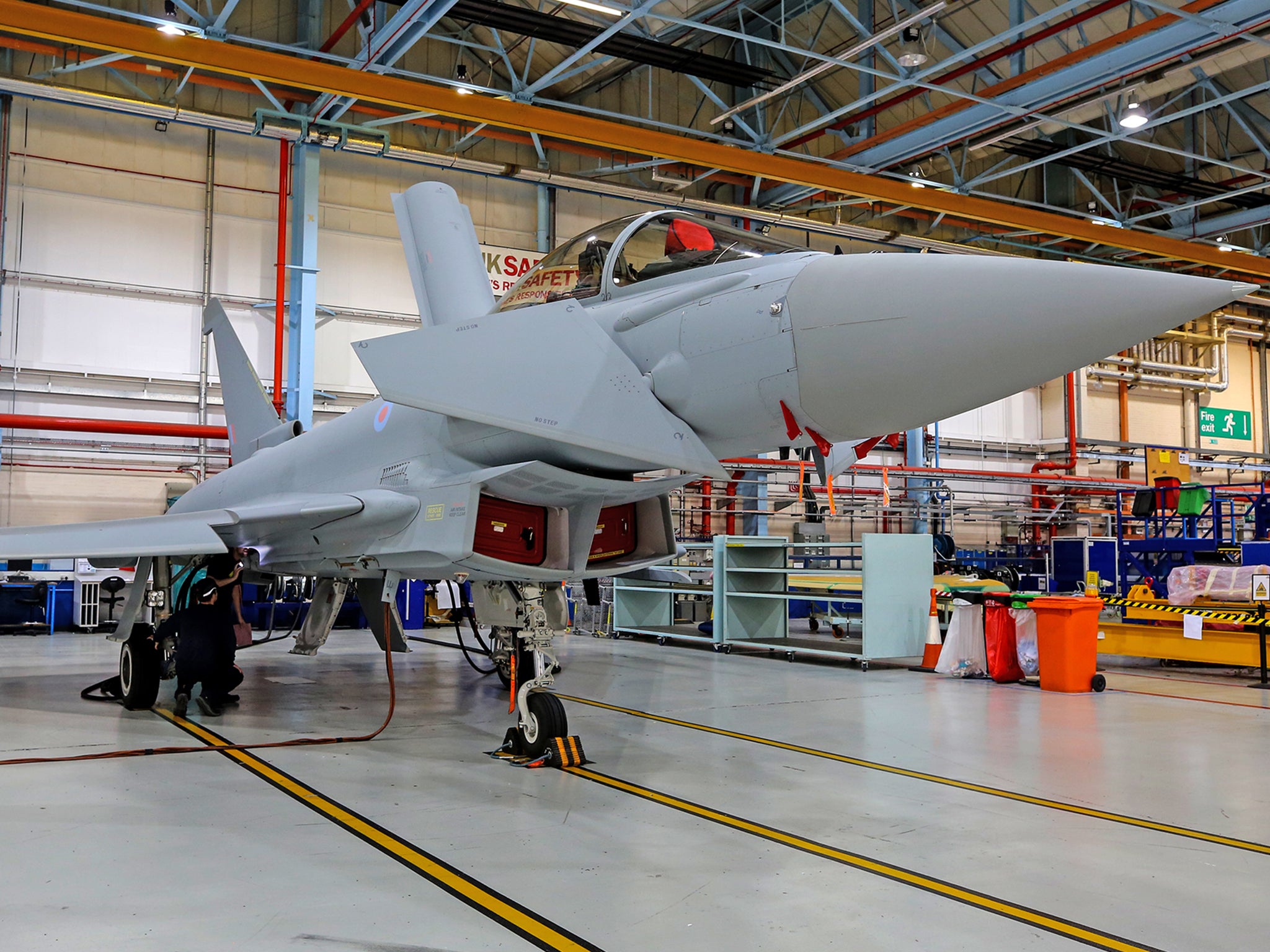 BAE Systems does not know whether its weapons are used to commit war crimes, the defence firm's chairman has admitted while praising its "impeccable record on values".
Sir Roger Carr told shareholders gathered at the company's annual general meeting they were not complicit in war crimes allegedly committed by Saudi Arabia using BAE-made planes and bombs in Yemen.
Asked whether any of its products were used in an airstrike that recently killed at least 20 people at a wedding, including the bride, he replied: "You don't know and I don't know."
Sir Roger later admitted that BAE Systems equipment "may have been used" by Saudi forces in a military intervention to crush anti-government protests in Bahrain in 2011.
Monitors allege that weapons and aircraft manufactured by BAE Systems have been deployed to kill civilians and violate international law in Yemen.
But British exports to Saudi Arabia have continued, with the UK licencing more than £4.6bn worth of arms to the country since the bombing started.
"We supply equipment government-to-government to enable the job to be done as seen fit," Sir Roger said in Farnborough on Thursday.
"We separate ourselves from the war itself… we're not involved in any part of prosecuting, planning or executing the war."
UK government says its heart 'goes out' to relatives of Yemen wedding airstrike victims but refuses to halt arms sales to Saudi
While being repeatedly questioned about civilian deaths by supporters of the Campaign Against Arms Trade (CAAT), Sir Roger claimed that BAE Systems hoped for peace in Yemen and other countries, adding: "One death of anybody is one death too many."
But he later refused a vicar's request for a minute's silence to commemorate the people killed and injured by his company's products, then had a protester who accused the firm of being "complicit in the murder of innocents every day" carried out by security guards.
The AGM was told that share prices and sales had risen in 2017, making it a "good year for BAE Systems", which stands as Britain's largest manufacturer and makes up 0.6 per cent of GDP.
Despite cutting staff at some UK sites, it has been financially bolstered by additional awards from the British government for submarine programmes, a new contract with Qatar and the sale of 48 Typhoon jets to Saudi Arabia.
Sir Roger, who formerly served as vice-chairman of the BBC Trust and chairman of Cadbury's, said he personally met Crown Prince Mohammed bin Salman and members of his government during his UK visit earlier this year.
Describing the autocrat as a "man of considerable presence", he enthusiastically praised his reform programme and added: "He is trying to create a world for them that I think we'd all be happy to see."
Sir Roger defended Saudi Arabia's intervention against Houthi rebels in Yemen by claiming the coalition bombing campaign was supported by the UN Security Council, although the body has never explicitly backed military intervention and has issued several warnings over violations of international law.
He argued that Saudi Arabia needed to protect itself from Houthi missile attacks, adding that Yemen "may breed difficulty as all wars do but the greater difficulty is to let the infection spread and do nothing about it".
Sir Roger insisted that BAE Systems staff do not load weapons on to planes themselves but are involved in service, maintenance and training.
"It is only at that level we draw the line, the use of that equipment is for others," he added.
The situation in Yemen
Show all 14
"We are not an aggressive company. We don't conduct wars, we manufacture equipment in order to ensure that those who protect and serve us are equipped appropriately and hope that having given that equipment it will avoid others being aggressors."
The firm manufactures Eurofighter Typhoon jets, Challenger tanks, a range of bombs including the "advanced precision kill weapon system" rocket and is working on a new fleet of stealth drones.
With customers in more than 100 countries, it is the biggest arms company in Europe and third-largest in the world, and currently expanding further with a fighter jet programme in Turkey.
Reverend Matthew Harbage, who turned down a trainee scheme at BAE Systems after graduating in computer science, said it could not "abdicate all responsibility".
Ali Al Fayez, who fled Bahrain with his family following the 2011 unrest, told the chairman: "You should know if your equipment is used to crush and kill people or not and obviously you are not doing that."
Sir Roger maintained that BAE Systems works under a government umbrella and is subject to its oversight and scrutiny.
"It is a company that has an impeccable record on values, beliefs and on the training and development of employees," he added.
He would not speculate on the amount of profit that could be lost if a legal challenge that could see arms sales to Saudi Arabia ruled unlawful succeeds.
Andrew Smith, who attended the AGM with other members of CAAT, said BAE Systems' weapons made it an "active participant" in any atrocities committed in the conflicts where they are used.
"BAE's arms have played a central role in the bombardment of Yemen, Carr and his colleagues cannot simply abdicate themselves of responsibility for the destruction that has been caused," he added.
"If BAE is actually interested in stopping the terrible consequences of war, then the least it could do is put procedures in place to monitor the use of its weapons and ensure that they aren't being used against civilian targets.
"The reason that BAE doesn't know if its weapons were used in the bombing of the wedding in Yemen is because it doesn't want to know. Its entire business model is based on perpetual war.
"To ask questions or to take any kind of moral stance would be to jeopardise its position as a major arms exporter."
Join our commenting forum
Join thought-provoking conversations, follow other Independent readers and see their replies