Save our cyclists: Clamour for flood of avoidable road deaths to be stemmed
A growing toll of casualties, many involving lorries, has prompted urgent calls to make Britain's roads safe for cyclists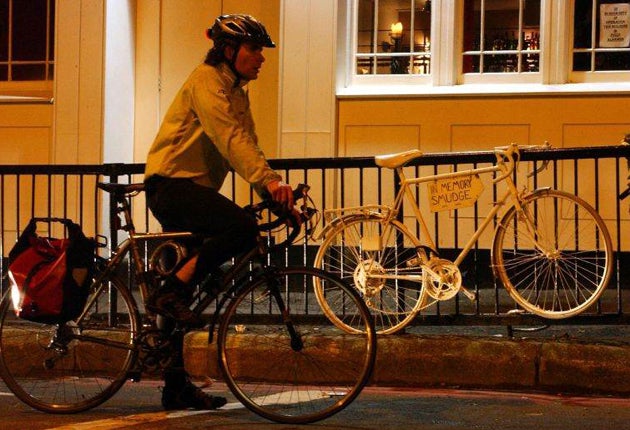 Urgent action is needed to protect cyclists from lorries and buses, with 230 cyclists killed or seriously injured every month on Britain's crowded roads, campaigners say.
Legislation requiring hauliers to fit the 450,000 lorries in Britain with sensors and emergency braking systems is being examined in Brussels following intensive lobbying by relatives of a young woman killed when she was dragged under the wheels of a HGV as it turned without the driver noticing her in the vehicle's "blind spot".
But a spate of deaths in London this year, and a growing toll of casualties nationwide, has prompted demands for better education of lorry and bus drivers, as well as cyclists themselves. Last year, 3.1 billion miles were cycled in the UK – a 4 per cent annual increase – while cycling in the capital has increased by 91 per cent since 2000.
Paula Jurek, a 20-year-old student from Poland, became the latest victim of the clash between cyclists and drivers last week when she was crushed by an articulated lorry on a stretch of road in Camden, north London, known as "death mile". Ms Jurek died from horrific injuries at the scene and the 65-year-old driver of the vehicle was arrested on suspicion of causing death by dangerous driving. On average, 28 cyclists are now killed in collisions with HGVs every year across the UK.
Campaigners called for hauliers to be compelled to buy equipment which alerts drivers if a cyclist pulls up alongside them and brings the vehicle to an automatic halt if there is a risk of a collision. Julie Townsend, of road safety group Brake, said: "Too many trucks pose an unacceptably high risk to people on foot and bicycle. We're appealing to all operators to fit the latest technology to reduce blind spots and we're calling for the law to be tightened up to help prevent more families going through the devastation of sudden, violent deaths and injuries."
The long-term trend had appeared to show improving safety for cyclists, with the number of deaths nationwide falling from an average of 186 in the mid-1990s to 104 in 2009. But concern is growing that the boom in cycling has started to reverse that trend. Provisional Department for Transport figures show 2,700 cyclists were killed or seriously injured on Britain's roads in the year ending June 2010, compared with 2,673 in the previous 12 months.
Advocates of cycling said the health benefits and accident rates per mile meant the advantages of using pedal power still far outweighed the risks.
However, Chris Peck, policy officer for the national cyclists' organisation CTC, said: "Per mile travelled in urban areas, HGVs are over 20 times more likely to be involved in the death of a cyclist than a car or a van."
The problem is not restricted to lorries. A court heard last month how Dorothy Elder, a 22-year-old fashion student, was swept off her bike and under the wheels of a double-decker bus "like a cardboard box". The driver of the bus was cleared of causing death by dangerous driving following expert evidence that her view may have been obscured by cab fittings.
One of the 10 "ghost bikes" now installed around London was put in place by the family of Eilidh Cairns, a 30-year-old television producer who was killed in February 2009 when a lorry driver failed to see her as his vehicle travelled in Notting Hill, dragging her more than three metres before it stopped. Her sister Kate last month won a written declaration by the European Parliament put forward by the Liberal Democrat MEP Fiona Hall, forcing the European Commission to come up with proposals requiring lorry owners to install safety technology. Ms Cairns, 39, said: "The memorial bike is a symbol of remembrance and respect for my sister. It's vital that truck visibility is addressed to prevent more needless deaths."
The Independent understands that Brussels will table changes to pan-European safety legislation by August, while an existing directive requiring all new HGVs to be fitted with cyclist sensors and automatic braking will come into force in 2013.
The haulage industry said it was committed to improving safety for cyclists, pointing out that freight operators had spent £78m since 2008 on retro-fitting mirrors to their fleets.
The Government confirmed this week it is considering the introduction of a new criminal offence of causing death by dangerous cycling following concerns that there is no legislation to deal with riders whose reckless behaviour leads to fatalities.
To support 'The Independent's' campaign for safer cycling, send your stories and suggestions to cyclists@independent.co.uk
Carnage in the cycle lanes
Paula Jurek
The most recent reported victim of Britain's hidden epidemic of cyclist deaths, the 20-year-old student was killed last week in Camden Town, north London, after being knocked over by a lorry. She was described by Paul Dean, a friend she met at a French evening class, as a "kind and open" person who loved travelling and different cultures.
David Poblet
A promising actor who died only days after auditioning for RADA, Mr Poblet, 20, was killed in a collision with a skip lorry in Bermondsey, south-east London, last month. He had appeared in two short films and was on the books of two modelling agencies. He described himself as a "normal boy: not fashionist, keeping his own style".
Dorothy Elder
The 22-year-old Central St Martin's College student was killed by a bus two years ago. The driver, who was cleared of causing her death, said she would "live with what happened for ever". Ms Elder grew up in Devon but was studying womenswear design. According to her sister Natalie, she "joked about making a drama out of anything".
Eilidh Cairns
A 30-year-old television producer, Ms Cairns was killed by a lorry while cycling in Notting Hill, west London, in 2009. Her family have since campaigned for HGVs to be fitted with sensors to reduce the likelihood of such accidents in future. A "ghost bike" at the site of her death was unveiled yesterday, with the Mayor of London's approval.
Nine steps towards safer cycling
The London Cycling Campaign, which promotes safer cycling in the capital, has produced a nine-point-plan for reducing the toll of death and injury among cyclists:
* Enforce speed limits and clamp down on drivers who use mobile phones.
* Crack down on hit-and-run drivers, who account for a large portion of serious road injuries.
* Introduce 20mph speed limits in all built-up and shopping areas of Britain's towns and cities.
* Require all lorries to carry full safety equipment to help them avoid collisions with cyclists: six mirrors, sensors and safety guards. (See www.no-more-lethal-lorries.org.uk/)
* Require organisations which run lorries and other large vehicles to provide their drivers with cyclist awareness training, as already practised in four London boroughs.
* Include a "cycle awareness" section in the driving theory and practical tests
* Allocate more road space to cycling, as has been done in The Netherlands and Denmark, among other places.
* Provide all children with access to Bikeability cycle training, the current version of the Cycling Proficiency test
* Encourage less car use and more. cycling so that, as in The Netherlands and Denmark, collision rates for cyclists are reduced.
Join our commenting forum
Join thought-provoking conversations, follow other Independent readers and see their replies