Tens of thousands of school staff subject to 'truly disturbing' levels of violence in classroom amid funding cuts
Ministers accused of failing to curb 'litany of violence' in schools as education staff face 'truly disturbing' attacks such as being spat at, punched and bitten amid steep funding cuts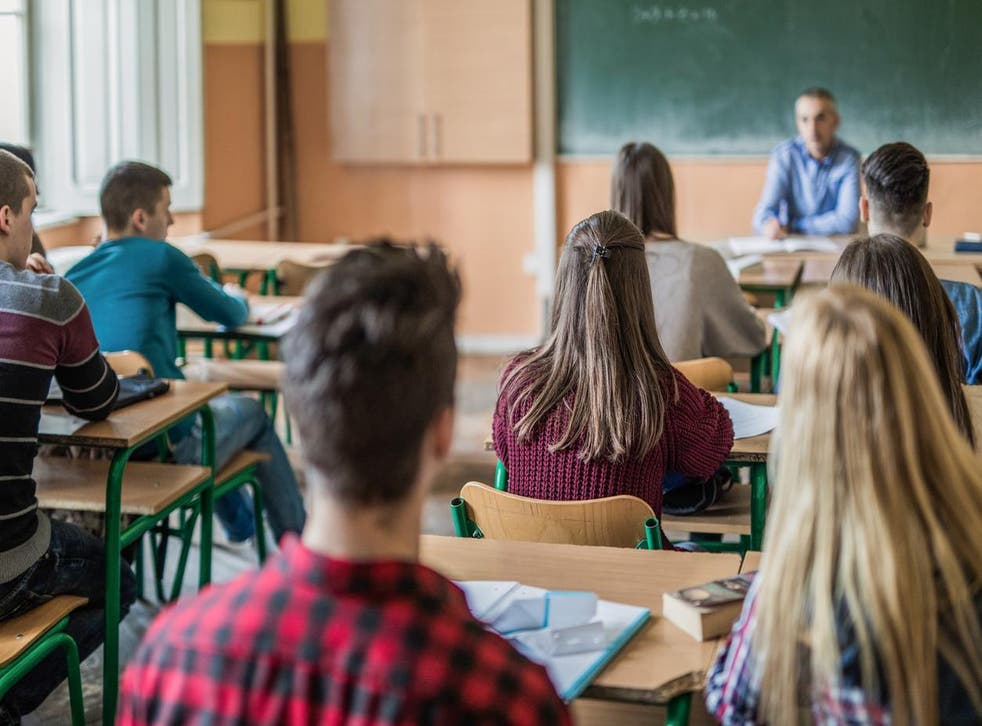 Nearly half of school support staff across England experience violence at work, with tens of thousands subject to attacks in the classroom on a weekly basis, new figures show.
The government has been accused of failing to curb a "litany of violence" in schools as research reveals education staff are facing "truly disturbing" assaults such as being spat at, punched, bitten or having their hair cut off.
A survey of 5,000 GMB members shows an estimated 70,000 support teachers, who earn as little as £12,000 a year, experience violence in the classroom, with more than 23,000 saying they are attacked by pupils every week.
In one case, a pregnant teaching assistant suffered a miscarriage after being kicked in the stomach.
"I was pregnant and a child kicked me really hard I nearly fell down. After that incident I started bleeding and lost my baby," she said.
"I fell into deep depression, especially as the school did nothing to support me. I went back to work after work once I recovered from miscarriage."
Other members of staff reported having faeces thrown at them and being left with broken jaws, broken noses and requiring knee replacements. One described being bitten on the back of their arm, breaking the skin, and bitten through a fleece, jumper and T-shirt.
Labour said support staff had been the "neglected education professionals" despite doing out a "vital" job, and urged the government to make sure they had better support and resources to provide that.
Separate figures, from January, showed the number of serious injuries suffered by education workers following violent assaults had surged by almost a quarter in five years.
In total, 477 injuries from attacks on education staff were reported to the Health and Safety Executive (HSE) in 2016/17, compared with 385 in 2012/13.
One member of support staff at a secondary school in the West Midlands told The Independent she had to be prepared that she might be attacked verbally or physically every time she goes into work.
"We have things thrown and children pushing teachers – the taller ones can be intimidating and try to show that they're stronger than you. It's not what you go to work for," she said.
"We recently had a girl threaten to stab people. She had a fork. We had a member of staff off for quite a long time because she was pushed and damaged her back. We had one teacher attacked and she ended up in hospital.
"We understand that children have got varying degrees of need, but the staff have got the right to be protected at work."
The support teacher, who earns around £12,500 a year, said she had noticed the issue getting worse in her seven years in the job in correlation with reduced funding.
"We've also lost loads of staff in the past five years or so, so some children who require one to one support are not getting it.
"It does have a massive impact. If one kid is kicking off and you're the only teacher there, your focus is on them rather than the other children. They see them getting a reaction, so they do that too. We're not getting enough money for each child.
"It's a worry that if the funding isn't sorted, a lot of kids are going to be completely failed. They're as much entitled to it as any other child, and they will start getting left behind."
It comes after the National Education Union (NEU) warned of a crisis of "epidemic proportions" in support for children with special educational needs or disabilities (Send), as schools reach "breaking point" due to funding cuts.
More than half (54 per cent) of school staff surveyed said they had seen a reduction in teaching assistant support and that this was affecting Send provision at their school.
Responding to the findings, Labour's shadow education minister, Angela Rayner, said: "Schools should be safe places to learn and teach, and the government must make sure that they have support and resources needed to provide that.
"Too often, so-called support staff have been the neglected education professionals despite the vital jobs they do educating our children."
Karen Leonard, GMB national officer, said: "These stories from the front line by GMB's school staff members are truly disturbing. They can face a litany of violence that would constitute criminal offences in other jobs.
UK news in pictures

Show all 50
"All they ask is their school backs them up when it does happen – and takes the common-sense steps needed to protect them."
School minister Nick Gibb said: "Teachers and school staff have a right to feel safe in the workplace and any form of violence towards them, is completely unacceptable.
"We have given schools the powers they need to deal with harassment of staff, and we expect them to have procedures in place to support staff dealing with issues like this."
Register for free to continue reading
Registration is a free and easy way to support our truly independent journalism
By registering, you will also enjoy limited access to Premium articles, exclusive newsletters, commenting, and virtual events with our leading journalists
Already have an account? sign in
Register for free to continue reading
Registration is a free and easy way to support our truly independent journalism
By registering, you will also enjoy limited access to Premium articles, exclusive newsletters, commenting, and virtual events with our leading journalists
Already have an account? sign in
Join our new commenting forum
Join thought-provoking conversations, follow other Independent readers and see their replies