Schools may lose out on £6.8m free period products funding as teachers warn girls could go without items over Christmas
'They have been able to concentrate far better in lessons without the worry of whether they're leaking or where they'll get a pad or tampon from,' says teacher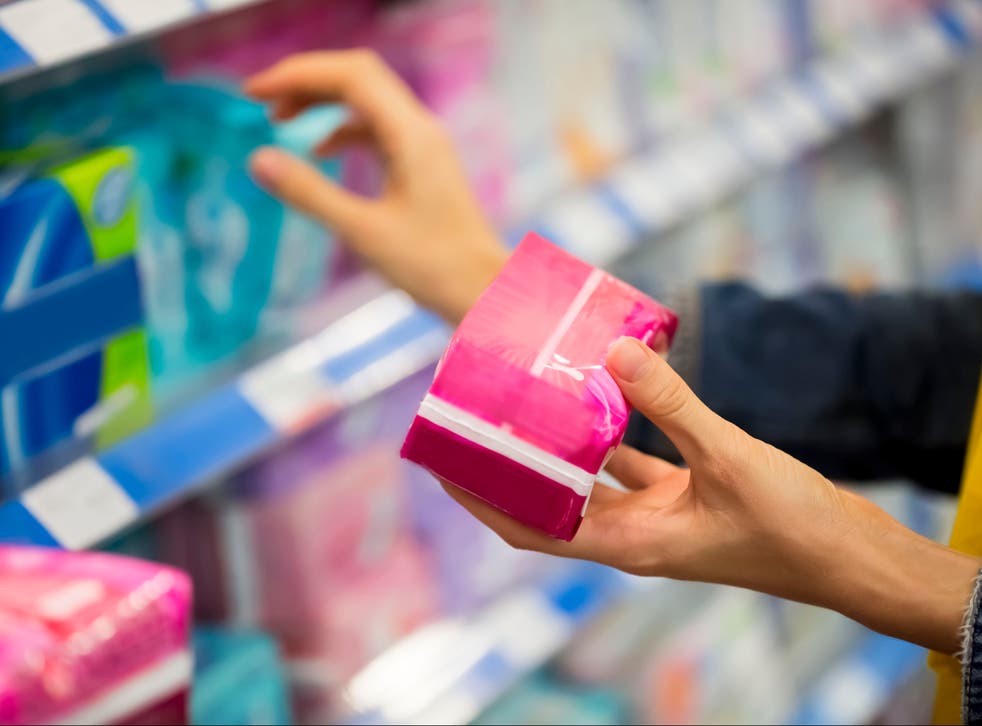 Schools are set to lose out on £6.8m of government funding for free period products despite teachers warning period poverty has surged during the pandemic and girls are at risk of going without items over Christmas.
Ministers announced in spring of last year that girls at primary and secondary schools, and college would be given free sanitary products from early 2020 but the scheme is not compulsory and requires schools to sign up.
Free Periods, a campaign to get free period products in schools, has now told The Independent that £6.8m of ring-fenced money for sanitary products "could go to waste" if schools fail to sign up for the programme before the end of the month.
Gemma Abbott, director of Free Periods, noted the coronavirus crisis had been an "extremely turbulent time" for young people as she called for the scheme to become compulsory.
Ms Abbott, who oversees the Red Box Project, which delivers free period products to schools, added: "Unfortunately, we also know that thousands of schools still haven't opted in, leaving millions of pounds of committed funding left on the table.
"When this scheme launched in January, Michelle Donelan, then Children and Families minister, said the government would take action to make the products mandatory in all schools if take-up wasn't 'sufficiently high'. Surely the time has come for government to make good on this promise.
"This week has seen a remarkable milestone in the fight to end period poverty. In legislating to create a universal right to free period products, Scotland has now set the bar for the rest of the UK — and the world — to follow. We need politicians in England to work together to make the existing schools scheme a success and ensure that it is in place for years to come by placing it on a statutory footing."
It comes after The Independent reported over 60 per cent of schools have not claimed the products from the government — with campaigners accusing them of failing to properly alert schools to the scheme.
Research by charity Plan International found three in 10 girls in the UK have struggled to afford or access period products during the coronavirus crisis, with over half of them having to resort to toilet paper instead of proper products. One in five said their periods have been more difficult to cope with due to not having enough toilet roll.
Leading charity Bloody Good Period recently revealed it had supplied nearly six times as many products since March as it was distributing before the pandemic hit.
Rebecca Conn-Pearson, who works at Birches Head Academy in Stoke-on-Trent, told The Independent girls had missed fewer classes since distributing free period products in their school.
She added: "They have been able to concentrate far better in lessons without the worry of whether they're leaking or where they'll get a pad or tampon from. No young person should miss school just because they have their period.
"I've seen how easy it is to sign up to the scheme — just one phone call to phs Group and the products typically take five working days to arrive. Now, with just weeks until Christmas, I'm asking every school to sign up before it's too late — make sure you have products in advance of the Christmas break, so they can be distributed to girls who may need them over the holidays this year. Your students will thank you for it, particularly during this trying time.
"What's more, not many schools know but there is a risk that if you don't claim this year's funding before the end of the year, it will be lost all together. It's time to act."
Ms Conn-Pearson warned girls could go without period products over the Christmas period if schools do not sign up to the scheme.
Campaigners noted it was especially critical girls were not skipping school because of period poverty when they had already spent months out of lessons due to the coronavirus emergency.
Dawn Butler, Labour MP for Brent, said: "It is a disgrace that period poverty still exists in our country and it is completely unacceptable that people are unable to access menstrual products.
"I have heard so many heartbreaking stories about girls forced to miss school, and parents needing to use socks because they just didn't have the money to buy products and needed funds for other essentials like food. We need action and that is why I have long called for free menstruating products in schools, as well as in food banks and homeless shelters."
Marsha de Cordova MP, Labour's shadow minister for women and equalities, called for the government to do "much more" to promote the programme.
She added: "And ensure that no young person misses out on education because they have their period. I urge all schools and colleges in England that have not yet ordered free period supplies to do so. It is simple, and it can make a huge difference to the wellbeing and health of students."
Amika George, who spearheaded the Free Periods campaign after learning girls were using newspapers, toilet roll and socks to cope with their periods and missing school each month, previously told The Independent the scheme had "slipped under the radar" because of school closures in the wake of the coronavirus outbreak.
Period poverty is a widespread issue in the UK — with previous statistics showing 49 per cent of girls have missed a day of school due to periods and one in 10 women aged 14 to 21 are not able to afford period products.
The Department for Education has been contacted for comment.
Join our new commenting forum
Join thought-provoking conversations, follow other Independent readers and see their replies