Women woefully underrepresented in science images 'as white men dominate'
'Also, scientist roles were primarily white, with racial minorities shown as audiences or beneficiaries,' say researchers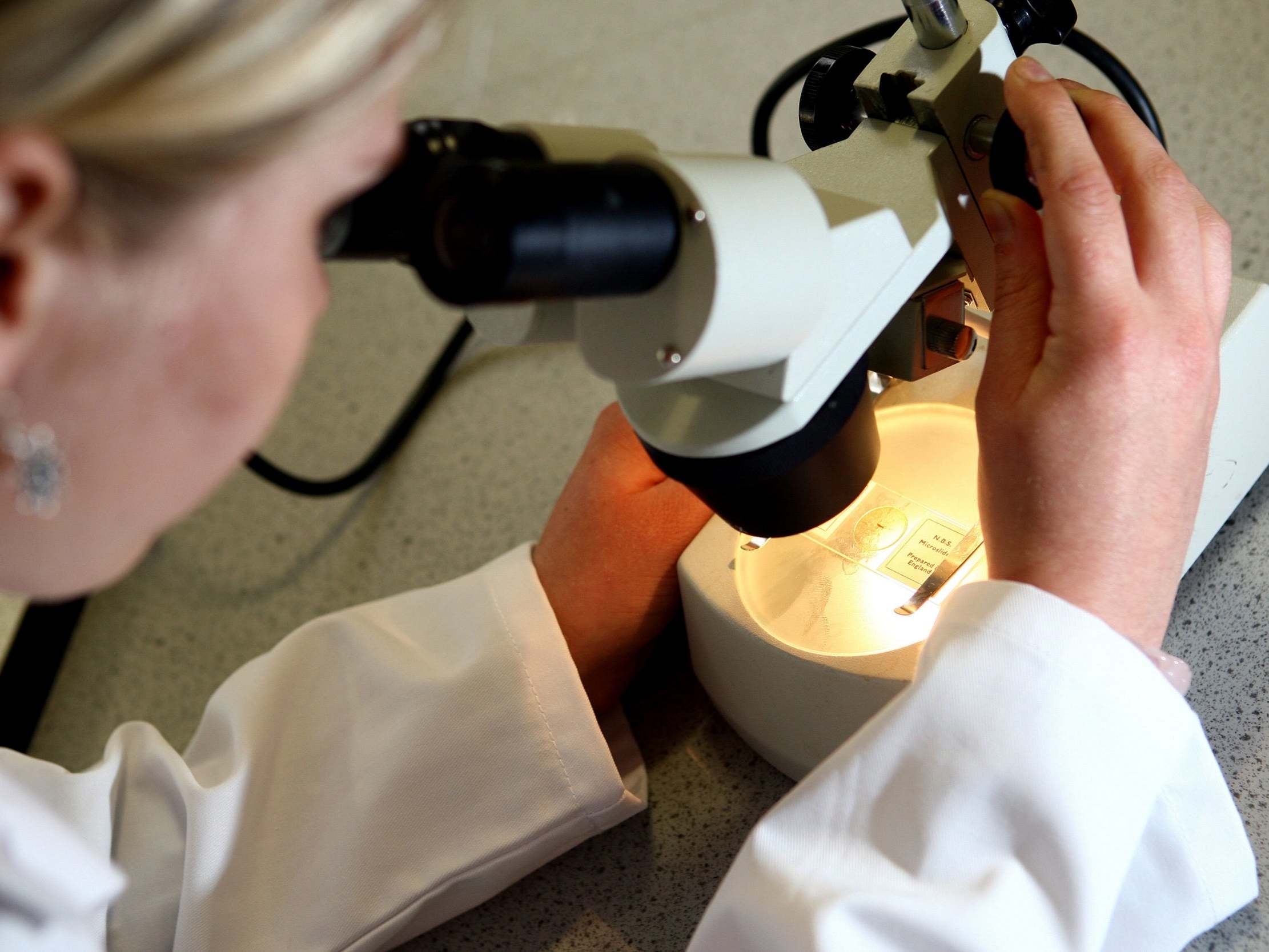 Women are woefully underrepresented in images used to represent science – with white men dominating instead, research has found.
A study of images shown during presentations at a major science exhibition, which draws millions of visitors, found not one woman was featured in the images presented by Germany, Greece, Italy, and Luxembourg.
Experts warn the lack of representation could put girls off seeking careers in the sciences and exacerbate existing gender inequalities within science, technology, engineering and maths (STEM) sectors.
The report, published in Gender, Technology and Development, found people from black and minority ethnic (BME) backgrounds were also noticeably absent in images.
Researchers from Nazarbayev University, who analysed the gender balance of photos of scientists which were presented by ten different countries at Astana Expo, a 2017 science event held in Kazakhstan, found the only woman Spain presented could be seen in a kitchen to showcase technological advances in stoves.
Austria, France, Hungary, and Slovakia showed some women in their science images yet the images of men still massively dominated – with only one of Austria's 15 images showing a scientist who is a woman.
"When scientific images included women, they were often audience members rather than scientists and often shown with smiles," the report's authors said in a joint statement.
"In contrast, men were the main focus with serious expressions. Also, scientist roles were primarily white, with racial minorities shown as audiences or beneficiaries. Overall, the images strongly emphasise the presence of white men in science.
"Portrayal in imagery reinforces and teaches ideas on who can take on various roles, including doctors, teachers, or scientists. Gender-balanced or gender-biased imagery can either raise awareness to reduce a gender gap or reinforce gendered stereotypes – by excluding women as scientists, the imagery teaches visitors that scientific knowledge is primarily owned by men."
Researchers noted there were 599 Nobel Laureates in medicine, physics, and chemistry between 1901 and 2017, but only 17 of them were women as they argued sharing stories of women in science with the next generation is a key way to "nurture" future female scientists.
The study, which analysed imagery from Germany, Greece, Italy, Luxembourg, Spain, Austria, France, The Netherlands, Hungary and Slovakia, found not one of the countries provided a "gender-balanced view".
Shelley Gonsalves, executive director at Teach First, a social enterprise that strives to tackle disadvantage in the education system, raised concerns about the findings of the report.
Ms Gonsalves said: "Our own research found that not a single woman's name is featured in the national curriculum for GCSE science.
"If young women don't see identifiable role models, be that based on gender or ethnicity, that spark their imaginations and inspire them to pursue a career in STEM, we're not making the most of their talents for the country's future, potentially deepening the STEM skills shortage.
"Knowing the difference great teachers can make, we believe more female role models – from all backgrounds – are needed in the classroom to help inspire the next generation of women in STEM to truly thrive."
A report by Teach First previously found the national curriculum for GCSE science does not include the names of any women, and only half of adults are able to name a female scientist who is either dead or alive.
The study found that just 12 per cent of engineers are women and 13 per cent of STEM workers in senior positions are female, but a lack of STEM expertise costs businesses £1.5bn a year.
Researchers discovered girls from disadvantaged backgrounds are most likely not to choose STEM subject areas and are seven times less likely to pick A-level physics than a boy from a more advantaged background.
Join our commenting forum
Join thought-provoking conversations, follow other Independent readers and see their replies