Scotland's minimum pricing alcohol law will see cost of cheap cider almost double, IFS says
Sparkling wine will rise by an average of 119 per cent, cider by 89.5 and lager by 43.8 per cent, briefing paper suggests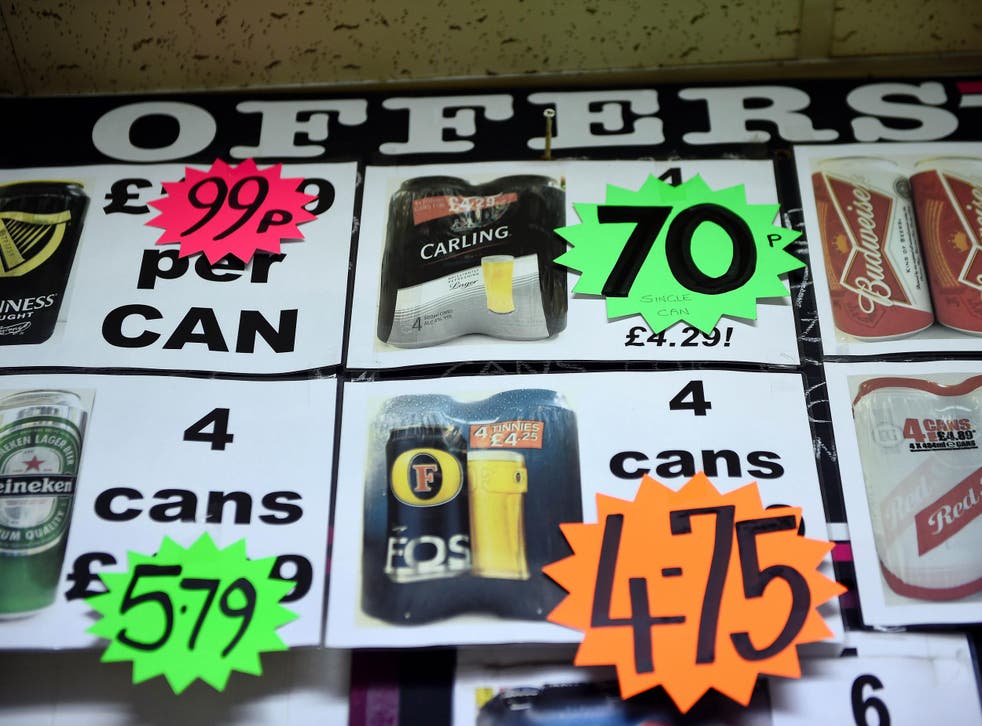 Scotland's 50p minimum price for a unit of alcohol will lead to "substantial increases" in prices, according to the Institute for Fiscal Studies (IFS).
A briefing note from the economic research unit suggests that the price of a 20 x 440ml pack of Strongbow will double, while a bottle of Tesco cream sherry will increase by 20 per cent.
Sparkling wine and Perry, the alcoholic beverage made from fomented pears, which is currently priced below 50p per unit will see an average price increase of 119 per cent, it said.
Cider will see an average rise of 89.5 per cent, and lager 43.8 per cent, it added.
The IFS found that almost 70 per cent of alcohol units bought in supermarkets and off-licences across the UK between October 2015 and September 2016 cost less than 50p. The new law will see an average price increase of 35.1 per cent for all alcohol units currently less than 50p.
Legislation was approved by the Scottish Parliament five years ago but has been tied up in court challenges.
Ministers said a 50p-per-unit minimum would help tackle Scotland's "unhealthy relationship with drink" by raising the price of cheap, high-strength alcohol.
But it was challenged the Scotch Whisky association, eventually reaching the Supreme Court, where seven judges ruled that the legislation did not breach European Union law in November.
After the ruling Scotland's First Minister Nicola Sturgeon tweeted that she was "absolutely delighted" by the ruling, adding that it was "bold and necessary move to improve public health".
The minimum pricing policy come into force on 1 May 2018.
Wales' government is also set to introduce a minimum price and health campaigners have called for England to follow suit.
The IFS suggested a wider review of the "chaotic" alcohol duty system could be a better approach to tackling problem drinkers than a minimum unit price.
"Tax reform is likely to avoid the main drawback of minimum unit pricing, which is that it boosts the profits of the alcohol industry," the body said.
The analysis showed the 50p level would have a "substantial impact on off-trade alcohol prices".
Spirits most likely type of alcohol to make people aggressive, study finds
The IFS's paper said heavy drinkers "do tend to buy cheap alcohol", suggesting a minimum unit price may be "reasonably well targeted at this group". But it said the policy's impact will depend on how much the price increase puts off consumers.
In an indication that lager and cider drinkers will be most affected, the analysis showed that 86 per cent of units of lager were currently sold below the 50p minimum price and 79.7 per cent of cider.
Fortified wines are also expected to increase in price, with 71.5 per cent of units sold at below the 50p rate.
"The costs of anti-social drinking are high and concentrated among heavy drinkers," said Martin O'Connell, an associate director at the IFS.
The 10 countries that drink the most alcohol

Show all 10
"Heavy drinkers, when buying alcohol in supermarkets and off-licences, tend to choose products that are cheaper per unit than more moderate drinkers.
"A minimum unit price would therefore target a higher share of the units that heavy drinkers buy. However, the policy will lead to substantial increases in alcohol prices that will also impact on many moderate drinkers."
Additional reporting by PA
Register for free to continue reading
Registration is a free and easy way to support our truly independent journalism
By registering, you will also enjoy limited access to Premium articles, exclusive newsletters, commenting, and virtual events with our leading journalists
Already have an account? sign in
Register for free to continue reading
Registration is a free and easy way to support our truly independent journalism
By registering, you will also enjoy limited access to Premium articles, exclusive newsletters, commenting, and virtual events with our leading journalists
Already have an account? sign in
Join our new commenting forum
Join thought-provoking conversations, follow other Independent readers and see their replies