Scottish government urged to investigate Donald Trump over purchase of Turnberry golf course
Opposition politician calls on Ms Sturgeon to launch unexplained wealth order against former president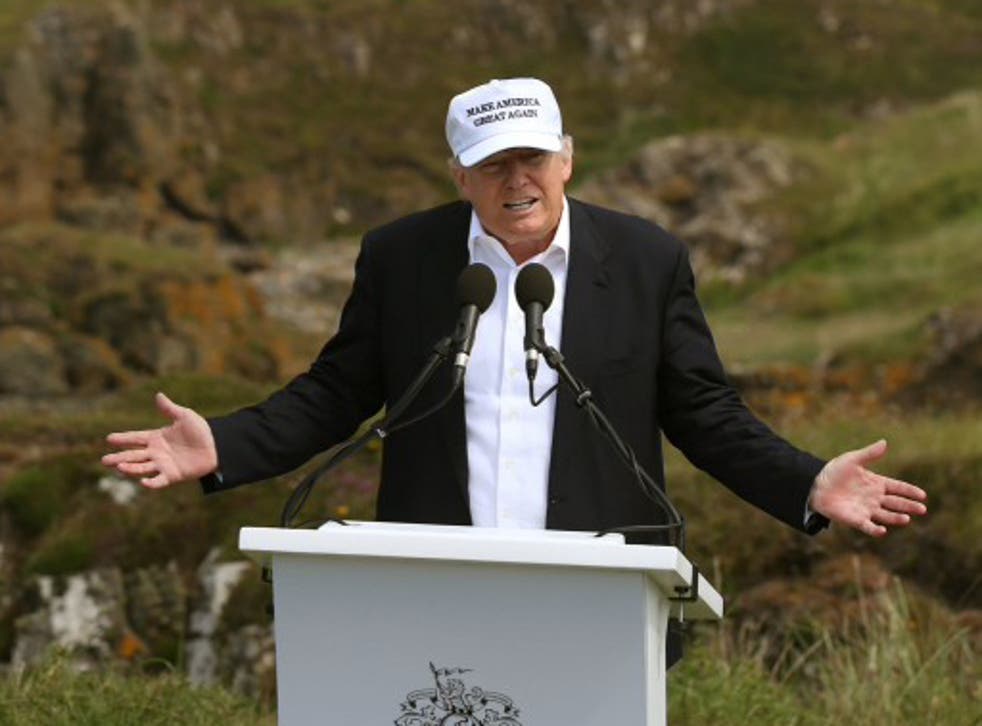 Scotland's First Minister Nicola Sturgeon has been asked to look into Donald Trump's purchase of Turnberry golf course, after a leading lawyer said ministers needed to decide whether to investigate the former US president's finances.
It is not the first call for greater scrutiny into Mr Trump's business activities in Scotland, after the campaign group Avaaz urged Ms Sturgeon to bring an unexplained wealth order (UWO) against him in 2019.
At the time, Scotland's first minister said it was a matter for the Crown Office to discuss.
However, Aidan O'Neill QC and the advocate David Welsh denied Sturgeon's claim this month in advice given to Avaaz, suggesting that the legal responsibility for a Trump UWO lies with the Scottish government.
Nick Flynn, Avaaz's legal director, wrote to Ms Sturgeon last week asking her to "take responsibility" on the issue, according to The Scotsman.
Mr Flynn told the paper: "Ms Sturgeon has been avoiding our questions about Trump's cash purchase of Turnberry for nearly two years, saying the decision is nothing to do with her.
Citing Mr O'Neill's advice, he added that Ms Sturgeon's ministers "are collectively responsible for the decision on seeking an UWO for Turnberry and they should expect to explain the decision they make".
Referring to the new advice, which he described as "crystal clear," Patrick Harvie, the co-leader of the Scottish Greens, has urged Ms Sturgeon to investigate.
She responded that, while she had not read the legal advice, the Lord Advocate would have to decide whether to pursue legal action.
Ms Sturgeon also aimed a parting shot at Mr Trump in her remarks, which were given shortly ahead of his departure from office.
She said: "Firstly I'm sure many of us across the chamber and across Scotland will be very happy to say cheerio to Donald Trump today.
"I think 'don't haste ye back' might be the perfect rejoinder to him."
Turnberry made headlines earlier this month when it was alleged that Mr Trump would stay there during Mr Biden's inauguration on 20 January. Ms Sturgeon quickly quashed speculation, saying authorities would not let him into the country because of coronavirus restrictions.
Additional reporting by PA
Register for free to continue reading
Registration is a free and easy way to support our truly independent journalism
By registering, you will also enjoy limited access to Premium articles, exclusive newsletters, commenting, and virtual events with our leading journalists
Already have an account? sign in
Register for free to continue reading
Registration is a free and easy way to support our truly independent journalism
By registering, you will also enjoy limited access to Premium articles, exclusive newsletters, commenting, and virtual events with our leading journalists
Already have an account? sign in
Join our new commenting forum
Join thought-provoking conversations, follow other Independent readers and see their replies