Thousands march to demand Scottish independence
Wind and rain no deterrent as supporters parade through Glasgow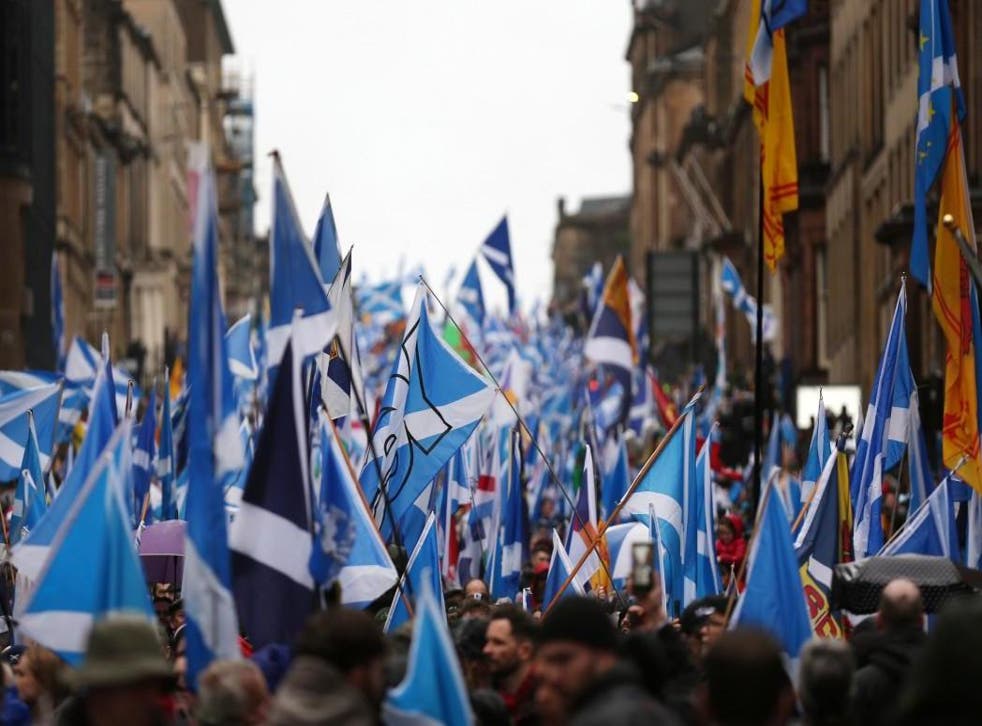 Thousands of people have marched through Glasgow demanding Scottish independence.
Supporters from across the country paraded through the city during the first of eight such events planned for the coming year.
A mass rally that was due to take place following the march on Saturday afternoon was cancelled at the last minute because of bad weather.
But the wind and rain did not deter supporters as they walked from the city's Kelvingrove Park through to Glasgow Green waving Saltire flags and holding banners reading simply 'Yes'.
Neil Mackay, of All Under One Banner, the campaigning group which organised the event, said: "Organising outdoor events in Scotland in winter is always difficult and is always subject to our weather.
"We had a number of great speakers lined up for the rally, so it is a pity it will not now take place. We have apologised to the speakers for the cancellation and they have all been very understanding and supportive."
Scottish independence: What will happen to key British institutions?

Show all 7
He estimated some 80,000 people had attended the march.
Ahead of the event, First Minister and SNP leader Nicola Sturgeon tweeted: "Good luck to everyone marching for independence in Glasgow today – hope the weather isn't too bad! Sorry I can't be there today, but look forward to seeing you all again soon. In the meantime, sending my support and best wishes."
In December, she wrote to Boris Johnson demanding a Section 30 order which would grant Holyrood the power to hold a second vote on Scottish independence following 2015's referendum.
Downing Street has thus far given the letter short shrift and said it was against such a poll in the immediate future.
Several similar marches have been arranged to take place throughout the year, with the next set for Arbroath in April.
Register for free to continue reading
Registration is a free and easy way to support our truly independent journalism
By registering, you will also enjoy limited access to Premium articles, exclusive newsletters, commenting, and virtual events with our leading journalists
Already have an account? sign in
Register for free to continue reading
Registration is a free and easy way to support our truly independent journalism
By registering, you will also enjoy limited access to Premium articles, exclusive newsletters, commenting, and virtual events with our leading journalists
Already have an account? sign in
Join our new commenting forum
Join thought-provoking conversations, follow other Independent readers and see their replies