Sculptor uses unveiling of Magna Carta artwork to attack Tory plans to scrap Human Rights Act
Cornelia Parker produced a vast tapestry of the document's Wikipedia page
Jamie Merrill
Thursday 14 May 2015 16:46 Comments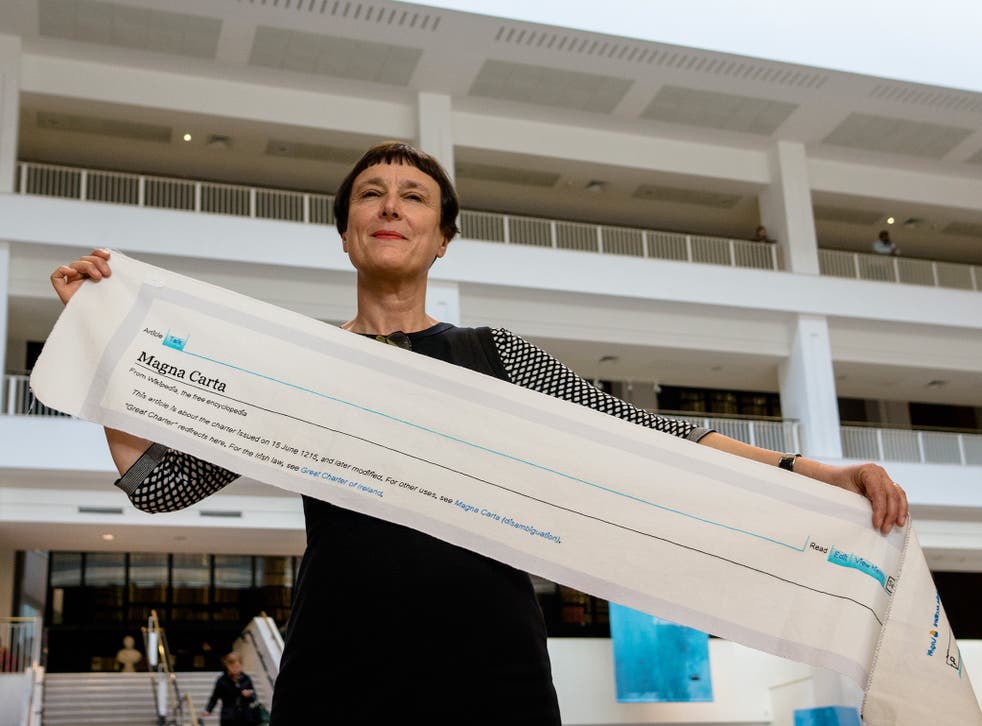 The artist behind a hand-stitched 13-metre-long tapestry of the Magna Carta's Wikipedia page has used its unveiling to attack the Government's "shocking" and "swift" plans to roll back human rights legislation.
Cornelia Parker was commissioned by Oxford University in collaboration with the British Library to produce the vast embroidered work for the 800th anniversary of Magna Carta.
To complete the digital-to-analogue work, entitled Magna Carta (An Embroidery), she enlisted the help of more than 200 embroiders including Jarvis Cocker, Edward Snowden and Baroness Doreen Lawrence in addition to 40 prisoners and dozens of lawyers and civil rights campaigners.
Speaking to The Independent at the tapestry's unveiling, the Turner-prize nominated sculptor described the new Conservative's government's intention to scrap the Human Rights Act and clampdown on extremist views as "shocking".
In a reference to David Cameron's comments on that Britain had been a "passively tolerant society" for far too long, she said: "I would love for this work to give [David Cameron] pause for thought about our freedoms."
She added: "We need to campaign hard for the truths that have been laid down in Magna Carta to remain because they are really under threat."
The work included contributions by many figures connected to civil rights campaigning, including director of Liberty Shami Chakrabarti (stitching the words "Charter of Liberties"), Baroness Doreen Lawrence (stitching "justice", "denial" and "delays") and Edward Snowden (stitching "liberty").
Jarvis Cocker stitched his contribution ("common people") on a train, while human rights lawyer Clive Stafford Smith got his needled and thread out while visiting a client at Guantanamo Bay ("law of the land"). Julian Assange made his contribution ("freedom") from his confinement at the Ecuadorian embassy in London.
Parker said that the work, which was commissioned in collaboration with the Ruskin School of Art at Oxford University, was designed to be a "snapshot" not a "polemic", but she admitted she had found it "harder to attract right-wingers" to contribute to the project.
The work, which is based on the Wikipedia entry of Magna Carta on its 799th anniversary and includes "one or two" spelling errors from the website, will be displayed at the British Library from today until 24 July.
Register for free to continue reading
Registration is a free and easy way to support our truly independent journalism
By registering, you will also enjoy limited access to Premium articles, exclusive newsletters, commenting, and virtual events with our leading journalists
Already have an account? sign in
Join our new commenting forum
Join thought-provoking conversations, follow other Independent readers and see their replies