Serving vicar named 'secularist of the year' after campaigning to expose sexual abuse in Church of England
Rev Graham Sawyer accuses Church of England of abusing its power as UK's established religion in dealings with sexual abuse victims
Jon Sharman
Saturday 24 March 2018 02:10 Comments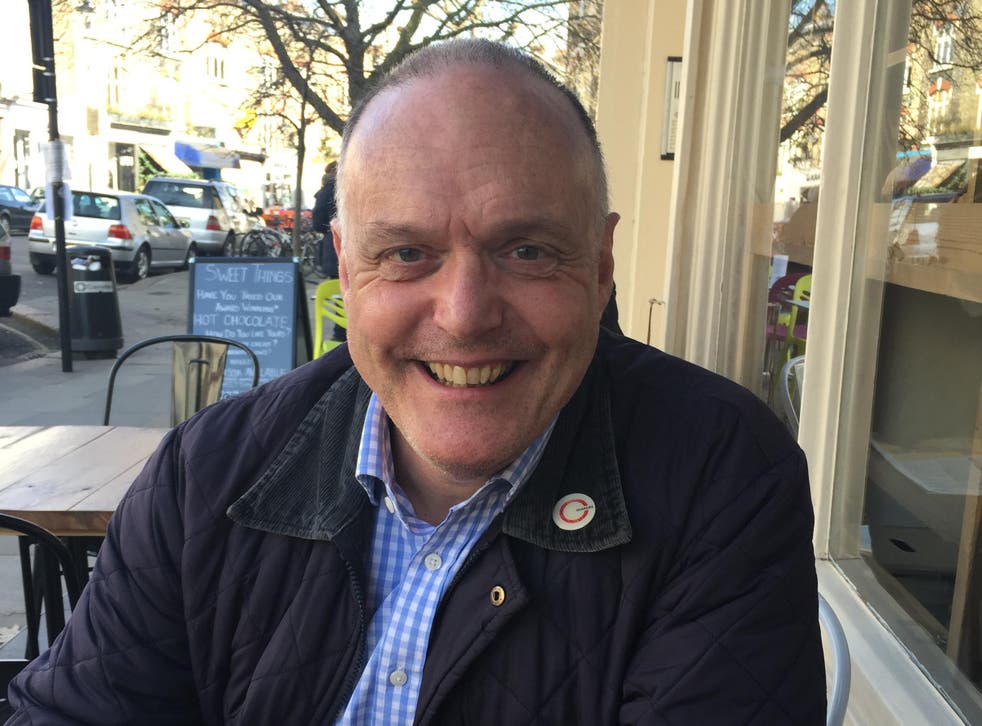 A serving vicar has won the National Secular Society's (NSS) "secularist of the year" award after campaigning to expose sexual abuse in the Church of England.
Rev Graham Sawyer was praised for his "reliable and consistent demands for reform" in the face of "institutional hostility" inside the church.
Rev Sawyer is being given the award jointly alongside Phil Johnson, a survivor of clergy abuse who now chairs a support group for fellow victims.
​NSS chief executive Stephen Evans said: "We hope their work will cause those in positions of power to reflect on the damage done by excessive deference to religious authority.
"The Church of England must be held to account for its cover-up of abuse, including through independent oversight of its safeguarding policies."
The award comes days after the Archbishop of Canterbury told the child sex abuse inquiry that failing to report the attacks was "simply wrong", and that abusers can "never be trusted again".
He was "appalled and ashamed" of the church after hearing and reading evidence given to the panel, he told the Independent Inquiry into Child Sexual Abuse (IICSA).
The Most Rev Justin Welby admitted it was taking too long for abuse victims to get justice. He said on Wednesday: "People are not informed, they are not told what is going on.
"It can take three or four years and you end up damaging the survivors and victims more. You abuse them in the way you keep them waiting, and for that matter you don't do justice to the perpetrator.
"If you can't do it through the present system, then you have to find another that will be more reliable."
He added that he had implemented new safeguarding training within the church, but that there was also a great need for a culture change.
Accepting the prize, Rev Sawyer said he was "humbled" and accused the church of abusing its power as the country's established religion in its dealings with sexual abuse victims.
He said: "When religious leaders are given secular power or one particular religion, let alone one group in one religion, is given a position of privilege by the state, we all too often see an abuse of power.
"Perhaps an example of this is the way that the established Church of England has treated victims of sexual abuse perpetrated by its leaders over so many years."
Mr Johnson said: "I am just one of many people who have stood up to institutions to try to achieve justice, recognition and redress for abuses perpetrated against them. Sadly, many victims are so harmed that they are unable to fight these powerful institutions on their own, so it is important that we continue the fight for them.
"Those who have followed the Anglican hearings at IICSA over the last three weeks will have seen revealed an institution that is elitist, sexist and homophobic and does not see itself as accountable to the law. This must change.
"At the very least we need a change in the law to require the mandatory reporting of allegations of sexual abuse to the statutory authorities so institutions like the Church of England cannot go on 'dealing with things' in-house and those who fail to report or cover up abuse can be held to account."
A Church of England spokeswoman said: "Phil Johnson is an invaluable voice on behalf of survivors with ongoing safeguarding work in the Church of England.
"As was demonstrated at the three-week IICSA hearings which have just finished, the church has made appalling mistakes and is absolutely committed to becoming a safer place for all and will continue to work with, and support survivors, to improve our responses to those who are at risk of being, or have been abused, as children or as adults."
Register for free to continue reading
Registration is a free and easy way to support our truly independent journalism
By registering, you will also enjoy limited access to Premium articles, exclusive newsletters, commenting, and virtual events with our leading journalists
Already have an account? sign in
Join our new commenting forum
Join thought-provoking conversations, follow other Independent readers and see their replies