Segway polo? It's cheaper than a horse and tailored leather boots...
Cahal Milmo
Sunday 04 August 2013 20:12 Comments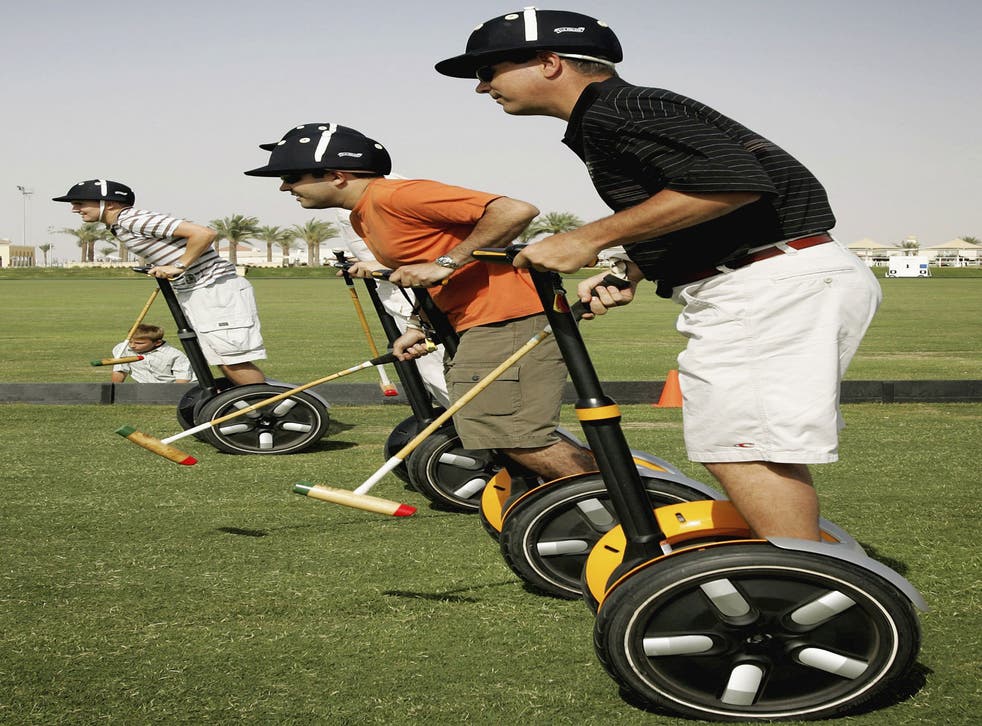 Derided as a "pogo-stick on wheels" and banned from British roads and pavements, the Segway has long struggled to be taken seriously.
The sight of 10 of its users dressed up in helmets and chasing a small ball around a field with long mallets would hardly be expected to improve matters.
But that is the dream of a London-based entrepreneur who has vowed to go where other British owners of the idiosyncratic two-wheeled vehicles have feared to roll by setting up the country's first Segway polo team.
Nick Magliocchetti, who runs a consultancy specialising in technology ventures, hopes to have his first players in training by October as part of the project for Britain to join 10 other countries where adults do sporting battle on machines more usually deployed to speed up US postal workers.
The game, which was originated a decade ago by Californian geeks and techie geniuses including Apple co-founder Steve Wozniak, last month held its seventh world championships – the "Woz Cup" – at a tournament in Washington DC won by the sport's unlikely dominant force, Team Barbados.
Mr Magliocchetti, 35, said: "It is a fantastic sport and there is a lot of skill required. These things go at up to 18 miles an hour and a lot of balance and strength is necessary.
"The sport doesn't have much of a profile but it's growing worldwide and I thought we should see if we can make it work here."
By doing away with the need for multiple ponies and tailored leather boots required for its equine-based cousin, Segway polo is considerably cheaper and, say its proponents, more meritocratic than the elite pursuit favoured by the Duke of Cambridge and his brother.
Nonetheless, a Segway costs around £3,000 secondhand and a mallet £70, meaning the sport, which follows the same rules as horse polo, is also not as readily accessed as football. Mr Magliocchetti said: "My idea is that it'll be like a game for gentlemen of tech."
Register for free to continue reading
Registration is a free and easy way to support our truly independent journalism
By registering, you will also enjoy limited access to Premium articles, exclusive newsletters, commenting, and virtual events with our leading journalists
Already have an account? sign in
Join our new commenting forum
Join thought-provoking conversations, follow other Independent readers and see their replies