Teachers are ignoring sexual harassment in schools, MPs warn
Six out of 10 girls and women aged 13 to 21 had faced sexual harassment at school or college within the last year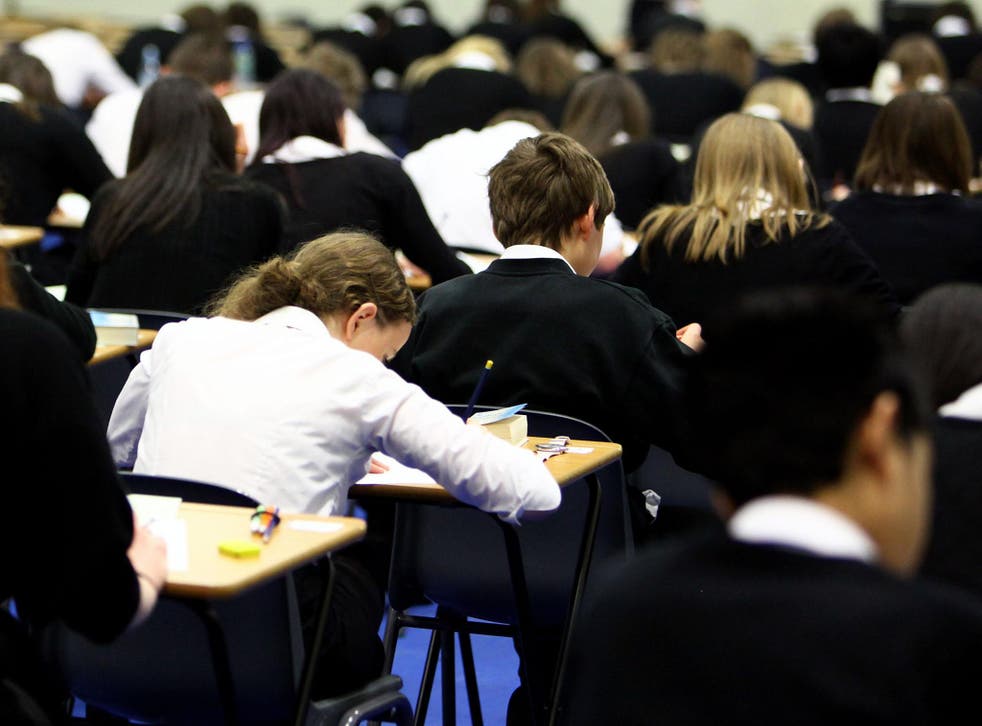 Teachers are allowing girls to suffer sexual harassment and violence in school by dismissing it as "just banter", MPs warn today.
An alarming report by a Commons committee condemns what it calls the "shocking scale" of the problem, with pupils routinely touched sexually and called "slut" or "slag".
The investigation found that 59 per cent of girls and women aged between 13 and 21 had faced some form of sexual harassment at school or college within a 12-month period.
Most worryingly, schools are accused of failing to report incidents, or take them seriously – so that sexual harassment and even violent behaviour is "too often accepted as the norm".
Maria Miller, the Conservative chair of the Commons Women and Equalities Committee, said: "Our inquiry has revealed a concerning picture. We have heard girls talk about sexual bullying and abuse as an expected part of their everyday life – with teachers accepting sexual harassment as 'just banter' and parents struggling to know how they can best support their children.
"It is difficult to explain why any school would allow girls to be subjected to sexual harassment and violent behaviour that has been outlawed in the adult workplace."
Ms Miller warned the failure to crack down was "fuelling the 'lad culture'", adding: "The evidence shows it is undermining the confidence of young women."
The report says:
29 per cent of 16 to 18-year-old girls say they have experienced unwanted sexual touching at school;
71 per cent of 16 to 18-year-old boys and girls say they hear terms such as "slut" or "slag" used towards girls at schools on a regular basis;
girls are suffering post-traumatic stress disorder, self-harm, drug use and depression and anxiety as a result – and skipping classes;
there is an "alarming inconsistency in how schools deal with sexual harassment and violence" – with a lack of guidance and support for teachers;
neither schools watchdog Ofsted nor the Department for Education has "a coherent plan to tackle this issue and to monitor the scale of the problem";
and "widespread access to pornography" – often "more extreme than adults realise" – is increasing the number of incidents.
A panel of Girl Guides, which gave evidence to the inquiry, said: "As young women, many of us are still in school and experience or witness sexual harassment, from groping to cat calling on a daily basis.
"It's humiliating and frightening and affects what we wear, where we go, our body image and our confidence to speak out in class.
"Yet it's often dismissed as 'banter' or a 'compliment' and we are told we are overreacting or being over sensitive. It needs to stop."
The report urged the Government to give schools "clear national guidance" and require Ofsted to assess how well they are recording, monitoring, preventing and responding to incidents of harassment and violence.
Schools must collect and publish data on reports of sexual harassment and violence – while the police should record the incidents it investigates.
And the Government was also advised to make sex and relationship education compulsory in all primary and secondary schools, instead of allowing independent academies to opt out if they wish.
UK news in pictures

Show all 50
Kevin Courtney, the National Union of Teachers' general secretary, said: "Government education policies hinder schools' ability to tackle sexual harassment and sexual bullying effectively by leaving no time for pastoral care or personal, social, health and economic education (PSHE) within the curriculum or school day.
"Support and guidance from the Department for Education about how to best mitigate the effects of sexual harassment and sexual violence is urgently required."
The NSPCC spokesman said the problem had been "swept under the carpet" for years.
A spokesman for the charity said: "We know through calls to Childline that sexual harassment, and even abuse, in schools is something that many pupils up and down the country suffer on a daily basis but for years it's been swept under the carpet.
"We welcome the inquiry and its recommendations but now want to see action taken and robust measures put in place.
"We hope the Government will focus on measures that prevent abuse as well as prioritising the reporting of it. Otherwise it becomes a case of trying to close the stable door once the horse has bolted."
A Government spokesperson said sexual assault was an offence and "must always be reported to the police".
"Schools should be safe places and fortunately crime is rare but no young person should suffer harassment or violence," the spokesperson said.
"We trust teachers to promote a culture of tolerance in the classroom and to take swift action to deal with this sort of behaviour.
"This is backed up by mandatory sex and relationship education in all maintained secondary schools. We will consider the recommendations of this report carefully."
QUOTES FROM THE REPORT
Register for free to continue reading
Registration is a free and easy way to support our truly independent journalism
By registering, you will also enjoy limited access to Premium articles, exclusive newsletters, commenting, and virtual events with our leading journalists
Already have an account? sign in
Register for free to continue reading
Registration is a free and easy way to support our truly independent journalism
By registering, you will also enjoy limited access to Premium articles, exclusive newsletters, commenting, and virtual events with our leading journalists
Already have an account? sign in
Join our new commenting forum
Join thought-provoking conversations, follow other Independent readers and see their replies