'Followed, shouted at and groped': 6 in 10 young women anxious about 'being on streets as lockdown lifts'
Exclusive: 'Another clear message to the government that women are experiencing unacceptable levels of sexual harassment,' says campaigner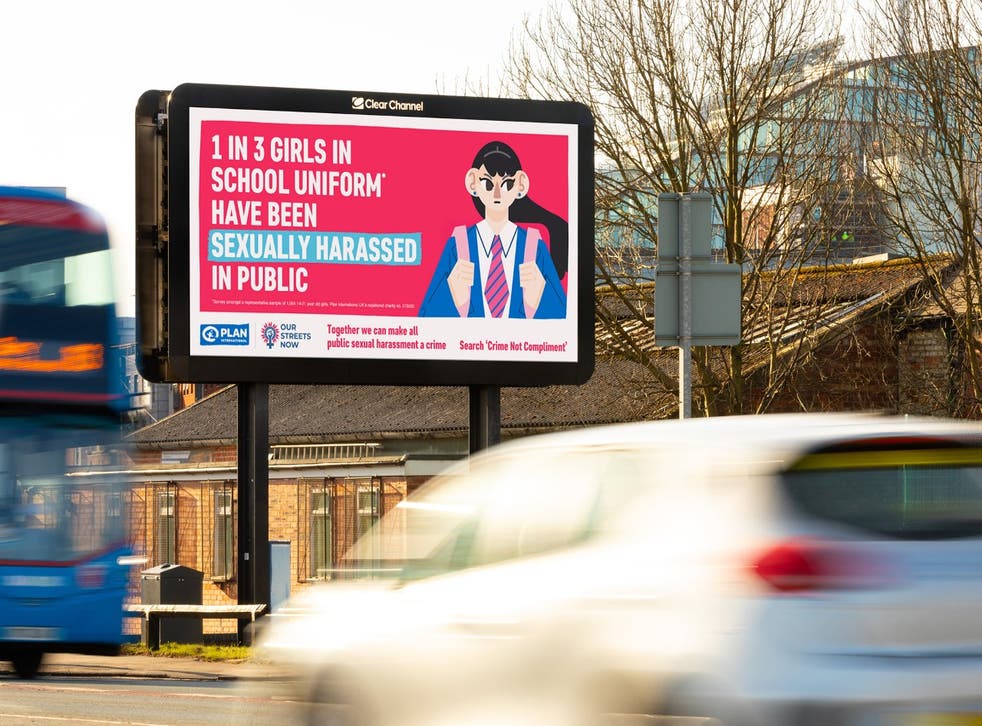 Around six in ten young women feel anxious about being out on the streets more as the UK emerges from lockdown, a new study has found.
Research, shared exclusively with The Independent, discovered almost half of the women who are suffering from anxiety about being out in public say safety and harassment is their biggest reason for feeling worried.
The study comes after Sarah Everard's killing spawned a surge of anger as women shared personal stories about being sexually harassed, assaulted, or abused by men in public spaces in the daytime or at night.
Researchers at a market research company called Appinio, who polled a nationally representative sample of 1,000 people aged between 16 and 24 in the UK, also discovered one quarter of young women feel uncomfortable in their body.
Maya Tutton, who runs the Our Streets Now campaign to end street harassment with her sister Gemma, told The Independent: "While shocking, I wouldn't say these findings are particularly surprising.
"At Our Streets Now, we hear daily from woman, girls and people of marginalised genders who feel anxious and fear harassment when out in public spaces.
"This curtails their everyday life and infringes upon their fundamental human rights. From unwanted sexual comments about someone's body, to men following them, to indecent exposure, and assault on the street - the one things all these intrusions share is they are about power, patriarchy and oppression."
Ms Tutton said the fact Plan International UK research found one in three girls in this country has been harassed in their school uniforms is a "stark example" of how "unequal power dynamics" are "always at the heart of sexual harassment".
She explained they had launched a campaign on bus stops, in shopping centres and on street side billboards across the country this week aiming to "reclaim the space denied to such a big proportion of society" due to public sexual harassment.
The campaign, launched with leading charity Plan International UK, shares the stories of three girls, two women and one gender non-conforming person's experiences of abuse in public spaces.
A recent survey by UN Women found 97 per cent of young women in the UK said they had been sexually harassed, while 80 per cent reported experiencing sexual harassment in public spaces.
Researchers, who polled more than 1,000 women aged between 18 to 24, found the sexual harassment included being groped, followed and coerced into sexual activity.
Reflecting on the latest research, Deniz Ugur, deputy director of End Violence Against Women Coalition, said: "The fact that so many young women are worried about sexual harassment.
"And are feeling anxious about being out on the streets following the easing of restrictions should be yet another clear message to the government that women are experiencing unacceptable levels of sexual harassment. And that they urgently need to address the root causes that excuse and normalise this behaviour. Enough is enough."
A study that came out last spring found young women say sexual harassment, including men indecently exposing themselves, has become worse during the lockdown.
Plan International UK, who polled more than 1,000 women aged between 14 and 21, found one in five women have suffered harassment on the streets since the government implemented stringent social distancing measures — with a fifth of them saying the issue of harassment has got worse in lockdown.
Rose Caldwell, chief executive of Plan International UK, said: "All women and girls should feel safe in public spaces, yet they still continue to face harassment every day. They're being followed, shouted at, touched and groped – and it needs to stop.
"Currently, there is no UK law that fully criminalises public sexual harassment, leaving perpetrators to get away with it. As one girl told us, you can be fined for dropping litter in the UK, but not for harassing a woman or girl in public. This cannot be right. We know that the government is considering criminalising public sexual harassment."
Join our new commenting forum
Join thought-provoking conversations, follow other Independent readers and see their replies