One in four young women scared they will be sacked if they report sexual harassment, study finds
'There is an inherent power imbalance in the workplace - for young women in particular - especially in the context of zero hours contracts and limited worker rights,' says academic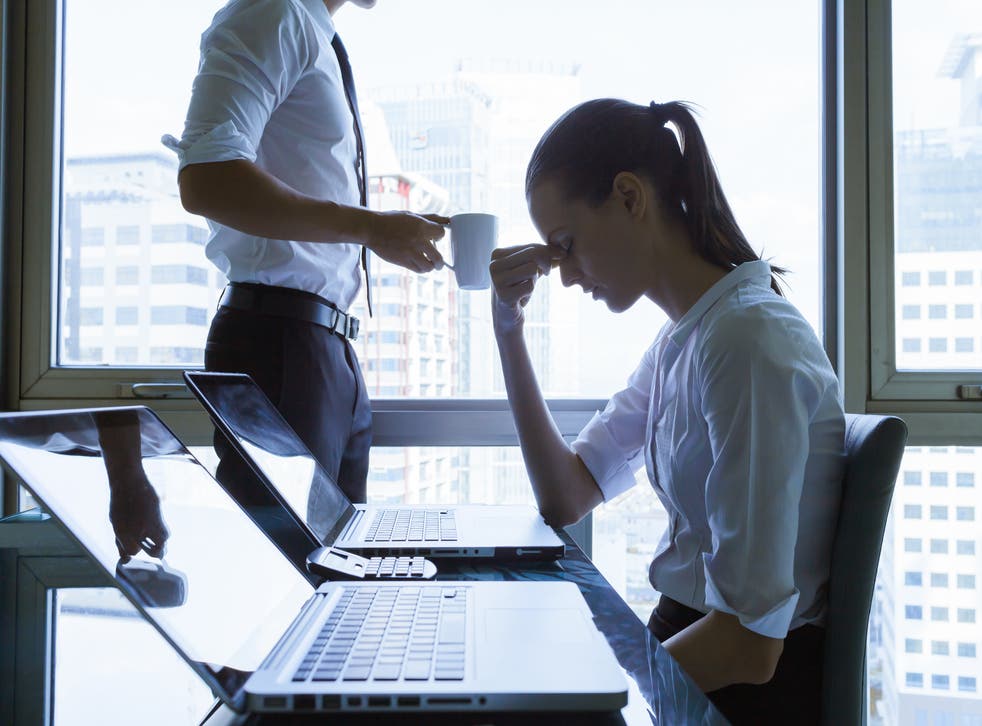 One in four young women are scared they will be sacked if they report sexual harassment at work, a study has found.
Carried out by the Young Women's Trust and released on the second anniversary of the #metoo movement, the research found that just 6 per cent of young women who had been sexually harassed at work reported the misconduct.
This follows on from another recent study by the Trades Union Congress which found some two-thirds of young women had been experienced harassment at the office.
Sophie Walker, chief executive of the Young Women's Trust, said: "We are calling on the government to make it mandatory for all employers to protect their workers and volunteers from harassment and victimisation.
"Alongside this, employers should make it easier to report abuse by customers and clients, as well as colleagues, and put in place unbiased reporting processes that do not penalise victims.
"When will the men who make political decisions, run workplaces and lead businesses decide that respect and equality for women is important?"
UK news in pictures

Show all 50
When researchers pressed women about what had stopped them from coming forward, one-quarter said they feared losing their job.
One in five said they were anxious about the prospect of being given fewer hours at work and one in three said they did not know how to report the harassment.
Anxieties around being fired for reporting sexual harassment were found to be higher among young women of colour, or with a disability or long-term health condition – with 30 and 37 per cent respectively saying they were scared this would happen.
Eight per cent of respondents said they had been treated less positively by their employers because they rebuffed unwanted sexual advances, while 5 per cent of said they had had to leave their workplace for another job due to sexual harassment, assault or abuse.
A total of 16 per cent of those polled said they knew "of cases of sexual harassment at work that have been reported and not dealt with properly".
Holly Taylor-Dunn, a senior lecturer at the University of Worcester who has been working in the field of domestic and sexual violence for 17 years, said: "The increased recognition of sexual harassment, violence and abuse at the political level does not necessarily translate to individual women's experiences.
"The issue of women not reporting to their employers is largely due to power – there is an inherent power imbalance in the workplace for young women in particular, especially in the context of zero-hours contracts and limited worker rights."
Sam Smethers, chief executive of women's rights charity the Fawcett Society, added: "Two years since the outpouring of #MeToo sexual harassment testimonies we have yet to see the law change. We need to protect women from sexual harassment from co-workers, clients and customers. We also need to go further and introduce a duty on employers to prevent harassment.
"My fear is that the government may row back on their commitment to legislate. Women will not forgive them if they leave this issue unaddressed."
Support free-thinking journalism and attend Independent events
Responding in the latest study, one in three women agreed that there had been "talk but no action to tackle sexual harassment since the #metoo movement started", and one in 10 said they felt "let down by their employer's efforts to tackle sexual harassment at work".
Uma Mishra-Newberry, executive director of Women's March Global, said: "It has been two years since the world became aware of #MeToo – but it has been decades since a black activist, Tarana Burke, started the movement.
"What we have seen since the reigniting of #MeToo is thousands of women globally sharing their own stores of sexual assault and violence. We must understand the systemic misogyny still in place that acts as a barrier to justice for hundreds of women worldwide."
A government equalities office spokesperson said:"Sexual harassment is appalling and it must be stopped.
"Our consultation on how the current laws can be improved closed at the beginning of this month. We proposed a number of measures to strengthen and clarify the law so that we can provide explicit protections to anyone who experiences this vile behaviour in the workplace."
Join our new commenting forum
Join thought-provoking conversations, follow other Independent readers and see their replies