One in five women have been sexually harassed in the workplace amid 'woeful' lack of reporting, finds research
Cases continue to be 'woefully unreported', with a third never acted on by senior management and almost a fifth never acknowledged, Opinium research shows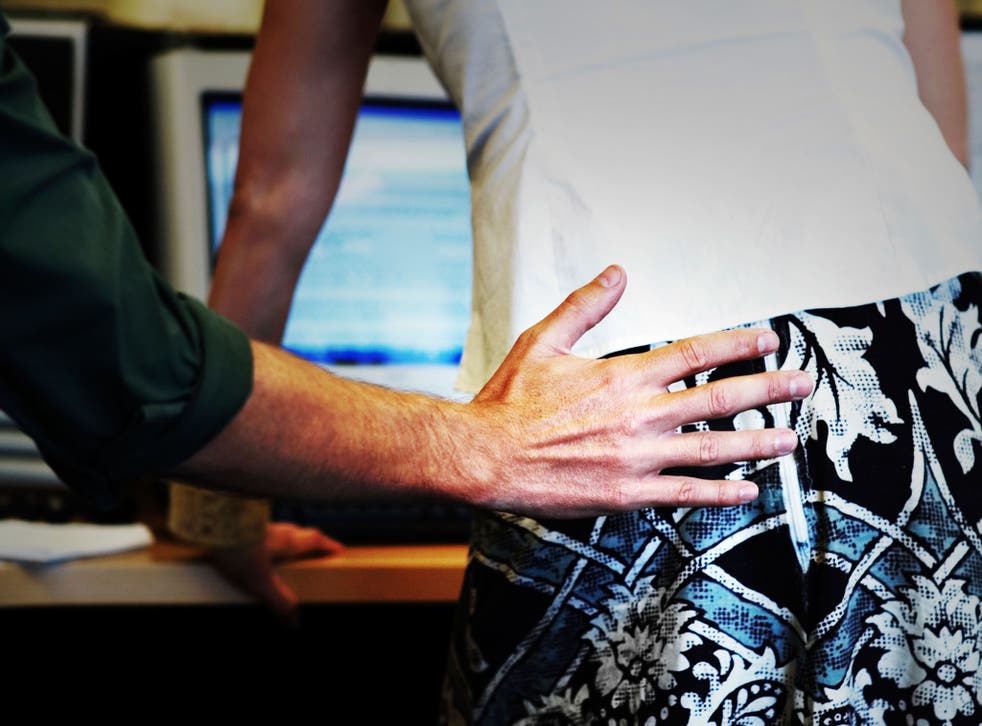 One in five women in the UK has been sexually harassed in the workplace, as cases continue to be "woefully unreported", new findings show.
More than 2.5 million women (20 per cent of all female workers) say they have experienced sexual harassment at work, yet two thirds of these are not reporting it to their company, according to research by Opinium.
Of cases that were raised, a third (33 per cent) were never acted on by senior management, while almost a fifth (18 per cent) were never acknowledged.
A separate poll for the BBC found that more than half (53 per cent) of women had been sexually harassed at work or a place of study.
The lack of reported cases in the Opinium survey could be explained by the fact that 57 per cent of women who have suffered sexual harassment in the workplace have felt intimidated by the way they have been spoken to at work.
The research, derived from a survey of 2,000 UK adults, also found that access to opportunities for women appeared to be stifled, with one in 10 (12 per cent) stating they that they had been denied a job or interview due to workplace sexism.
Once in employment, less than half (48 per cent) of women felt equal pay existed between the sexes in their company, the findings show.
The survey also produced concerning findings on the reporting of racial discrimination, with only half (55 per cent) of those discriminated against on the basis of their race having reported such incidents to somebody in their company.
Two thirds (63 per cent) of ethnic minorities surveyed also reported feeling that professional roles were closed off to them, and felt that certain professions were not available including roles in the police (18 per cent), law (16 per cent) and banking (15 per cent) sectors.
There were even starker findings regarding ageism, with almost three-quarters (72 per cent) of incidents going unnoticed, and of the cases that did get reported, a quarter were not acknowledged.
Action taken on incidents of homophobia were also low, with 43 per cent of cases not being dealt with after the acknowledgement.
In light of the findings, James Endersby, managing director of Opinium, said: "The UK has made great steps to ensure everyone has basic rights and freedoms, however our report highlights we have still have some way to go.
"The stark reality of sexual harassment in the workplace needs to be addressed to prevent such acts occurring in the future, but to also encourage those affected to come forward and have their voices heard.
"There also needs to be a significant attempt to tackle prejudicial workplace cultures; over a third of UK workers believe their fellow employees still hold discriminatory views but don't voice them openly. Businesses should take a zero-tolerance stance to discrimination of any kind, but also encourage greater integration and debate if they are to effectively challenge these issues."
UK news in pictures

Show all 50
Dr Carole Easton OBE, chief executive of the Young Women's Trust, which supports and represents women aged between 16 and 30, said: "Young Women's Trust has found that a huge number of employers are aware of sexual harassment in their own workplaces. It is happening on a large scale – in all industries.
"Reporting sexual harassment is difficult for anyone due to fears about losing your job, the impact on your mental health and the worry about not being believed.
"No one should feel uncomfortable or unsafe at work. As well as good workplace policies and training, employers need to create a culture in which it is clear that sexism and sexual harassment is not tolerated, and that women who report it will be taken seriously and not penalised."
Register for free to continue reading
Registration is a free and easy way to support our truly independent journalism
By registering, you will also enjoy limited access to Premium articles, exclusive newsletters, commenting, and virtual events with our leading journalists
Already have an account? sign in
Register for free to continue reading
Registration is a free and easy way to support our truly independent journalism
By registering, you will also enjoy limited access to Premium articles, exclusive newsletters, commenting, and virtual events with our leading journalists
Already have an account? sign in
Join our new commenting forum
Join thought-provoking conversations, follow other Independent readers and see their replies