Shamima Begum: British citizenship of former Isis bride should be restored, Court of Appeal told
'The only things that are clear are that Shamima Begum was a child when she left the UK and had been influenced to do so,' says her lawyer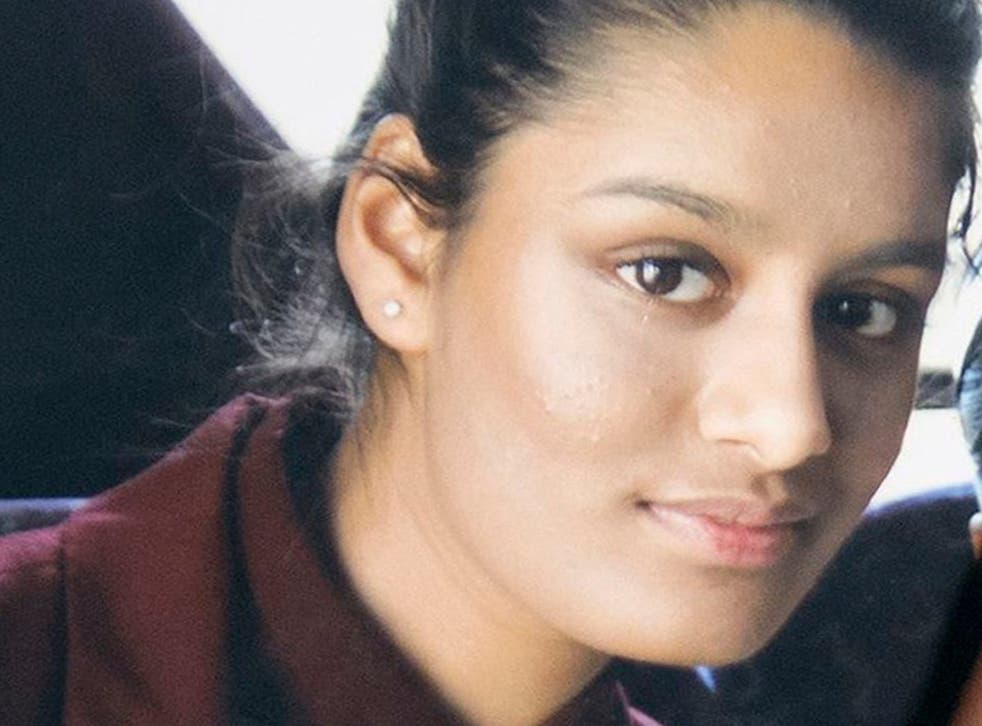 The Court of Appeal has heard that Shamima Begum should have her British citizenship restored because she cannot have a "fair and effective appeal" against the government's decision to strip her of it.
Ms Begum was one of three east London schoolgirls who travelled to Syria to join Isis in February 2015.
She was found last year in a Syrian refugee camp, nine months pregnant. Sajid Javid, who was home secretary at the time, revoked her British citizenship.
Ms Begum took legal action against the Home Office at the High Court and the Special Immigration Appeals Commission (SIAC), a tribunal which hears challenges to the removal of a person's British citizenship on national security grounds.
SIAC ruled that the decision to revoke her British citizenship did not render her stateless, and was therefore lawful, as she was a "citizen of Bangladesh by descent" at the time of the decision.
Ms Begum's challenge to the decision to refuse her entry to the UK in order to pursue her appeal was also rejected.
Tom Hickman QC, who opened her case at a remote hearing on Thursday, said the key issue in her appeal was whether the absence of "a fair and effective means of challenging the decision to deprive her of her British citizenship" made the decision unlawful.
He said Ms Begum's appeal against the stripping of her citizenship should be allowed because the appeal "cannot be pursued in a manner that satisfies even minimum requirements of fair procedure".
Her case was the first "in which SIAC held that an appellant cannot have a fair and effective appeal", said Mr Hickman. But the tribunal still rejected her claim for leave to enter the country to pursue her challenge to the decision to revoke her citizenship and suggested "that the appellant's appeal might have to be stayed indefinitely or even struck out altogether", he added.
"The consequence of the appellant not being able to have a fair and effective appeal means that the secretary of state's decision stands indefinitely and possibly forever without there ever having been a judicial decision on the merits [of Ms Begum's appeal]," he said.
"That, we say, piles unfairness upon unfairness and is wrong in law.
"The only things that are clear are that Shamima Begum was a child when she left the UK and had been influenced to do so," he added.
Sir James Eadie QC, representing the Home Office, said in written submissions that the fact that Ms Begum could not fully engage in the appeal procedure was "a result of her decision to leave the UK, travel to Syria against Foreign and Commonwealth Office advice and align with ISIL [Isis]".
The two-day hearing before Lord Justice Flaux, Lady Justice King and Lord Justice Singh is being livestreamed on the judiciary's YouTube channel, and it is expected that the Court of Appeal will reserve its judgment to a later date.
Register for free to continue reading
Registration is a free and easy way to support our truly independent journalism
By registering, you will also enjoy limited access to Premium articles, exclusive newsletters, commenting, and virtual events with our leading journalists
Already have an account? sign in
Join our new commenting forum
Join thought-provoking conversations, follow other Independent readers and see their replies