Jeremy Hunt says British officials didn't rescue Shamima Begum's baby because it was too dangerous
Shamima Begum: David Miliband calls for foreign Isis women to be brought home to face justice
Charities say more children at risk if action not taken
David Miliband, a former foreign secretary, has said Shamima Begum and other Isis suspects held in Syria should be brought home to face justice.
His comments come after the death of Ms Begum's three-week-old baby, which has sparked criticism of the British government's handling of her case.
"It is only right that the foreign women at the camp should return to their countries of origin and where it is deemed necessary ensure they face due process," he told The Independent.
"Whatever the possible crimes of the parents, foreign children at al-Hol camp are clearly innocent victims of the conflict and should be repatriated to their home countries in order to ensure their safety and wellbeing."
Mr Miliband currently heads the International Rescue Committee (IRC), which is providing aid to thousands of Isis families like Ms Begum in al-Hol displacement camp in northern Syria.
The camp has been overwhelmed by the arrival of more than 60,000 people in the last few months, mostly women and children who have fled the shrinking Isis caliphate further south.
Syria at war: Fleeing the caliphate

Show all 14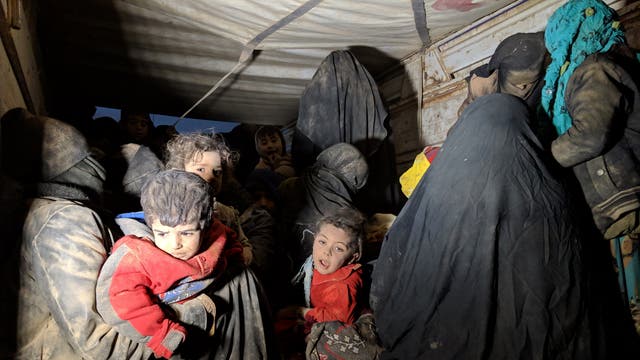 More than 100 people, mostly infant children, have died at the camp or on the journey to it during that time. Another 1,500 arrived at the camp on Thursday morning, even as the territory held by Isis has been reduced to little more than a few fields.
"The only thing we know for sure about them is that they lived under the control of Isis," Mr Miliband said of the camp's residents.
"The IRC knows from our experiences helping people who fled Mosul and Raqqa that it's incredibly dangerous to escape Isis territory. People either have to risk crossing an active frontline as a battle rages around them or they have to pay an exorbitantly high price to be smuggled long distances."
He added that many of the deaths at the camp are due to the terrible conditions they have lived in for the past few months, in the surrounded Isis enclave.
"They have gone for many months without healthcare and have struggled to get enough food or water. The main causes of death have been hypothermia, pneumonia, dehydration or complications from malnutrition," he said.
Ms Begum left her home in Bethnal Green in 2015 to join Isis with three of her school friends. She arrived heavily pregnant at the al-Hol camp in early February, now aged 19, after leaving the last-held areas under the terror group's control. She gave birth to her son there shortly after, having already lost two children.
The British government stripped her of her citizenship just days after he was born, leaving her unable to return to the UK. The child, named Jarrah, died a British citizen.
The Independent understands there are around seven other British women in the camp, and as many as 20 children.
The UK government has refused to bring any of its citizens back from Syria, and has instead taken measures, such as removing citizenship, to prevent their return whenever possible.
Save the Children, which also operates in the camp, said more children may be at risk unless urgent action is taken.
"Many are starved, sick and emotionally distressed from what they have been through. In the overcrowded displacement camps, their lives are still at risk from infectious diseases, cold and hunger," said Sonia Khush, Save the Children's Syria response director.
The charity said there are an estimated 3,580 foreign children from more than 30 nationalities living in camps in northeast Syria, nearly two-thirds of them under five years old.
"The international community must step up its response to ensure we can meet families' basic needs. In the case of foreign nationals, governments must urgently take responsibility for their citizens and put in place plans to repatriate them. There is no excuse for leaving children to die in a foreign displacement camp."
The charity said that almost 30 per cent of children under the age of five screened by Save the Children for malnutrition at al-Hol camp since the start of February were acutely malnourished. A quarter of those were suffering from severe acute malnutrition, it added, meaning they could lose their lives if they are not urgently treated.
Join our new commenting forum
Join thought-provoking conversations, follow other Independent readers and see their replies