Shomrim Jewish security group steps up patrols in London following deadly terror attack at Paris kosher supermarket
Some 80 volunteers help to run the civilian security group in the capital
Kashmira Gander
Tuesday 13 January 2015 20:16 Comments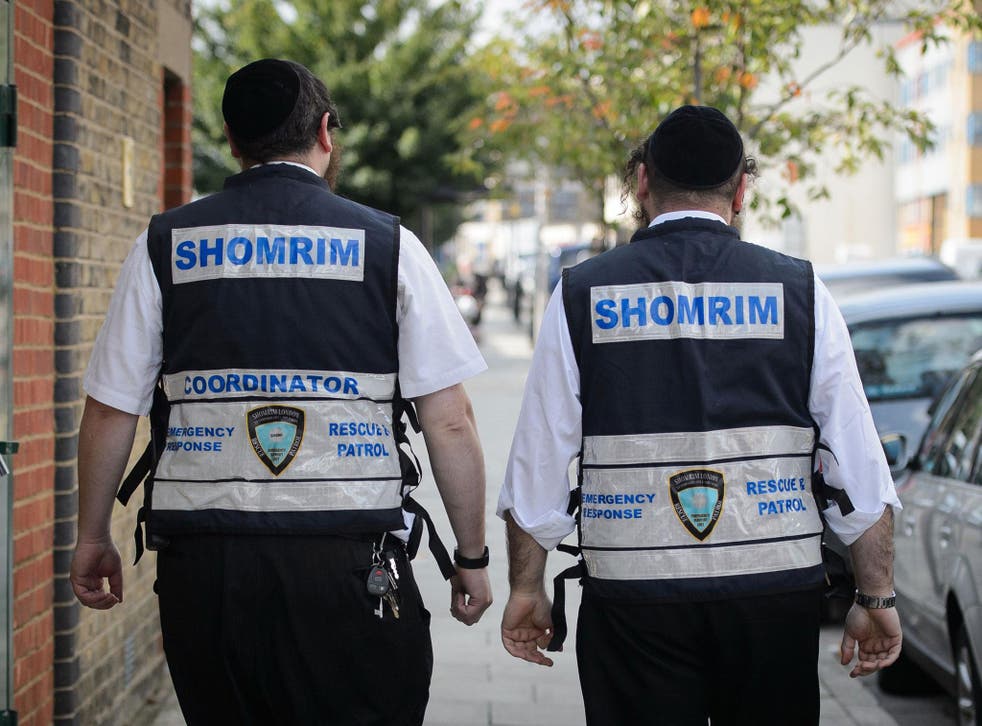 A civilian security group run by volunteers from the Hasidic Jewish community in north London has stepped up its patrols, in the wake of terrorist attacks in France last week.
During the siege at a kosher supermarket in Paris, Islamic extremist Amedy Coulibaly took 12 people hostage, and later killed four people.
Amid fears that London will be hit by copycat attacks, Shomrim London announced on its Twitter page that its volunteers will be carrying out more car patrols in areas with large Jewish communities.
Shomrim London urged local residents to remain calm, but advised vigilance against possible copycat attacks.
The group – named after the Hebrew term for 'guards' - operates with the help of 80 volunteers, and focuses on London boroughs including Golders Green, Hendon and Barnet.
Its members, who receive training from the Metropolitan Police, wear uniforms complete with knife-proof vests and look out for anti-Semitic hate crimes, as well as general trouble in the neighbourhood, the Mail Online reported.
The volunteer group also runs a 24-hour crime hotline, and its members are trained to safely track and detain suspects until police arrive.
In pictures: Kosher grocery attack in Paris

Show all 25
As news of the patrols spread, members of the public previously unaware of the group's work appeared concerned by their activities - particularly their uniforms and patrol vehicles which resemble those used by the police.
However, the Hackney branch of the Metropolitan Police reassured the public that Shomrim has its support.
Asked by a member of the public whether the police would provide the same level of support for Islamic groups wanting to set up their own security, the force tweeted: "Provided they stay within the boundaries of English law, yes of course."
Rivki Rokach, a manager at Kosher Kingdom supermarket in Golders Green told the Associated Press that management was putting into place new security measures, but said business had not dropped off since the attacks.
"People are in a bit of panic mode, but thank God people need to shop," she said. "We are doing everything we can to make sure people are comfortable."
Shomrim has not yet responded to contact from The Independent, but issued a statement to Sky News saying its patrol vehicle was "clearly marked with large lettering with the name of our charity, on all four sides so as not to impersonate police in any way."
"We are not a police force. Our unpaid volunteers and unpaid staff are compiled of men and women of the local neighbourhood regardless of their ethnicity or religious affiliation," the statement added.
Register for free to continue reading
Registration is a free and easy way to support our truly independent journalism
By registering, you will also enjoy limited access to Premium articles, exclusive newsletters, commenting, and virtual events with our leading journalists
Already have an account? sign in
Register for free to continue reading
Registration is a free and easy way to support our truly independent journalism
By registering, you will also enjoy limited access to Premium articles, exclusive newsletters, commenting, and virtual events with our leading journalists
Already have an account? sign in
Join our new commenting forum
Join thought-provoking conversations, follow other Independent readers and see their replies