Should BBC have let Queen off the hook over Hamza?
Corporation sorry after revealing monarch 'lobbied Government to expel extremist'
Terri Judd
,
Ian Burrell
Wednesday 26 September 2012 01:26 Comments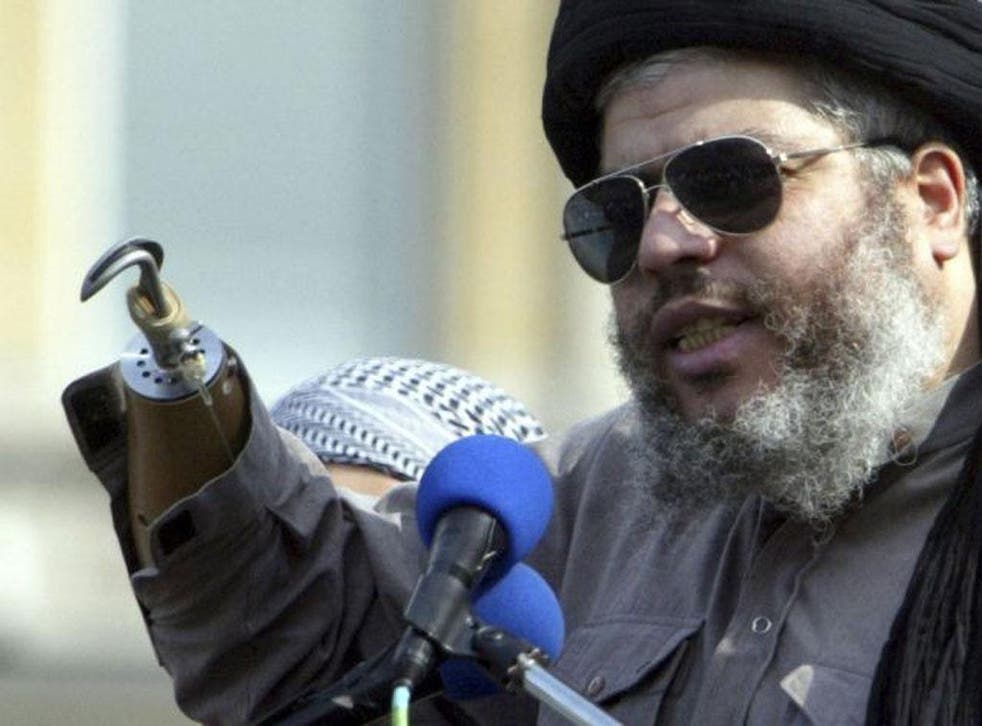 The BBC was criticised last night for making an abject apology to the Queen after one of its senior journalists claimed that the monarch politically intervened in the case of the radical Islamist cleric Abu Hamza.
The BBC security correspondent Frank Gardner said on breakfast radio that the Queen had lobbied a Home Secretary about what she saw as the unduly lenient treatment of Abu Hamza, questioning why he had not already been arrested.
Within four hours, the BBC – nine days into the stewardship of its new director-general George Entwistle – apologised to Buckingham Palace, saying that Gardner, one of the most respected journalists of his generation, had betrayed the Queen's confidence. The corporation "deeply regretted" his "wholly inappropriate" revelation, it said.
Republicans and some journalists criticised the BBC apology, insisting it was right that the public learnt of such interventions.
Gardner's disclosure is troublesome for Buckingham Palace because the Queen traditionally does not intervene in public policy. As a constitutional monarch, the 86-year-old is supposed to maintain political neutrality. She holds a private weekly audience with the prime minister of the day – she is on her 12th – and so the public rarely ever learns her opinion on any matter of consequence.
Kevin Marsh, a former editor of Today and former editor of the BBC College of Journalism who now runs the media teaching company OffspinMedia, said: "I can understand the new Director-General would want to close this down quickly but I thought the apology was a little excessive."
He added: "I was surprised when I heard Frank Gardner make the comment because he is terribly meticulous."
The revelation and subsequent apology elicited an angry response from Republic, the pressure group that lobbies for the abolition of the monarchy, which accused the BBC of a pro-royalist public relations exercise.
"The decision to disclose this one conversation while keeping all else secret smacks of a deliberate PR stunt to put the Queen on the right side of public opinion," Republic claimed.
Its chief executive Graham Smith accused the Queen of "meddling in the political process", adding: "We're told the Queen is above politics and never gets involved, yet she has apparently admitted that she has interfered in a controversial issue."
Gardner, who was not available for comment following the BBC apology yesterday, is understood not to have felt especially constrained by royal protocol given his specialism in security rather than Palace matters, and to have initially thought his disclosure of marginal significance.
Details of the Queen's comments emerged as it was revealed that the radical cleric, 54, and four other terror suspects could be sent to the US within days after the European Court of Human Rights threw out their request for an appeal to the Grand Chamber.
Discussing the issue on Radio 4's Today programme yesterday morning, Gardner said: "I can tell you that the Queen was pretty upset that there was no way to arrest him. She couldn't understand – surely there had been some law that he had broken?
"In the end, sure enough, there was. He was eventually convicted and sentenced for seven years for soliciting murder and racial hatred."
His surprised colleague, the presenter James Naughtie, replied that this revelation was "a corker". Gardner said: "She told me she spoke to the Home Secretary at the time and said, 'Surely this man must have broken some laws. Why is he still at large? He was conducting these radical activities and he called Britain a toilet. He was incredibly anti-British and yet he was sucking up money from this country for a long time.'"
Buckingham Palace declined to comment on private conversations.
Gardner did not specify which Home Secretary the Queen had lobbied, although David Blunkett, who held the post from 2001 to 2004, at the peak of Abu Hamza's infamy and before he was arrested, soon after denied it was him: "I can categorically state that the Queen never raised the issue of Abu Hamza with me. Not surprisingly because my views and attitude in relation to this individual were very well known."
Royal views: Upset and angry
Several years before fox hunting with dogs was banned in 2005, it is reported the Queen lobbied Tony Blair at Balmoral.
Her biographer Sally Bedell Smith wrote: "She patiently explained to him over dinner that hunting was an activity not only for the upper class but regular people as well."
Her Majesty was also enraged by the credit crunch, having lost a substantial portion of her personal fortune as the "awful" economic crisis began. At a briefing by LSE academics, she said: "Why did nobody notice it?"
Prince Charles, whose letters to ministers will soon be revealed following a High Court ruling, is far more dogged in pursuing influence over senior government figures. He has already summoned Chancellor George Osborne and the Education Secretary Michael Gove for secret meetings.
During the Blair years, he allegedly enraged the Prime Minister with his disgust for genetically modified food and his boycott of a state banquet for China's President Jiang Zemin. In 1984, he described a planned addition to the National Gallery as a "monstrous carbuncle".
Register for free to continue reading
Registration is a free and easy way to support our truly independent journalism
By registering, you will also enjoy limited access to Premium articles, exclusive newsletters, commenting, and virtual events with our leading journalists
Already have an account? sign in
Join our new commenting forum
Join thought-provoking conversations, follow other Independent readers and see their replies