Should we give homeless people money?
More than 9,000 people are sleeping on the streets of Britain at any given time – a rise of 134% since 2011. But does giving money to homeless people on the streets help alleviate or perpetuate the problem?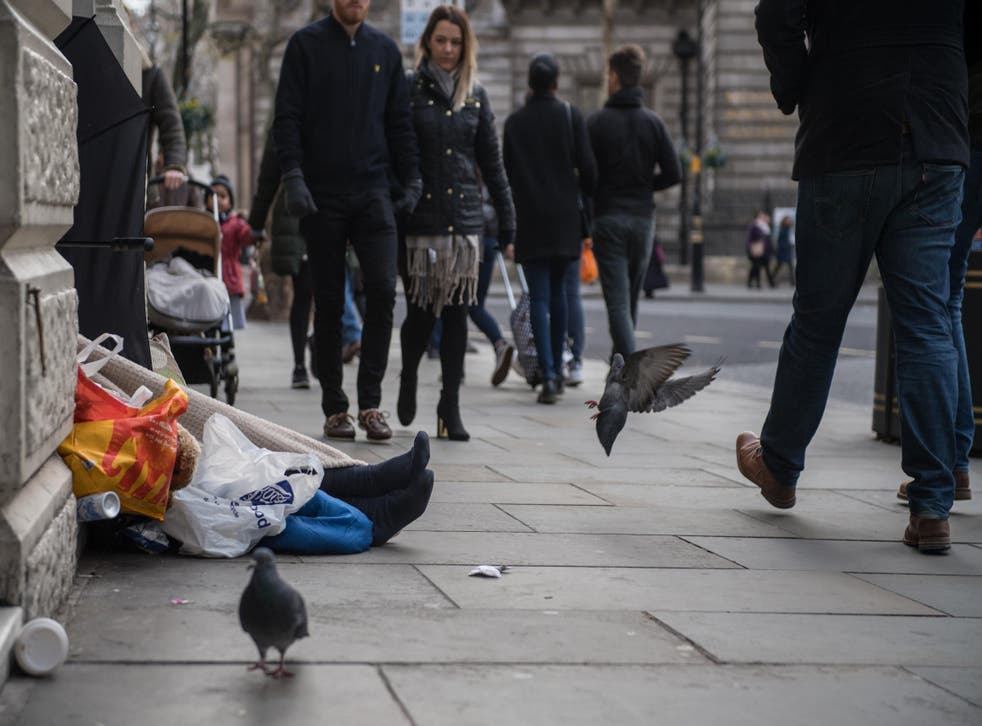 Homelessness in the UK has soared in recent years, with MPs and charities have condemned the situation as a "shameful" state of affairs that is nothing short of a "national crisis".
Over 79,000 households living in temporary accommodation – a rise of 65 per cent since 2010 – and the number of rough sleepers on our streets up 134 per cent since 2011. More than 9,000 people are sleeping on our streets at any given time.
Yet while the public is increasingly aware that thousands of homeless people are forced to spend their nights in the cold, there remains confusion about how to help homeless people. More specifically, when we see somebody sitting on the side of the pavement, should we offer them money?
The views of charities and homeless support groups are mixed. While some advise against giving money directly to rough sleepers, warning that it can fuel addictions, other groups say giving money is often essential to helping homeless people buy the "bare necessities".
Salvation Army
The Salvation Army, which offers emergency accommodation on a night-by-night basis in some of their life houses, advises against handing money to the homeless, saying it risks "trapping" people in the "endless cycle" of homelessness and rough sleeping.
A spokesperson told The Independent: "The causes of homelessness are very varied. Often there are several reasons for why someone becomes homeless – from relationship breakdown to mental health issues or job loss. Drugs and alcohol can play a part in homelessness, but it often comes as a result of becoming homeless.
"Rough sleeping is dangerous and cold weather can be very tough for people who are homeless. If you're worried about someone sleeping rough there are a few things you can do. Buying a hot drink, some food or warm clothing like socks for someone sleeping rough can make a difference.
"We applaud the generosity of the public in wanting to help people directly, but we recognise that providing cash can keep people trapped in the endless cycle of homelessness and rough sleeping, particularly for those who are also battling drugs and alcohol issues. Many homelessness charities, including ours, focus on looking at the root causes of homelessness and offer practical support – donating can help us with our work."
Jon Glackin, founder of Streets Kitchen
The founder of Streets Kitchen, a grassroots group that operates across the UK to provide soup kitchens and support for the homeless, is of a very different view.
Forty-seven-year-old John Glackin, who has been homeless himself, told The Independent the best way to help rough sleepers is to give them money directly, and that drug and alcohol addicts make up an "absolute minority" or homeless people.
"I would say if you can afford to give money to a homeless person on the street, do it. That person may need that money to buy a jumper, or stay in a hostel. We're told all these scare stories, but if I gave a pound to a charity, how much of that money actually goes to that person?
"It gives that person the choice. Of course we see spice heads, but they're absolutely the minority. And if you're going to give someone out of their face money, you are a bit silly. Have a bit of common sense.
"It's about people's bare needs. They might need clothes, underwear. Hostels cost money. They may need to get out of town to go see someone, or get to a food bank. There is a myriad of reasons homeless people need money."
Dylan Stone, homeless man
Mr Stone, who is homeless in Barnstaple, says the money he is given on the street is essential to enabling him to afford basic things like cooking his own food and getting his clothes washed.
The 29-year-old told The Independent: "Money given to me in the streets either buys me my evening meal, gas for the mini cooker, a quick wash at the launderette.
UK news in pictures

Show all 50
"Everything in this world seems to cost money, and organisations don't have everything. Most are also closed weekends, and most only give out one meal a day, once or twice a week."
Matthew Downie

, director of policy at Crisis
National charity Crisis meanwhile says giving money to rough sleepers is a choice, with head of the charity Matthew Downie saying: "Whether or not people give money to beggars is a personal decision.
"Not everyone who begs is homeless and not all homeless people will beg. Nevertheless, people who do beg are often some of the most vulnerable in our society, and many will be struggling with extreme poverty."
Register for free to continue reading
Registration is a free and easy way to support our truly independent journalism
By registering, you will also enjoy limited access to Premium articles, exclusive newsletters, commenting, and virtual events with our leading journalists
Already have an account? sign in
Register for free to continue reading
Registration is a free and easy way to support our truly independent journalism
By registering, you will also enjoy limited access to Premium articles, exclusive newsletters, commenting, and virtual events with our leading journalists
Already have an account? sign in
Join our new commenting forum
Join thought-provoking conversations, follow other Independent readers and see their replies