Jimmy Thoronka: Homeless Sierra Leone athlete freed after outpouring of public support
Jimmy Thoronka went missing after the Commonwealth Games and has been sleeping rough in London through the winter after losing his family to Ebola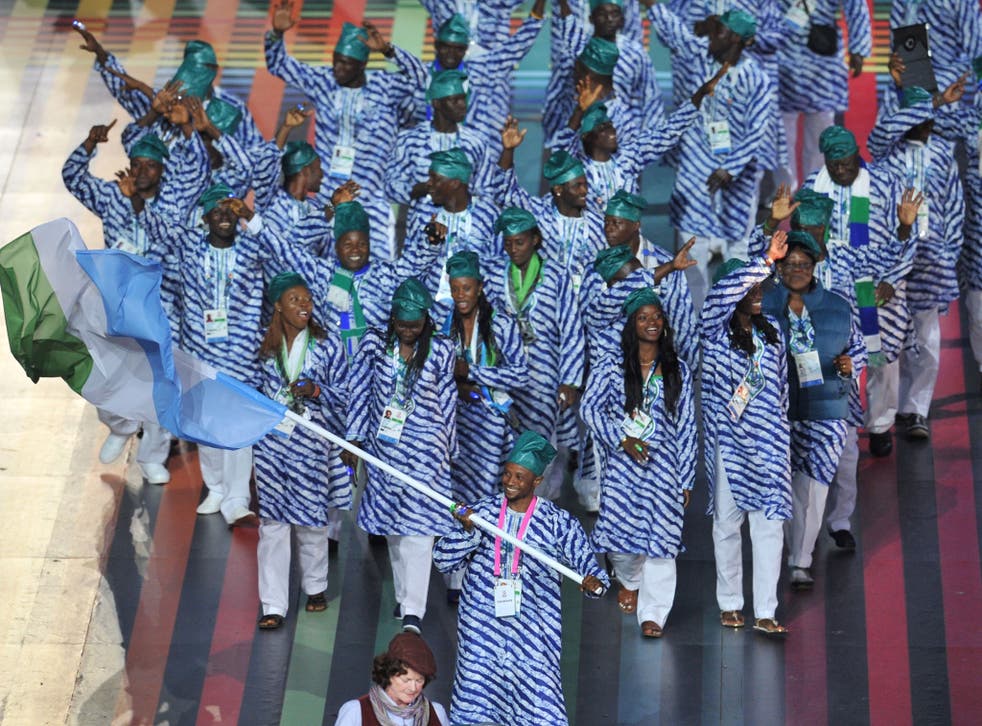 A homeless sprinter facing deportation from Britain after staying to escape Ebola in Sierra Leone has been given Home Office accommodation following an outpouring of public support and donations.
Jimmy Thoronka, 20, came to Britain last July to compete in Glasgow's Commonwealth Games as his country's top 100m runner. While he was there, his uncle died of Ebola – and shortly afterwards his mother and four siblings were also killed by the disease. Too scared to go back, he decided to stay on after his visa ran out.
He has since been homeless for more than seven months, going for days without meals and sleeping in parks or night buses in London. When his whereabouts emerged last week, he was arrested for overstaying his visa and held at Walworth police station in south London. He was finally released to Home Office accommodation on Saturday night after being interviewed by immigration officers.
Thousands of people campaigned for his cause over the weekend, including the comedian Russell Brand, the actor Samantha Morton and the model Lily Cole. Many gave their financial backing, raising more than £20,000 to support his future. "I am so happy that I am free again," he told The Guardian on being released from police custody. "At first I was told that they were going to send me back to Sierra Leone and I cried and cried. I was very scared."
He added: "I am amazed that people all over the world have offered to help me after they read my story. I don't know how to thank everyone. If I can make a success of my life as a sprinter my plan is to go back to Sierra Leone and help homeless people. I know how much suffering there is when you are homeless. Last week I had no hope but now maybe I will make it."
Mr Thoronka's team arrived just as the Ebola outbreak was declared a public health emergency in his home country. The death toll from the virus in Sierra Leone is now more than 3,500 and he is one of several athletes from his country to disappear after the Games ended in August.
He had already lost his birth family in Sierra Leone's civil war, making the loss of his entire adopted family to Ebola even harder to take.
An appeal started by a Cambridge student, whose PhD is about how social networking can be used for social good, has already raised more than £20,000. The money will be put in a trust for Mr Thoronka and would be enough to fund the fees and some living costs of a year at a residential athletics training facility.
Richard Dent, who has never met Mr Thoronka, set up the Go Fund Me page on Friday afternoon and within 24 hours, more than £12,000 had been donated. Writing on the page he set up, Mr Dent said: "This campaign is to financially support Jimmy's immediate welfare and his career as an athlete. It's not a political campaign. I think the two can be separate issues.
"Obviously Jimmy broke his visa… But I believe he did this because he had a genuine fear for his life whilst under incredible stress given the loss of his family to Ebola. In my opinion, this is not an issue of supporting deliberate illegal immigration. This is about being humanitarians."
As well as financial support, more than 1,200 people have signed a petition to halt his deportation.
A Home Office spokesman said: "We do not routinely comment on individual cases".
Join our new commenting forum
Join thought-provoking conversations, follow other Independent readers and see their replies