Ebola virus: Sierra Leone boy's UK school placement cancelled over 'misguided hysteria' by parents over the disease
Boy's mother says the family have been treated like 'lepers' despite school's efforts to dispel fears over risk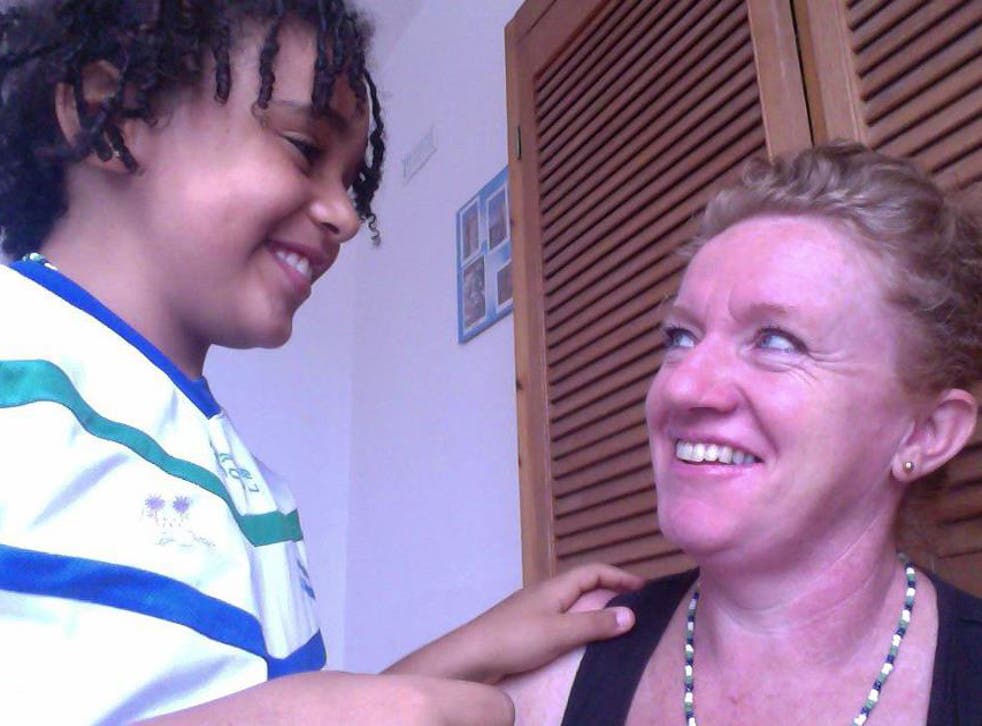 A nine-year-old boy from Sierra Leone who was due to attend a school in Stockport has had his placement cancelled because of the "misguided hysteria" displayed by some parents over fears of the spread of Ebola.
Kofi Mason-Sesay, who has joint Sierra Leonian and British nationality, was due to attend St Simon's Catholic Primary school in Stockport this month, while his mother, Miriam Mason-Sesay, is in the UK fundraising for the charity Educaid.
It is not the first time Kofi has been to the school, Ms Mason-Sesay told the Independent. But despite the family's sustained links with the area and the support of the school, the headteacher and its governing body have been "bullied" by a handful of parents into cancelling the child's attendance this month.
"The headteacher and the governing body are fantastic, but they have been bullied by a minority [of parents] who carried out Facebook campaigns and put the pressure on".
"If you've got the lergy then you've got the lergy, haven't you? It's complete nonsense."
Ms Mason-Sesay, who is the country director of Educaid, an education charity based in Sierra-Leone, travels to the UK twice a year for fundraising efforts.
She had herself and Kofi assessed by Public Health England when arriving in the UK and was given a category 1 rating, meaning the pair were given unrestricted movement while in the country.
"You can't be lower risk," she said. "Even if I were a health worker with this level of risk I could carry on practicing."
Ms Mason-Sesay has been based in Sierra Leone for 14 years, and said that Kofi has been attending the Stockport school for short periods of time from a young age, so that he does not miss out on his education when he is away from home.
"He has been going back into the same class since he was three," she said.
The school's headteacher, Elizabeth Inman, sent a letter to parents on 7 October, stating that it is with a "very heavy heart" that she and the school's chair of governors took the pragmatic decision to cancel Kofi's visit this month.
In pictures: Ebola virus

Show all 62
She said a "significant number of parents" had been in touch with her to express their fears over Kofi's attendance at the school, but that "Ebola cannot be spread as some parents have suggested".
"It is with great sadness that we decided to cancel the visit; the misguided hysteria emerging is extremely disappointing, distracting us from our core purpose of education your children and it is not an environment that I would wish a visitor to experience," Ms Inman wrote.
As a result of the situation, the headteacher has proposed that the school makes a "sizable donation" to Educaid "in recognition of the tremendous contribution made by Miriam to Sierra Leone, a country which has received more than its share of setbacks".
Ms Mason-Sesay, who was awarded an MBE in 2013 for her outstanding contribution to education and charitable work in Sierra Leone, said her overriding concern is the attitude people will hold towards West Africans as a result of the outbreak.
"We're treated like lepers for a month, but the much bigger concern is how people will be treating West Africans now," she said.
Register for free to continue reading
Registration is a free and easy way to support our truly independent journalism
By registering, you will also enjoy limited access to Premium articles, exclusive newsletters, commenting, and virtual events with our leading journalists
Already have an account? sign in
Register for free to continue reading
Registration is a free and easy way to support our truly independent journalism
By registering, you will also enjoy limited access to Premium articles, exclusive newsletters, commenting, and virtual events with our leading journalists
Already have an account? sign in
Join our new commenting forum
Join thought-provoking conversations, follow other Independent readers and see their replies