Sikh Lives Matter protest: One police officer injured after peaceful protest turns violent
The protesters were rallying in solidarity with Sikhs in India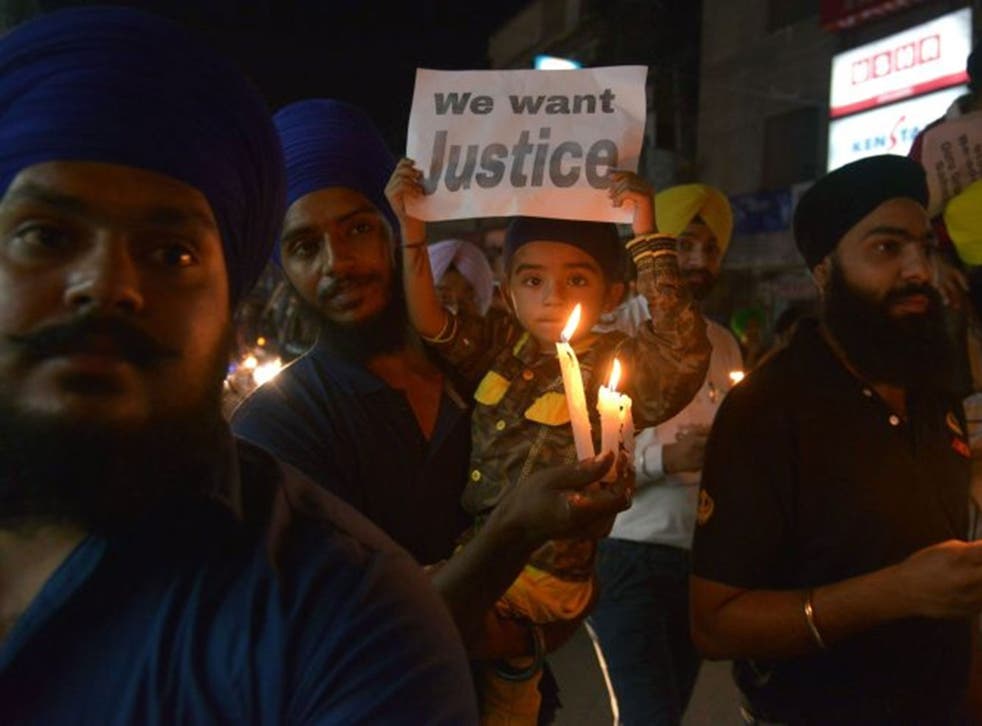 A policeman has suffered a head injury after an initially peaceful Sikh Lives Matter protest was marred by what officers described as a violent minority.
Hundreds of demonstrators gathered at the Indian High Commission in central London to protest in solidarity with Sikhs in Punjab.
Sikhs in the northern Indian state have staged demonstrations and blockaded roads in several towns and cities, after a torn copy of the Sri Guru Granth Sahib holy book was discovered in the village of Bargari in the Faridkot district.
Tensions escalated when police officers opened fire during a protest in the nearby village of Behbal Kalan, BBC News reported. Police said they had shot into the air, but two protesters were killed and dozens more were wounded – exacerbating the situation.
The protest in London began peacefully, with demonstrators causing "significant disruptions" in central London after blocking the roadway at Aldwych, the Metropolitan Police said in a statement.
Additional police officers, including personnel on horseback, attended the scene when a small number of protests became violent, the statement continued.
One police officer sustained a head injury during the unrest. An image of the injured officer shows blood pouring from his head and onto his shirt.
No other injuries were reported at the protest.
Police officers arrested 20 people, the majority of whom were booked for affray.
Similarly to the Black Lives Matter movement which was sparked by police violence in the US, activists use the #SikhLivesMatter to draw attention to issues which the community faces.
Register for free to continue reading
Registration is a free and easy way to support our truly independent journalism
By registering, you will also enjoy limited access to Premium articles, exclusive newsletters, commenting, and virtual events with our leading journalists
Already have an account? sign in