Silenced - the man who spoke out too loudly: Danny Shine's megaphone voice has been branded an 'annoyance' – but is it illegal?
Cahal Milmo
Wednesday 07 August 2013 22:02 Comments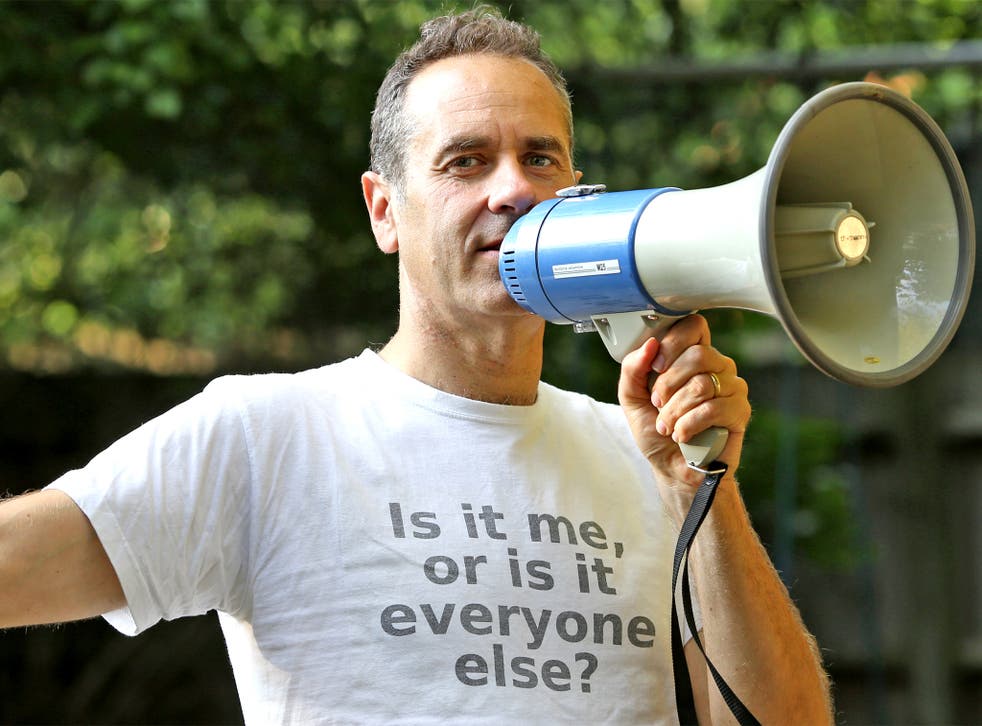 When performance artist Danny Shine decided to address shoppers in London's Oxford Circus on the follies of consumerism with the aid of a megaphone, he saw it as a public service. Unfortunately for him, a passing Westminster City Council street warden begged to differ.
As a result Mr Shine, 46, finds himself fighting an unusual human rights battle after the local authority, backed by police, seized his loudhailer and issued him with a court summons accusing him of a breaking a bylaw created by the council for "the prevention and suppression of nuisances".
The wedding singer, from Hendon, north London, is seeking to have the 12-year-old bylaw declared unlawful as part of his fight against the charge of "causing annoyance" by claiming that it infringes his right to freedom of expression.
The flagship Conservative council insists it is only taking action against Mr Shine because of the "volume" at which he expresses his views.
But the street performer – who faces a trial before a district judge next month – claims the bylaw is being used unlawfully to clamp down on the expression of dissent.
He told The Independent: "This law is completely arbitrary. It allows a member of the public or a civilian officer to prosecute you because you've annoyed him.
"While corporations are allowed to drown us in their messages, I'm not allowed to do what I think of as interactive street theatre. I end up with a summons and a choice of accepting a fine or fighting a case and ending with a legal bill of £10,000. This is shutting down freedom of expression."
The performer has spent the last four years touring locations around London, ranging from Google's European headquarters in Belgravia to consumer hot spots such as Oxford Street, using his megaphone to comment on issues from tax avoidance to the use of overtly sexual advertising by retailers. Last month he turned up outside the hospital where the Duchess of Cambridge was in labour, briefly addressing the crowd on his republican views.
But he came unstuck in November last year when he was spotted on two occasions outside Oxford Circus tube station, one of the capital's busiest interchanges, by a Westminster street warden.
In a statement obtained by The Independent, the warden said Mr Shine's remonstrations, which had included asking passing shoppers what they considered to be the meaning of life, were "annoying local businesses" as well as an adjacent stall holder.
The warden wrote: "I photographed the male and asked him to stop using his loudspeaker. He ignored me and then started to use his loudspeaker to ridicule Westminster City Council."
After refusing to provide his name and address and leaving the area on his bike, Mr Shine was approached for a second time a few days later by the same warden, this time backed by police.
Under what the street performer said was threat of arrest, he provided his personal details. In his statement, the warden said: "I cautioned Mr Shine and asked if he understood the caution. He replied, 'I do not understand the caution.' I then asked Mr Shine to place his loudspeaker into a clear bag which I sealed."
The prohibition being used to prosecute Mr Shine – part of the council's "Good Rule and Government" bylaws drawn up in 2001 – bans anyone on the streets of central London from making "any noise which is so loud or so continuous or repeated as to give reasonable cause for annoyance to other persons" if they have already been asked to stop.
The local authority insists the power is used proportionately and only enacted in cases of persistent noise. The Independent understands the bylaw has been used twice in the last year, once against a busker on Trafalgar Square.
But Mr Shine, with the help of a barrister, will argue that the bylaw should be struck down because it infringes the Human Rights Act by impeding his freedom of artistic and political expression as well as being "unreasonably vague". He will also claim the bylaw is unlawful because it exceeds the provisions of existing statute such as the Public Order Act.
He said: "I was standing outside a tube station where every 10 minutes there is a loud announcement telling people to mind the steps or drink water. I don't see the council taking London Underground to court. My purpose is to challenge people, not to upset them. If someone asks me to move on in a civil manner with a good reason then I will do so."
Quite whether a judge will share his view that there has been a sense of humour failure among officials remains to be seen.
A Westminster City Council spokesman said: "This case isn't about what you say in public – it's about the volume at which you say it. The right to free speech isn't a licence to walk the streets with a loudhailer disturbing the public. It's our job as a local authority to protect the interests of the public and visitors to Westminster from undue noise and irritation."
Register for free to continue reading
Registration is a free and easy way to support our truly independent journalism
By registering, you will also enjoy limited access to Premium articles, exclusive newsletters, commenting, and virtual events with our leading journalists
Already have an account? sign in
Join our new commenting forum
Join thought-provoking conversations, follow other Independent readers and see their replies