Government urged to overhaul slavery policy as child victims slip back into exploitation after being rescued
Exclusive: Social workers and police officers warn system is 'playing into the hands of traffickers' as child slavery victims are deprived of specialised support, pushing them back into abuse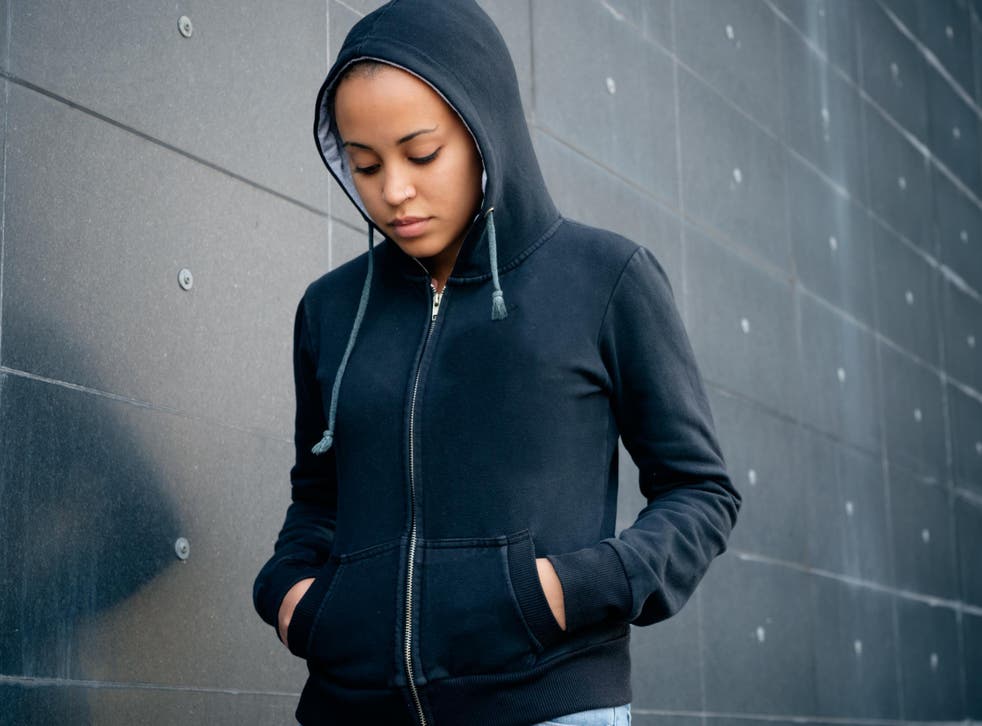 Authorities are pleading with the Government to overhaul slavery policies because child victims of trafficking are slipping back into exploitation within weeks of being rescued, The Independent can reveal.
Social workers, police and lawyers are warning that the National Referral Mechanism – the UK's official framework for identifying victims of human trafficking – is failing to protect young people both during and after the identification process.
Children as young as 13, from a number of countries including the UK, are subsequently being identified as victims of slavery and recorded on the national database, but sliding back into exploitation within weeks or even days.
While the Government funds an annual £9m contract for the delivery of specialist support in England and Wales for adult victims after they are referred, the responsibility for child victims falls onto the local authority, meaning they usually enter the mainstream care system, where no national funding is offered for specialist care.
The process of assessing whether a child is a victim can take up to a year, practitioners warn, and even when they have been identified as a victim they are often not provided with the necessary care, such as specialist accommodation or adequate counselling to cope with the trauma of exploitation.
A survey carried out by child slavery charity Ecpat UK, seen exclusively by The Independent, reveals that the overwhelming majority of professionals who come into contact with trafficked children do not believe that the system ensures appropriate safeguarding for young victims.
Just seven per cent of respondents said the NRM always provides adequate protection, while more than one in 10 said it never met this objective and 31 per cent said it rarely did. Four in five respondents did not believe that NRM decisions were made in a suitable timeframe, and that the process is not in the best interests of the child.
One 15-year-old British girl was referred to the NRM in April last year over concerns that she was being sexually exploited and trafficked after police found her in possession of Class A drugs and condoms.
Jo, whose name has been changed to protect her identity, was placed in an emergency foster placement in another county, but was stopped the next day by British Transport Police trying to board a train back to where she had been discovered.
It took seven months for the first decision on her identification as a victim of trafficking to come through, despite the fact that a first-stage decision should be made within five days. Although this was positive, no practical support was provided as a result of this or the referral being made.
More than a year on, a final decision over Jo's status as a victim of trafficking in the NRM - which should have happened within just 45 days – has not yet been received. This has left police prosecution unclear on whether to treat her as a victim or perpetrator of crime, and she has been a repeat victim of exploitation while waiting for an outcome on her case.
Jo is one of many, with research last year by child trafficking NGO Ecpat UK showing that 167 of the 590 children suspected or identified as child trafficking victims in the year from September 2014 to 2015 vanished from foster and care homes across the country.
Paul Smith, a detective sergeant in the Missing Persons Unit in Croydon, who was involved in Jo's case, told The Independent that when adult victims come to their notice the support mechanisms are there, but that these mechanisms "simply aren't there" for child victims – with this responsibility placed solely on local authorities.
"It's quite clear that with cuts to local councils, care placements in the UK don't have the capacity to accommodate child victims in the UK who need enhanced protection," he said.
"The level of knowledge - and it's no critique of local authorities – but that level of experience and care needed for a young person in that situation just isn't available. We are seeing child trafficking victims re-trafficked an awful lot. They are often really vulnerable, having been drug mules or victims of sexual exploitation, and at high risk of sliding back into this.
"When we prove that something's going wrong with a young person and that a young person is being exploited or is vulnerable, the NRM just seems to be paying lip service to the young people rather than safeguarding and putting protection around them."
Detective Smith urged that the national funding for adult victims support must also be provided for children, saying: "We as police want to safeguard and put these young people into a place of safety where they can get support – the kind of blanket support that goes around the adults.
"There needs to be a more holistic approach, which currently just isn't available. We need to see more funding for specialised placements for young people in this situation."
Andy Elvin, a social worker and chief executive of the UK's largest fostering charity TACT Care, who has worked with a number of young victims in care, said a lack of "consistent and proper" attention on trafficked children makes them liable to repeatedly return to their abusers.
"There isn't a central repository of expertise and leadership, because it falls under the National Crime Agency (NCA) and the NCA goes with the prevailing political wind. Whatever type of crime is most important that month gets the attention. There is no consistent, proper attention on trafficked children." he said.
"These children have some very specific problems. They're liable to run from their placements because they're scared of the trafficker and they have said they need to go meet up with them. They'll go because they fear threats to their family; some of them are debt bonded so they will owe money.
"They may be found again by the police, but they'll continue to run from care unless you have specialised placements for them. They need to be offered permanent nationality status and be worked with to avoid them going back to their trafficker and to feel that their safe and move on from their experience."
Philippa Southwell, a criminal defence solicitor at Birds Solicitors who specialises in defending young victims of human trafficking, said she had to reach out to charities to access support for her clients.
"The framework is flawed. I rely a lot on the NGOs for the specialised support, and when young people do have that one-to-one person it really helps them with integrating back into the community," she said.
"A lot of these things a social worker doesn't have the capacity or the funding to do. Some of the children are so traumatised that they can't take public transport on their own. It's basic things like that."​
The Local Government Association (LGA), which represents 370 councils in England and Wales, has joined the call for Government to make the national funding for adult slavery victims available for children as well.
Cllr Richard Watts, chair of the LGA's Children and Young People Board, warned that the reliance on councils to provide support for child slavery victims with no additional funding was putting more pressure on already stretched local authorities.
"Councils are committed to protecting the most vulnerable in our society, including those who have been subjected to modern slavery. Victims can be adults or children, but children are currently unable to access the nationally funded Government support that is available to adults," he said.
"With local authority children's services already facing a £2 billion funding gap by 2020, this lack of national support is putting more pressure on already stretched council services.
"If nothing is done to address this funding gap, crucial services that many children and families across the country desperately rely on will be put at risk, including for those who have been subjected to modern slavery."
He called on the Government to act to close the £2 billion funding gap for children's services, and to make nationally funded support available for child victims of modern slavery as well as adults.
"Councils will not tolerate the exploitation of people in their communities and are committed to protecting the most vulnerable in society, especially children," he added.
"Because of its hidden nature, modern slavery is a growing threat across the country, and it is vital that local and national government works together to ensure that victims of all ages are able to access the support they need."
The Home Office is currently examining the process for identifying and supporting victims of trafficking, after a review of the NRM is 2014 revealed failings. But campaigners urged this is taking too long.
Practitioners are rallying behind a petition launched by Ecpat UK calling on ministers to overhaul the NRM and create a new system that has child rights at its heart, bringing together trained, child protection actors with expertise in recognising and dealing with children at risk of trafficking and exploitation.
Chloe Setter, head of policy at Ecpat UK, warned that the failings in the current system were in some ways playing into the hands of people traffickers, who are using a stretched care system as a "holding pen" for young victims.
"The response to exploited children in the UK is nothing short of a national scandal. We have a system – the NRM – for identifying and supporting victims that currently is failing on both fronts," she said.
"Many children are not identified due to a lack of practitioner training, decisions about identification are frequently flawed, and the support provided to those identified is often so inconsistent that children fall back into situations of exploitation.
"In some ways, we are actually playing into the hands of traffickers who anticipate the failings of the care system and use it as a 'holding pen' for young victims."
UK news in pictures

Show all 50
When contacted for comment, the Government said it believed it was "vital" that children in care were protected from harm and the slavery and trafficking of children is a very serious offence. A spokesperson said it was introducing new independent child trafficking advocates and spending £2.2 million to protect vulnerable children in the UK and overseas who are at risk.
"All local agencies have statutory duties to safeguard children and we have strengthened regulations on children's homes and placed a duty on local authorities to tell us about all incidences of children going missing from care, even those lasting less than 24 hours," the spokesperson said.
"Child victims of trafficking require support addressing their specific needs and vulnerabilities and that is why last year we commissioned ECPAT UK and the Refugee Council to deliver training on the care of unaccompanied and trafficked children to foster carers, support workers and other professionals."
Join our new commenting forum
Join thought-provoking conversations, follow other Independent readers and see their replies