Slaves on our Streets: Hundreds march demanding end to modern slavery in London
Silent demonstration saw participants wear yellow bandanas over their mouths to symbolise voiceless oppressed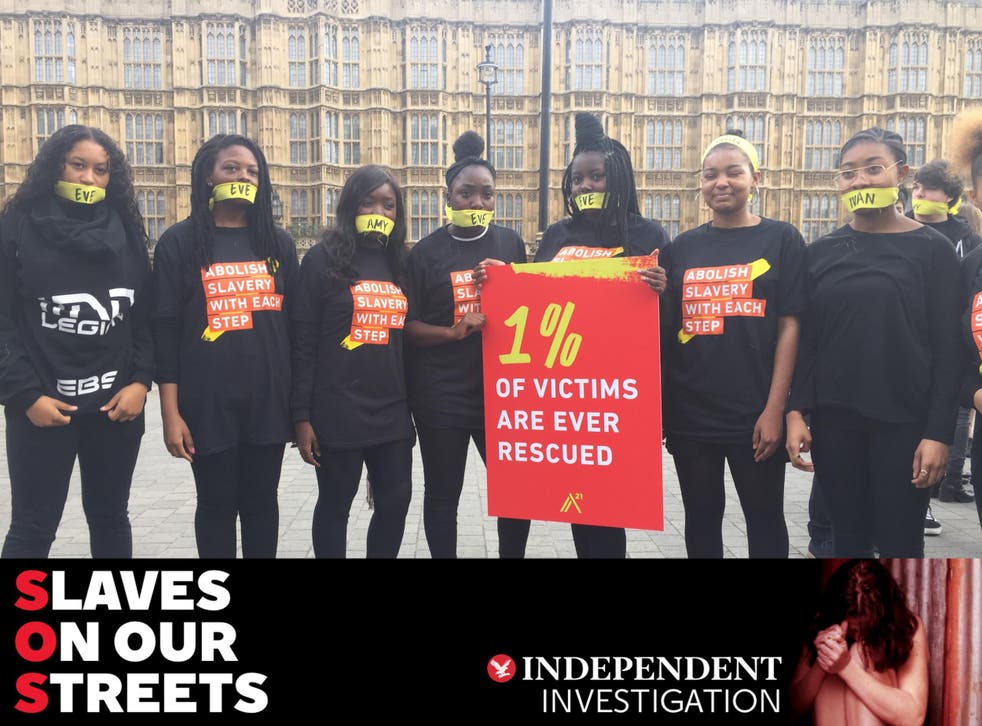 Hundreds of people answered an urgent call to march through central London to protest against modern slavery, after The Independent and Evening Standard's special investigation raised awareness about the situation in the UK.
More than 800 participants dressed all in black took part in the Walk For Freedom, handing out information flyers and walking in a single-file line with yellow bandannas over their mouths to symbolise how slaves are forced into silence.
Organised by anti-human trafficking organisation A21, the walk drew attention to the plights of the 40 million men, women, and children worldwide who are trapped in sexual exploitation, forced labour, and domestic servitude.
In the UK there are estimated to be at least 13,000 victims, many of them in London.
Walkers said the Independent's special investigation into modern slavery was crucial to shedding light on such hidden horrors.
"I think awareness is slowly rising, and things like The Evening Standard's campaign are helping," said accountant Dawn Davies, 54.
"This walk is shining a light on something that's not being spoken about in any sphere to be honest.
"Playing a small part in shining that light is why I'm here," said Wesley Allison, a 28-year-old accountant.
Chrysiis Katsea, a 24-year-old MA student at London School of Economics, said she was inspired to go on the walk after meeting victims of modern slavery while working with refugees in Greece.
"Even though I know people who have been victims of human trafficking, I can't even imagine how it feels.
"I wanted to participate in raising awareness, letting people know so they can also take action," she said.
A21 UK director Charlie Blythe thanked The Independent and Evening Standard for calling on readers to attend and said this year's turnout had dwarfed last year's of about 550.
She said: "We are overwhelmed by the support that we have received this year. Today, because of our passionate participants, the city of London was awakened to the harsh reality of human trafficking and slavery.
"They can never again say that they did not know."
Register for free to continue reading
Registration is a free and easy way to support our truly independent journalism
By registering, you will also enjoy limited access to Premium articles, exclusive newsletters, commenting, and virtual events with our leading journalists
Already have an account? sign in
Register for free to continue reading
Registration is a free and easy way to support our truly independent journalism
By registering, you will also enjoy limited access to Premium articles, exclusive newsletters, commenting, and virtual events with our leading journalists
Already have an account? sign in
Join our new commenting forum
Join thought-provoking conversations, follow other Independent readers and see their replies