Special report: Homeless banker hits rock bottom
One day you're riding high with a business to run, the next you're on the street
Special report: Homeless banker hits rock bottom

Show all 3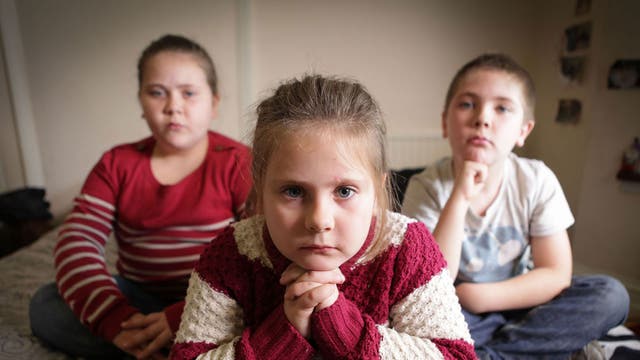 Meet Kevin, an investment banker who used to run a firm on Wall Street, and Lee, an entrepreneur who had his own engineering business. On the face of it they'd have little in common with Nick, a bus driver, and Patricia, a grandmother battling breast cancer. But all have lost their homes in the past few months and are among a growing number of people who least expected to end up with no permanent address.
Every two-and-a-half minutes someone in Britain is at risk of losing their home. Bankers, business leaders and working families alike can face joining the ranks of the homeless. And with most Britons struggling to cope in a post-recession economy, millions of people are little more than a few pay packets away from losing the roof over their heads. Their plight is captured in a Panorama documentary, "Britain's Hidden Housing Crisis", to be broadcast on BBC1 this week.
As more people become homeless and fewer homes are built, tens of thousands of families are living in temporary accommodation, often in squalid conditions. New figures released by the Government last week revealed the number of homeless families living in bed and breakfast accommodation in England has risen by more than half over the past year. The total number of families with children accepted as homeless has risen by 12 per cent in the same period to 8,820.
Campbell Robb, chief executive of Shelter, said: "Stagnant wages, the rising cost of living and out-of-control housing costs mean that more people from all walks of life are struggling to keep up with their rent or mortgage.... It's easy to think of homelessness as a person sleeping rough, but the reality is that rising numbers of families don't have a permanent roof over their heads."
Behind the figures are people who have lost almost everything. Take Patricia Taylor, a grandmother with breast cancer who sobs as she admits, "I never thought I'd get to 52 and be homeless." She fell behind with the mortgage on her house in Dagenham, Essex, after her husband left her three years ago. Then she had to stop work after being diagnosed with cancer last year and her debts grew to £9,000. Ms Taylor offered to pay the bank the £37 a week interest out of her benefits but they decided to repossess her home.
When she was evicted in August, she says, it was "the end of an era", adding: "I shouldn't be sleeping on other people's sofas; I should be in my home, which is not my home any more." Despite being haunted by the "devastating" experience of being evicted and feeling as if she had "done something wrong", Ms Taylor remains upbeat, saying, "There's a light at the end of the tunnel."
Life was good to Kevin Browne. The 54-year-old investment banker once lived in an expensive flat in London's Kensington before going to the US and running a firm on Wall Street. Then came the crash of 2008, and he lost his business, marriage, and eventually his home. Mr Browne had to rely on a charity to fly back to Britain earlier this year. It took several weeks before he could register as a resident in Croydon, and in that time he survived by going to soup kitchens and sleeping rough in the park.
After a stint at a hostel that was "a mad house", where someone angered by his snoring threatened to slit his throat, he was eventually found a place in a shared flat in Streatham, London. He never saw homelessness coming: "It's a bit like being the Thanksgiving turkey, who has no reason to think tomorrow won't be OK because the kind farmer has fed him every day of his life. So he assumes he will continue to be fed, but, one day, Thanksgiving comes."
For the Storey family, losing their £500,000 home was the end of a dream they had worked for years to achieve. Lee and Sharon Storey bought their home in Redbridge, Surrey, 10 years ago and had no problem paying the mortgage until Lee's engineering business went under last year. He told The Independent on Sunday: "You don't think that it can happen to you, but after spending years building a business I found my family on the homeless register, and the business failed, in a relatively short space of time."
The bank repossessed their home in October. The weeks before were difficult. Sharon Storey said: "Some days I just want to walk away and not look back". She was determined to shield their two daughters from the stress and moved them to her sister's house the day before the eviction. On the day they handed over the keys to their home, she said: "I feel a bit numb." The Storeys are now staying with their in-laws.
Another person featured in the documentary is Nick Bull, a 43-year-old bus driver who has lived in temporary accommodation with his wife and four children since they were evicted from their council house earlier this year after falling behind with the rent. The family spent several months living in a one-bedroom flat in Croydon, and are now living in two rooms in a hostel. The stress of being homeless is summed up by Liam, their seven-year-old son, who says: "My mum keeps breaking down." In a heartbreaking scene, he is shown cuddling his sobbing five-year-old sister.
The stories are a shocking reminder that homelessness can strike at any time. Almost 150,000 homes have been repossessed since 2009, and more than 51,000 households are living in temporary homes.
Panorama, airs on BBC1 on Thursday at 9pm
Join our new commenting forum
Join thought-provoking conversations, follow other Independent readers and see their replies