Spectator taken to hospital after Tiger Moth biplane crashes near Reading
A female spectator in her 60s was injured, while the plane's two pilots managed to get out with minor injuries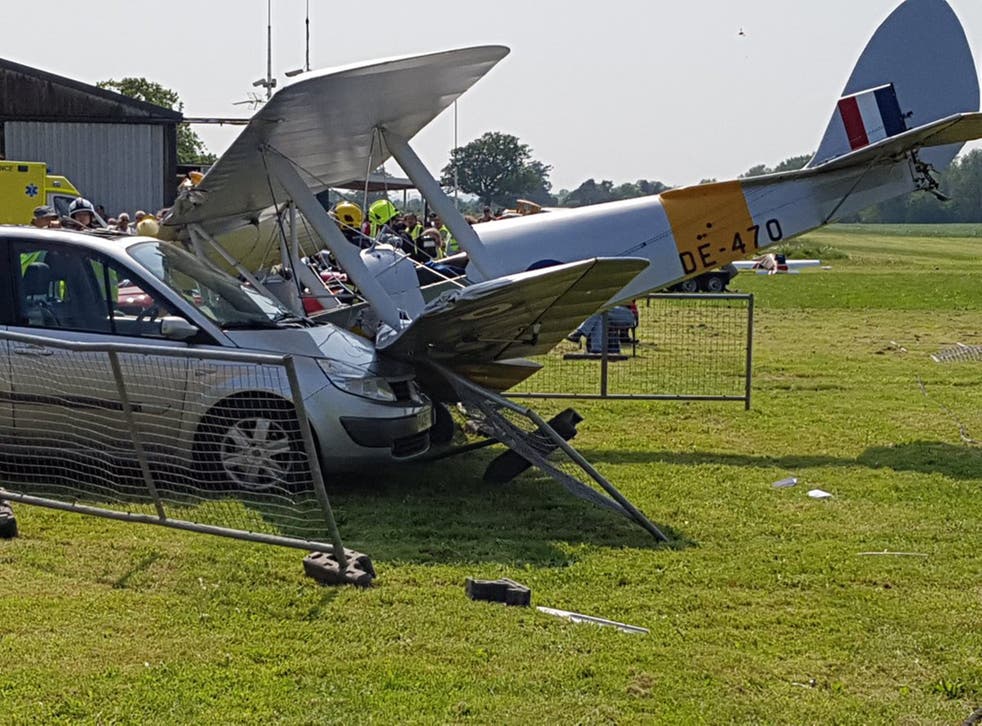 A woman was airlifted to hospital after being injured when a Tiger Moth biplane crashed during take-off at a private airfield.
The former RAF plane was leaving a runway at the private Brimpton Airfield near cin Berkshire when it came down shortly after becoming airborne at around 3pm and collided with parked cars.
A female spectator in her 60s was injured and was taken to the John Radcliffe Hospital in Oxfordshire by air ambulance - the very charity the event was raising funds for.
The two pilots, both men also in their 60s, managed to get out of the plane with minor injuries.
Eugene Johnson, a member of the Brimpton Flying Club and retired fire officer, donned a fire-suit and helped tackle a small fuel leak from the plane.
He said: "A 2.55pm a silver Tiger Moth was leaving the airfield and crashed during take-off.
"The accident resulted in a spectator being injured and the two male occupants suffering minor injuries, but they evacuated the aircraft unaided.
"The Air Accident Investigation Branch were informed and the airfield was closed, pending an investigation."
UK news in pictures

Show all 50
Mr Johnson said about 100 spectators were at the event, which was a "fly-in" to raise money for the air ambulance.
He said: "Everybody is really disappointed because we got to a lot of lengths to make it a pleasurable and fun event.
"People walk around the planes but they are always accompanied and we take safety really seriously.
"There is no display, it is just planes taking off and landing, so we are very disappointed, particularly as this is for a good cause."
Police, paramedics and the fire service were all called to help with the incident.
A spokeswoman for Thames Valley Police said: "Police were called to an event at Brimpton airstrip at Wasing Lane, Aldermaston just before 3pm today following a report of a collision between a light aircraft as it was taking off and an unoccupied parked car.
"The plane also made contact with another vehicle, causing a female occupant to be injured.
"The pilot and his male passenger suffered minor injuries which were treated at the scene while the woman was airlifted to hospital."
PA
Join our new commenting forum
Join thought-provoking conversations, follow other Independent readers and see their replies