Sperm whale dies after becoming stranded on Hunstanton beach in Norfolk
The whale died at 11pm on Friday after rescue efforts to release it into deeper water failed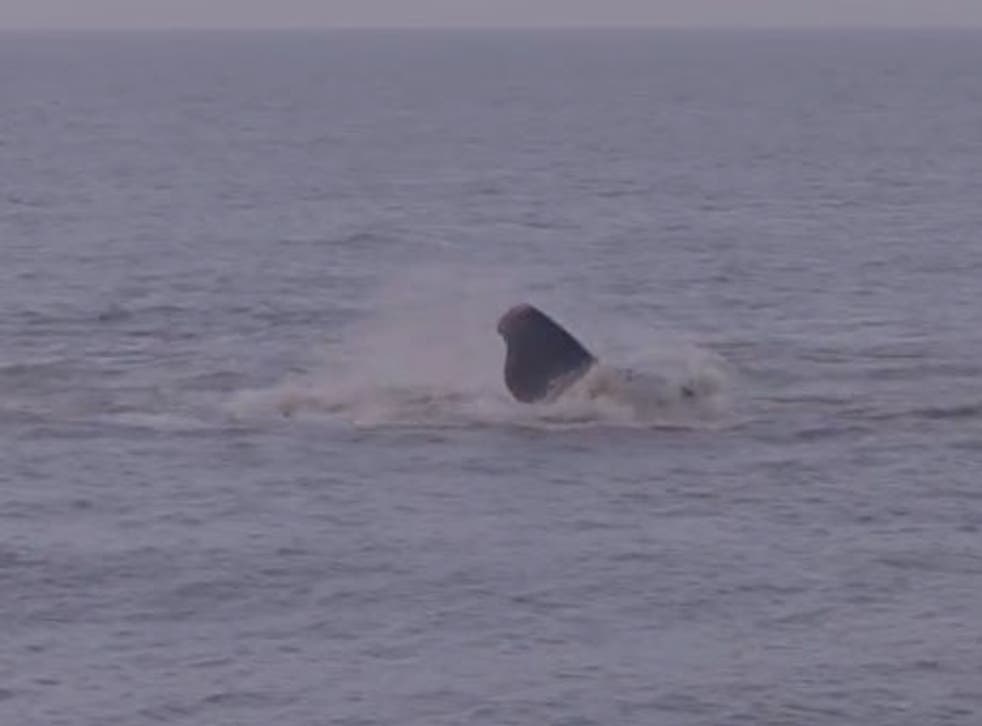 A sperm whale has died after becoming stranded in shallow waters off the coast of west Norfolk.
Rescue efforts to release the whale, estimated to be up to 45ft long and weigh 30 tonnes, took place on Friday afternoon and lasted well into the evening.
Both the RNLI and staff from Hunstanton's Sea Life Centre attempted to save the whale, even employing the RNLI's hovercraft, however it was unable to be rescued and died at around 11pm on Friday, according to HM Coastguard.
The RNLI's Geoff Needham said: "Sadly, as the tide was dropping away nothing more could be done that evening.
"The marine mammal experts continued to monitor the situation in the hope that the whale might be saved."
Mr Needham said the whale "had several injuries and was bleeding" when found, however it is not clear whether this caused the whale to become stranded.
The mammal was one of a pod of five whales, believed to be sperm whales, which had come close to the beach at Hunstanton.
Despite the others in the group making their way back out to sea, the stranded whale was unable to reach deeper water and remained around 200 yards from the coast, according to the RNLI.
The remaining pod were last seen heading towards King's Lynn.
Mr Needham confirmed the whale is still washed up at the beach and is currently near by the Sheraton shipwreck, a trawler that washed up on the beach in the 1940s.
UK Coastguard, Richard Johnson, said: 'It was obviously a very distressing scene earlier and we would ask the public to stay away from the beach.
"We are due to cordon off the area and later today an officer from the Zoological Society of London will be inspecting the animal and carrying out tests.'
An investigation has been launched by the Cetacean Strandings Investigation Programme to discover why the whale became stranded on the beach, the BBC reports.
Scientists will conduct a post-mortem to try and discover how the whale died.
Join our new commenting forum
Join thought-provoking conversations, follow other Independent readers and see their replies