Starting prices for one-bedroom flats set at £595,000 for new Canary Wharf block to be western Europe's tallest
Out of a total of 861 apartments in the development's main Hertsmere House site 72 of these units will be affordably rented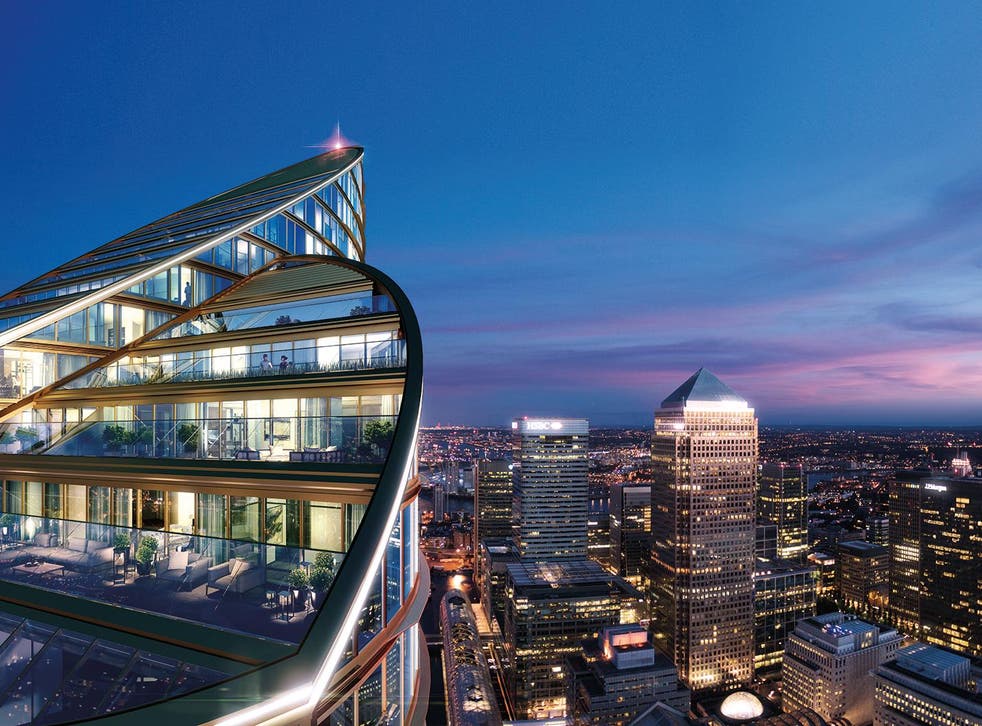 The biggest property developer in Shanghai is set to begin sales in its £800 million east London tower, with prices for a one-bedroom apartment starting at £595,000.
Spire London, due to be built near Canary Wharf in the London Docklands, will stand at 235m (771ft) high, making it the tallest building in Western Europe.
Developer Greenland Group have promised the tower's 67 floors will provide "five-star lifestyle amenities", including a 35th floor Spa with 465sqm swimming pool, gym and fitness studio, cocktail bar and cinema room.
The "resi-skyscraper" will offer 765 apartments for private sale, including "luxurious suites" and "three bedroom duplex penthouses".
Sales will begin in October with its one, two and three bed apartments starting at £595,000.
As part of a planning agreement with Tower Hamlets Council the developer is required to assure 30 per cent of all properties in the complex are "affordable".
Out of a total of 861 apartments in the development's main Hertsmere House site, 72 will be available at affordable rent and 24 at intermediate rent, according to council documents.
A further 60 units will be located off-site on Dalgleish Street in Limehouse, with 27 of these affordably rented, 26 socially rented and seven available for shared ownership.
These properties will be managed by a housing association, which is yet to be appointed.
The developers have said all residents living in affordable housing will have access to communal facilities on the third floor, including a crèche, and "musical/learning/cultural space".
Wenhao Qian, Managing Director of Greenland (UK) Investment Ltd said: "This important launch reflects the confidence that Greenland Group continues to have in both the London economy and the London property market.
"We believe that there is always a demand for 'best in class' property assets that offer a high quality, bespoke, designed and unique product in a prime location.
"In our view Spire London fulfills these criteria, and we believe there will be significant demand for the apartments within this tower from both the UK and overseas."
The construction of Spire London is currently underway, with the tower scheduled to reach the halfway point in height during the summer of 2018. Build completion is scheduled for 2020.
Along with Spire London, Greenland Group is building four of the 10 tallest buildings in the world.
Register for free to continue reading
Registration is a free and easy way to support our truly independent journalism
By registering, you will also enjoy limited access to Premium articles, exclusive newsletters, commenting, and virtual events with our leading journalists
Already have an account? sign in
Register for free to continue reading
Registration is a free and easy way to support our truly independent journalism
By registering, you will also enjoy limited access to Premium articles, exclusive newsletters, commenting, and virtual events with our leading journalists
Already have an account? sign in
Join our new commenting forum
Join thought-provoking conversations, follow other Independent readers and see their replies