Sajid Javid calls for controversial spit hoods to be rolled out across British police forces
Home secretary supports increased use of Tasers, body-worn camera and stop and search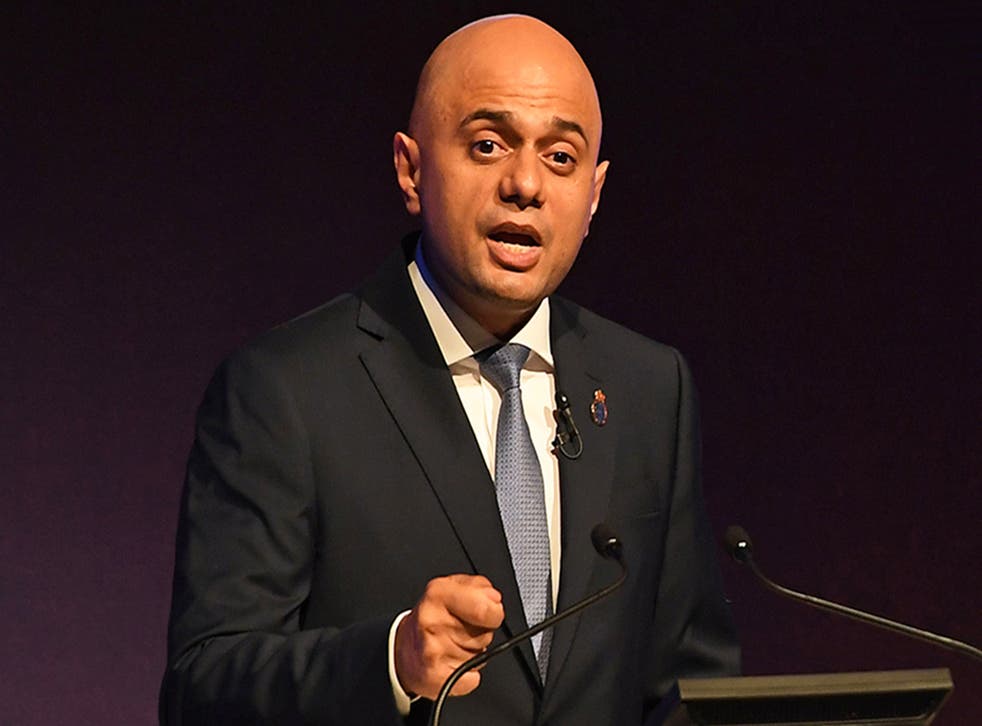 Sajid Javid has called for controversial spit hoods to be rolled out to police across the country, while backing the increased use of Tasers and stop and search.
In his first major public speech as home secretary, he said it was "ridiculous" that the mesh hoods had not yet been taken on by all British forces.
"I cannot understand why any chief constable would put public perception before protecting police officers, I think it is plainly ridiculous," he said to applause from the Police Federation conference in Birmingham.
"I will do everything within my power to make that come about. If that means I can mandate them to do it, I'm going to look at that, but hopefully I don't need to and the message is very clear."
Spit hoods, also known as spit guards, can be placed over the heads of suspects who present a risk of spitting at or biting officers.
Police have called for them to be used more widely as protection against distressing attacks.
But spit hoods have been used on several people who have died in police custody in both Britain and the US, while footage of their use in public in the UK has provoked concern.
The director of human rights charity Liberty, said the items were "primitive, cruel and dangerous".
Martha Spurrier added: "There have been far too many cases of their use against children and disabled adults, causing huge fear, humiliation and even suffocation."
Last year Martyn Underhill, the Dorset Police and Crime Commissioner, said that although spitting presented the risk of contracting HIV, hepatitis and suffering trauma, the hoods "may not be the best method" of preventing such attacks.
"Many people who spit or bite are in mental crisis, under the influence of alcohol and drugs, or sometimes all three," he added. "Putting a hood on someone can cause serious injury or worse…I am confident that there must be other alternatives which can be considered."
Mr Underhill, who is also chair of Independent Custody Visiting Association, pointed out that the items were not widely used in Europe or in the NHS, prison services or other services at a similar risk.
But there was widespread support for their introduction at the Police Federation conference, where many officers told of the attacks they and their colleagues had suffered.
UK news in pictures

Show all 50
Mr Javid also voiced his support for the increased use of Tasers as an "important tactical option" for officers dealing with the most serious and violent criminals, alongside body-worn cameras to discourage and record assaults.
"If you don't feel that you are getting the tools you need to do your job, I want to know about it," he told delegates. "It's perfectly reasonable that you should want to protect yourself from harm when you're out on the beat."
He also confirmed his backing for a proposed law that would bring in tougher sentences for people who attack police, and increased legal protections for officers chasing moped criminals.
"Every single day you make the brave decision to pull on your uniform and go out to work, not knowing what you'll have to deal with on your shift…we need to protect the protectors," Mr Javid said, pledging to "totally transform the welfare provision for officers" amid concerns over mental health and long-term sick leave.
"When you're out in public trying to do your duty, you should be protected."
The home secretary called on officers to "feel comfortable" using stop and search powers, following a steep decline over recent years following allegations of racial bias.
Some officers have drawn a link between plummeting rates of stop and search and the recent rise in knife crime, with the Metropolitan Police increasing the use of blanket powers during a spate of murders.
"I have confidence in your professional judgement so let me be clear, I support the use of stop and search," he said. "Evidence shows that if you're black, you're more likely to be a homicide victim than any other ethnic group. If stop and search can mean saving lives from the communities most affected, then it has to be right."
A report by HM Inspectorate of Constabulary (HMICFRS) found that black people are at least eight times more likely than white people to be stopped and searched, even though it is statistically less likely for drugs to be found.
Update:
Experts have said that spitting and biting are not a HIV transmission risk, and warned that such myths can fuel stigma and discrimination.
Deborah Gold, chief executive of the National Aids Trust, said: "HIV is irrelevant to the debate about spit hoods because spitting simply is not an HIV transmission route. Similarly, the risk of hepatitis C transmission through spitting is negligible.
"In the history of the epidemic, there has never been a case of HIV being passed on through spitting, even when the spit contains blood. It's worrying that the proportion of people who wrongly think HIV can be transmitted by spitting or biting has increased in recent years."

Register for free to continue reading
Registration is a free and easy way to support our truly independent journalism
By registering, you will also enjoy limited access to Premium articles, exclusive newsletters, commenting, and virtual events with our leading journalists
Already have an account? sign in
Register for free to continue reading
Registration is a free and easy way to support our truly independent journalism
By registering, you will also enjoy limited access to Premium articles, exclusive newsletters, commenting, and virtual events with our leading journalists
Already have an account? sign in