Sports Direct under fire after claims of poor work conditions
The figures, which include 36 "life-threatening" incidents, were uncovered by the BBC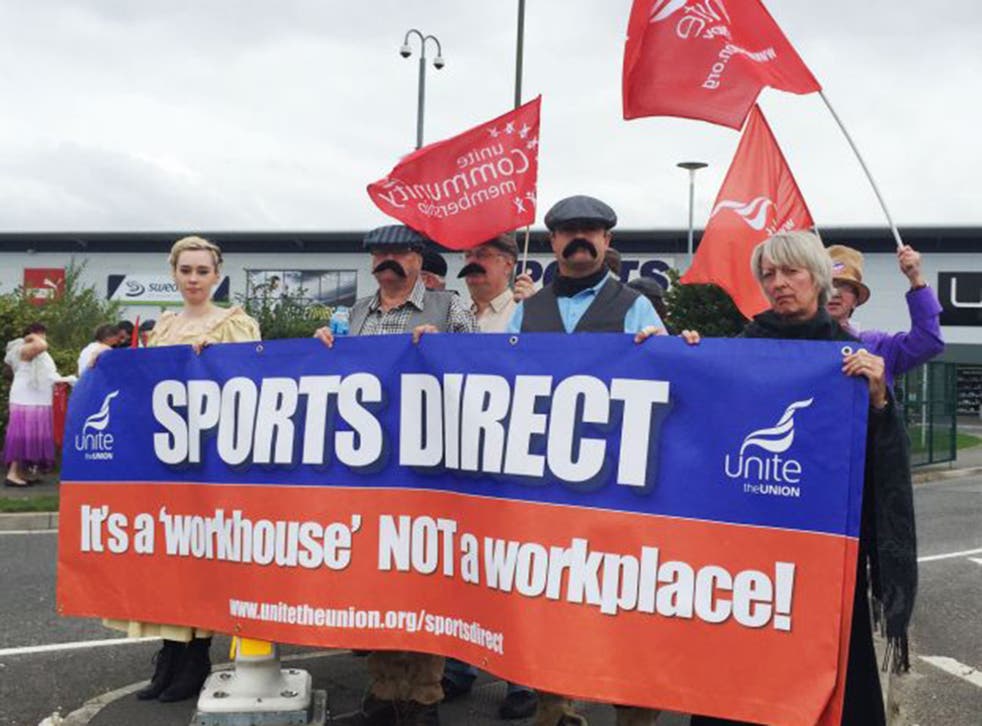 Ambulances were called to a Sports Direct warehouse on 82 occasions in the past two years, according to an investigation into working conditions at the retail giant.
BBC Inside Out claim paramedics were called to help a woman giving birth in a toilet, a man suffering a stroke and a worker having a fit, among the scores of emergencies at the company's headquarters in Shirebrook, Derbyshire.
The figures, which include 36 "life-threatening" incidents, were revealed by the programme. Three of the callouts were for women having difficulties with pregnancy, according to information released by East Midlands Ambulance Service under the Freedom of Information Act. Sports Direct say its own records show 24 ambulance calls were made directly from the warehouse.
The sportswear company, founded by Newcastle United owner Mike Ashley, has, in the past, been criticised for employing workers on zero-hours contracts. However, Sports Direct said that the Shirebrook warehouse staff have guaranteed hours of employment and are not on zero-hours contracts. Protesters dressed in Dickensian clothing picketed the firm's AGM last month and accused them of operating a "workhouse not a workplace" – a charge strenuously denied by board members.
Among the incidents revealed by the investigation, which will air on BBC1 tonight was 52-year-old Guntars Zarins, who suffered a stroke in the warehouse canteen. His daughter said that he became ill while on the site but doesn't blame Sports Direct for his illness. However Sports Direct said he had turned up for work on the wrong day.
She added that some people felt they had to work despite feeling unwell because of the "six strikes" policy, in which anyone who gets six warnings in six months will lose their job. It is alleged warnings are issued to workers for taking excessively long toilet breaks, excessive chatting and for having time off for sickness.
Claire Jenkins, a non-executive director, said: "The six strikes policy is actually not dreadful at all. In fact, compared to an awful lot of employers, six strikes is actually deemed to be quite generous. We are satisfied we are providing good conditions."
Keith Hellawell, chairman of Sports Direct, told shareholders at the AGM that he was satisfied the company complied with health and safety regulations, adding: "I am proud of this organisation and I am proud of the way this organisation operates."
Sports Direct said last night: "We aim to provide working conditions in compliance with applicable employment and health and safety legislation and seek to provide safe working conditions for all staff working in our warehouse. We take extra health and safety precautions with pregnant women and if there are material concerns for the wellbeing of an expecting mother or her baby, an ambulance would be called as a precaution."
Register for free to continue reading
Registration is a free and easy way to support our truly independent journalism
By registering, you will also enjoy limited access to Premium articles, exclusive newsletters, commenting, and virtual events with our leading journalists
Already have an account? sign in
Register for free to continue reading
Registration is a free and easy way to support our truly independent journalism
By registering, you will also enjoy limited access to Premium articles, exclusive newsletters, commenting, and virtual events with our leading journalists
Already have an account? sign in
Join our new commenting forum
Join thought-provoking conversations, follow other Independent readers and see their replies