'He was almost a skeleton': Family demand public inquiry after grandfather starved to death when benefits were stopped
'They washed their hands of him and left him to die'
Colin Drury
Nottingham
Friday 07 February 2020 16:15 Comments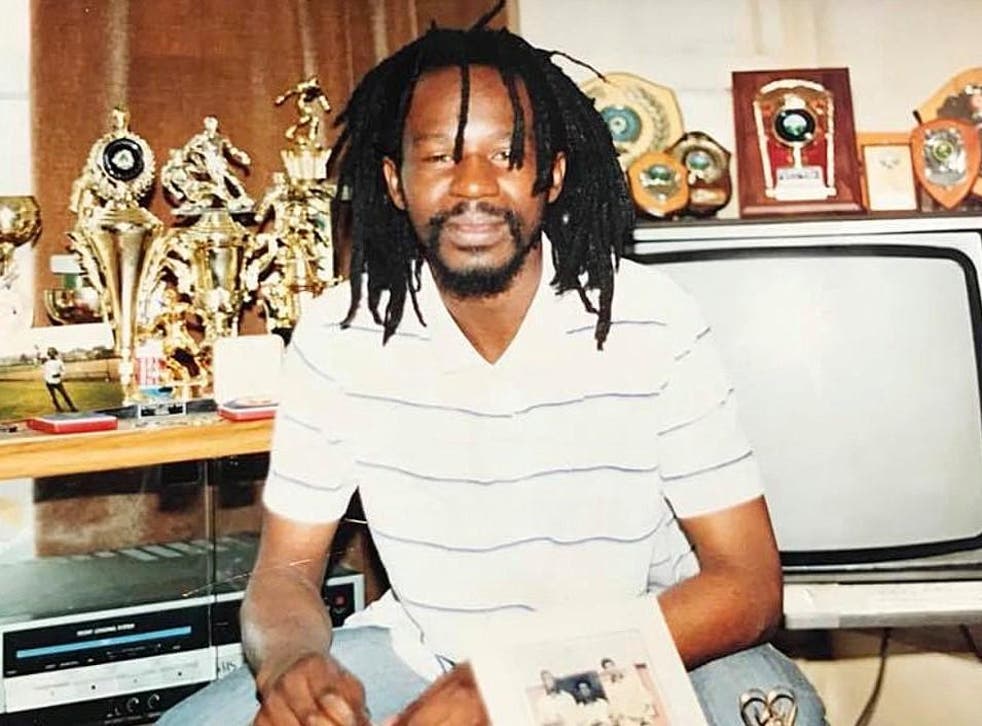 By the time he starved to death at his Nottingham flat, Errol Graham was almost unrecognisable from the strapping, football-loving man he had once been. His weight had dropped to just four and a half stone.
"He was skin and bones," recalls daughter-in-law Alison Turner. "I can't stop seeing how he was, almost a skeleton."
The 57-year-old died alone and without any food in his home after all his benefits were stopped.
The Department for Work and Pensions severed the financial lifeline when the grandfather of two failed to show up for a fit-for-work meeting.
Officials stopped the payments without raising concerns with other agencies that Graham – who was known to suffer with mental health issues including depression and anxiety – had disappeared off their radar.
"They washed their hands of him and left him to die," Turner tells The Independent.
Now, after the issue was raised at Prime Minister's Questions this week, the family are renewing demands for an independent public inquiry into how the DWP failed the one-time shop worker.
Friends and loved ones will launch a petition at a vigil in Nottingham city centre on Friday evening.
"This can't be allowed to happen again," says Turner. "People shouldn't die this way."
Graham's body was discovered in June 2018 – nine months after his benefits had been stopped – by bailiffs who broke into his high-rise flat in the city's Radford area to evict him after he had fallen behind with rent payments.
Mail piled by the door suggested he may not have been left the flat for weeks. In the kitchen cupboards there was nothing apart from two tins of fish, both four years out of date. The electricity and gas had long been cut off.
So emaciated was Graham's body that Turner says identifying him has left her with post-traumatic stress.
"He'd stopped going out or answering calls because he could no longer bring himself to deal with people – which is pretty much the number one classic sign of mental health deterioration," the 31-year-old full-time mother-of-two says. "Yet no one at the DWP bothered to red-flag that something serious may be wrong. There was no duty of care. He didn't reply so he was crossed off their books."
An inquest in June 2019 heard it was standard government procedure to stop benefits going to a claimant if they failed to respond to letters and calls or did not answer the door for two safeguarding visits.
Speaking at the time, assistant coroner Dr Elizabeth Didcock said that such a system meant that "the safety net that should surround vulnerable people like Errol in our society had holes within it".
Certainly, it was neither the first nor the last time that people had died after not receiving benefits. In a distressingly similar case, 44-year-old Mark Wood from Bampton died in 2013 four months after his benefits were stopped, while Jodey Whiting killed herself, aged 42, a fortnight after her financial support was ended in 2017. In January last year, The Independent revealed that 17,000 people had passed away while waiting to hear if claims for disabled benefits had been successful.
Graham's family themselves say their own situation was exacerbated because he had been refusing to see them since early 2016.
He cut Turner, his son Lee and their two children out of his life after they previously admitted him to hospital due to concerns about his mental health.
"We loved him so much and did what we could but we trusted the system to help keep him safe until he was ready to see us again," says Turner, speaking at home in Nottinghamshire. "When he was healthy, he was the most lovely man you could meet. He idolised Lee and his grandchildren – would have done anything for them."
Speaking after the issue was raised in parliament on Wednesday, Boris Johnson promised lessons would be learned.
Responding to a question from by Nottingham South MP Lilian Greenwood, the prime minister said: "This is a tragic case and she's right to raise it.
"We've allocated £36m to improve safeguarding and decision making in cases like this, including the creation of a new independent serious case panel so that we can scrutinise and learn lessons from tragic cases like this, as well as improving guidance for staff involved."
Yet the family has concerns about just how independent such a panel will be after it emerged it would be run by officials within the DWP itself.
"Well, that isn't independent, is it?" says Turner. "It needs to include medical experts, psychologists and at least two people who receive the same benefits Errol did so it can get a full view of what went wrong."
It should also, she adds, make its findings public and open to scrutiny.
She would like to see the scope widened to investigate other deaths of vulnerable people following benefit cuts.
"We know nothing we do will bring Errol or others back, but this should never be allowed to happen again, and the DWP should not be allowed to brush this off," she says.
The family are being supported by the mental health charity Mind and Nottingham's People's Assembly Against Authority.
The DWP has been contacted for comment.
Register for free to continue reading
Registration is a free and easy way to support our truly independent journalism
By registering, you will also enjoy limited access to Premium articles, exclusive newsletters, commenting, and virtual events with our leading journalists
Already have an account? sign in
Join our new commenting forum
Join thought-provoking conversations, follow other Independent readers and see their replies