Ad company removes 'disgusting' anti-abortion billboard campaign directed at pregnant Labour MP
Advertising Standards Authority says they received over 300 complaints about advert
Maya Oppenheim
Women's Correspondent
Tuesday 01 October 2019 19:11 Comments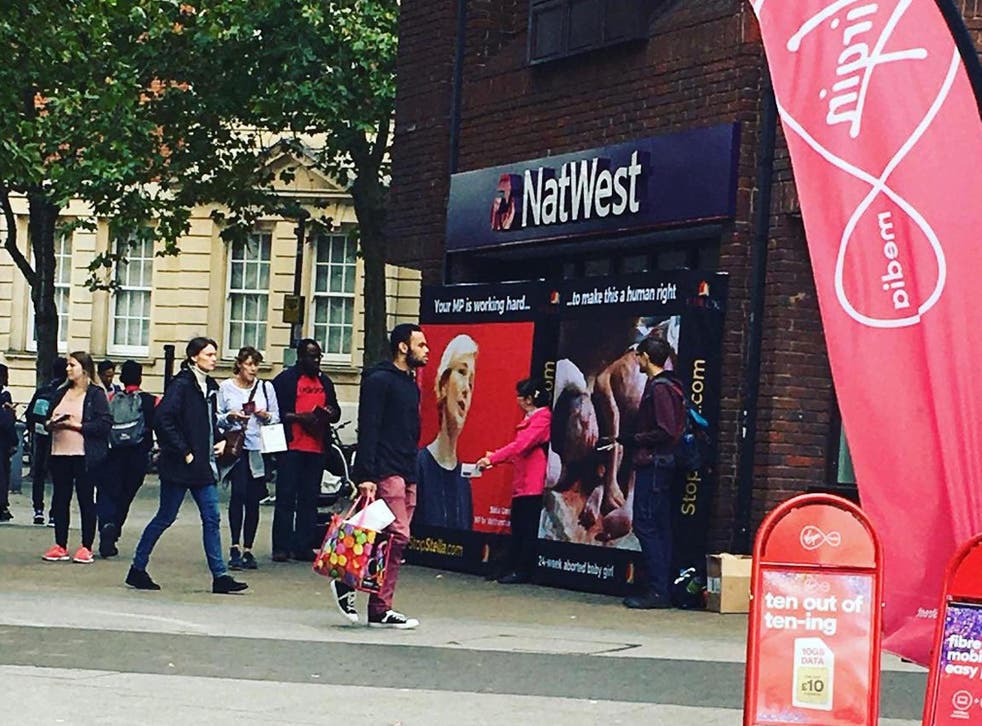 An advertising company has been forced to remove a "disgusting" anti-abortion billboard campaign levelled at pregnant Labour MP Stella Creasy.
The MP for Walthamstow, who is an outspoken campaigner for abortion rights, said the billboards, which are emblazoned with the words "Stop Stella" and feature an image of a foetus, had left her "physically sick" and constituted a form of "harassment".
The UK arm of an American-based anti-abortion organisation called the Center for Bio-Ethical Reform is behind the advertising campaign, which saw six posters spring up around Walthamstow in north east London directly targeting Ms Creasy.
Ms Creasy has been instrumental in efforts to legalise abortion in Northern Ireland, where there is currently a ban on abortion in almost all cases – even rape or incest.
The politician, who has often argued abortion laws there go against international human rights standards, proposed an amendment to extend the right to abortion to Northern Ireland which MPs resoundingly backed in a historic vote in July.
Northern Ireland abortion protest in Westminster

Show all 7
Clear Channel, the advertising agency who ran the campaign, apologised for the posters, which have now been taken down.
"We apologise for a recent billboard campaign in Walthamstow," they said. "We have removed this campaign and are reviewing our internal processes".
A spokesperson for the Advertising Standards Authority told The Independent they had received over 300 complaints about the advert, but said they would not be taking any further action on it due to the ads having been pulled.
Demonstrators put up a poster of Ms Creasy next to an image of what was purported to be a "a 24-week-old aborted baby girl".
The poster said "Your MP is working hard … to make this a human right" and featured the URL of the "Stop Stella" website.
"The #StopStella Campaign is calling upon Stella Creasy, MP for Walthamstow, to stop promoting human rights abuses of children in the womb," a statement on the site said. "We expose what this MP is doing and share how you can act to #StopStella."
Ms Creasy urged Clear Channel Direct to divulge how much money it was paid for the advertising campaign.
After one of the adverts was daubed with white paint, Ms Creasy tweeted: "I would rather @CCUK_Direct took this advert down, the @metpoliceuk acted to stop the harassment and @patel4witham brought in buffer zone legislation to deal with these people in first place – but in the meantime seems Walthamstow has my back."
Many have voiced their support for Ms Creasy on Twitter in the wake of the ad campaign – with London mayor Sadiq Khan describing the billboard as "sickening".
Karen Ingala Smith, who has been tracking the numbers of women killed by men for an annual census on femicide in the UK, tweeted: "Walthamstow and proud. Solidarity with Stella Creasy, the way you are being targeted is disgusting."
Caitlin Moran, a feminist author, said: "This is just shocking harassment of a pregnant MP – Stella Creasy – who has always defended womens' rights to choose whether they wish to be pregnant or not #defendstella. Graphic anti-abortion billboards in 21st century Britain."
Clare Coghill, the leader of Waltham Forest Council, said: "I stand shoulder to shoulder in solidarity with fellow female politician Stella Creasy being targeted in this most appalling way.
"I defend anyone's right to lawfully protest but when it changes into the targeting of individuals in such a personal way, we must come together to say this isn't acceptable. This group was not started in this borough and it does not speak for the people of this area."
Grainne Teggart, Northern Ireland Campaigns Manager for Amnesty UK, applauded Ms Creasy for campaigning "tirelessly" for women.
"Especially those in Northern Ireland suffering under the near-total abortion ban, to have access to this healthcare service," she added. "No one should have to face abuse for doing their work, in this case for progressing such a pressing human rights issue."
Official statistics show 12 abortions were carried out in Northern Ireland last year – with Amnesty International saying more than 900 women travelled from Northern Ireland to England or Wales to have their pregnancy terminated during the same period.
The vote to extend abortion to Northern Ireland was passed by 332 to 99 in July.
"How much longer are the women of Northern Ireland expected to wait?" Ms Creasy asked MPs at the time. "How much more are they expected to suffer before we speak up – the best of what this place does – as human rights defenders, not human rights deniers?"
Register for free to continue reading
Registration is a free and easy way to support our truly independent journalism
By registering, you will also enjoy limited access to Premium articles, exclusive newsletters, commenting, and virtual events with our leading journalists
Already have an account? sign in
Join our new commenting forum
Join thought-provoking conversations, follow other Independent readers and see their replies