Black people nine times more likely to be stopped and searched than white people as police use of power rockets
Stop and searches rose by 53% in year, as the arrest rate fell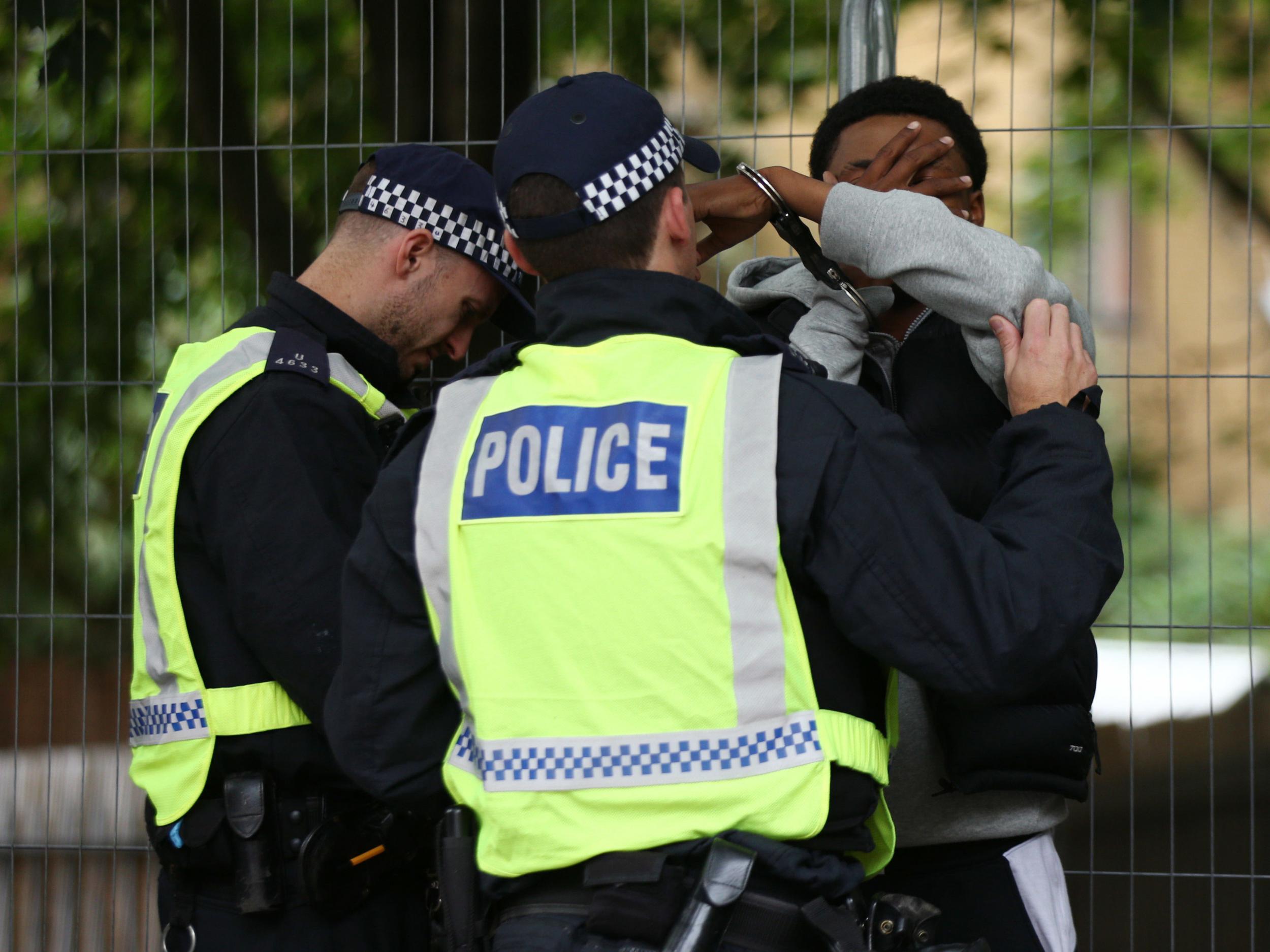 Black people are nine times more likely to be stopped and searched by police than white people, according to new figures showing a huge increase in the use of the controversial power.
Statistics released by the Home Office show that the number of individual stop and searches rose by 53 per cent to almost 560,000 in England and Wales in 2019-20.
During the same period, the arrest rate fell to 13 per cent and three-quarters of stops resulted in no further action.
The use of a separate power, which allows police to stop anyone in a designated area without suspicion, also rose by 35 per cent to just over 18,000 instances in the year to March.
Searches of all black and minority ethnic (Bame) groups were four times higher than those of white people, the Home Office said.
The figure for black people was nine times higher, down from nine and a half times in the previous year.
Racial disparity in stop and search was one of the issues raised by Black Lives Matter campaigners during a wave of protests earlier this year.
The National Police Chiefs' Council (NPCC) announced a "plan of action" aiming to address the issue, as well as the use of force and the under-representation of Bame officers.
Police forces were told two years ago to address the disproportionate use of stop and search against young black men but failed to meet the official recommendations.
"Forces need to do more to address the disproportionate use of police powers," said a report by HM Inspectorate of Constabulary in July.
"No force has fully met our 2017 legitimacy recommendation to address the disproportionate use of stop and search involving Bame people.
Black Lives Matter protesters gather across the UK
Show all 79
"It is important that forces understand the causes of this disproportionality and explain it to the public."
The 2017 report, which was published in June 2018, raised concerns that black people were over-represented in stop and search figures and that most forces "can't explain the reasons for this well enough".
The use of the power has risen significantly in the past year following an increase in serious violence, and it hit the highest level seen in seven years in London in April.
Campaigners were critical of the activity during the UK's coronavirus lockdown, which saw dramatic falls in violent crime and other types of offences, accusing police of leaving black and ethnic minority people "overpoliced and underprotected".
A Home Office report released on Tuesday said that stop and search had decreased following Theresa May's decision as home secretary in 2014 to "refocus the use of such powers".
"Nobody wins when stop and search is misapplied," Ms May said at the time. "It is a waste of police time. It is unfair, especially to young black men. It is bad for public confidence in the police."
However, the report said the trend had reversed in the past two years amid support from her successors Sajid Javid and Priti Patel to "make greater use of such powers as part of the operational response to knife crime".
Met Police Chief: Police will use stop-and-search powers "properly" over knife crime
The Metropolitan Police alone accounts for half the total increase in stop and searches in 2019-20, while large rises were also seen in Merseyside, Essex and South Yorkshire.
All but three of the 43 regional forces in England and Wales saw a rise in stop and search, but the numbers varied significantly and the number in Dorset fell by 11 per cent.
Only one in five stop and searches resulted in an outcome linked to the original reason for the search, such as suspicion of a person carrying drugs, a weapon or stolen property.
The number of positive results was highest for drugs across all racial groups, and lowest for "going equipped" for burglary of theft.
The figures showed a 73 per cent increase in community resolutions, which are being used by some forces, rather than formal warnings, for the possession of cannabis.
Police were told not to use the smell of cannabis as the sole ground to stop and search people last month, amid racism allegations.
The Independent Office for Police Conduct said the practice was "not reasonable" and violated College of Policing guidelines.
The NPCC lead for stop and search, Deputy Chief Constable Adrian Hanstock, said ti was an "important tool used by officers to prevent crime, identify those who intend to cause harm and disrupt serious and organised crime networks".
"As a result of Stop and Search 11,000 knives, firearms and other weapons have been removed from our streets in 2019-20 and resulted in over 74,000 arrests," he added.
"The issue of disparity of stop and search amongst people from non-white and minority backgrounds continues to be an important issue which needs addressing."
Join our commenting forum
Join thought-provoking conversations, follow other Independent readers and see their replies