Storm Desmond: Hundreds made homeless by record-breaking rainfall as 46 severe flood warnings put in place
Figures suggest more than 340mm of rain fell in 24 hours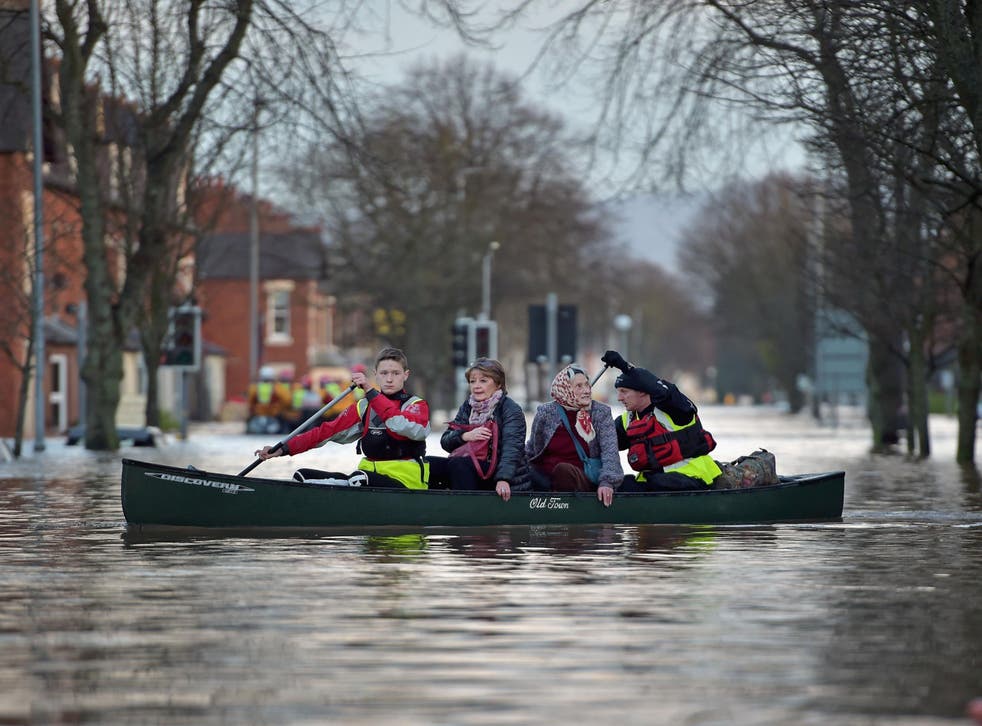 Hundreds of people have been made homeless and thousands more left without power by Storm Desmond, which is thought to have broken the rainfall record set in 2009.
46 severe flood warnings remain in place in north-west England, where Cumbria was declared a major incident.
The army has been drafted in to help evacuate people from their homes and rescue those stranded after the river Eden burst its banks at Appleby-in-Westmorland, sweeping away bridges and sinking some properties under a metre of water.
About 350 soldiers were dispatched from the 2nd Battalion the Duke of Lancaster's Regiment to Carlisle, one of the worst affected towns. A Chinook helicopter and mountain rescue teams were also sent out to assist victims.
11,000 homes in Lancaster have had electricity restored, with 44,000 more expected to have power back by Monday evening.
According to the BBC, provisional figures suggest more than 340mm of rain fell in 24 hours in the Lake District, breaking the record of 316.4mm previously held by Seathwaite, Cumbria, in 2009.
The Mayor of Keswick, Paul Titley, said they were completely overwhelmed and taken by surprise.
"The flood defences were designed for a one in 100-year event and since it's six years since we had the last one, we were sort of surprised that we got one so soon," he said.
Liberal Democrat leader Tim Farron, who found himself stranded in his constituency of Westmorland and Lonsdale, called on David Cameron to release extra funding to repair flood damage in Cumbria.
He said in a statement: "It is heartbreaking to see the impact of flooding once more on local people. My thoughts are with all those whose homes and businesses have been flooded, and those who have been forced to evacuate.
"There is now a major task ahead of us in terms of repairing the damage caused by these floods, and I am calling on the government to support us in this and make additional funds available.
"My thanks go to all the staff and volunteers from the emergency services, local authorities and voluntary organisations, for the hard work they have put in to try and minimise the impact of the floods."
Storm Desmond in pictures

Show all 12
An emergency Cobra meeting chaired by Mr Cameron is to be held on Monday to assess responses to the floods.
He said on Sunday night the Government was working to do "everything it can" to help the people affected.
"The thoughts of the whole country will be with the people in Cumbria and the North West who have suffered so terribly from the devastating storms this weekend," he added.
Storm defences costing £38m were put in place in 2010 after major floods in the previous year, but were no match for Storm Desmond.
Met Office meteorologist Madlen Burgess said rain from the west of the UK "will make its way eastwards into the early hours of tomorrow."
"Here, rainfall will once again fall in areas that have seen quite a significant amount of rainfall, so we have issued a yellow warning for northern parts of England and southern parts of Scotland," she added.
The Yorkshire Evening Post reported a limestone cliff in Malham, called Malham Cove, became a waterfall for the first time in centuries because of the heavy rain. It is said to have become the highest unbroken waterfall in England at 200ft, a record previously held by Hardraw Force in Yorkshire Dales, which stands at 100ft.
The Cumbria Community Foundation launched an emergency appeal for £1m in donations to "support the individuals and communities devastated" by Storm Desmond. So far, £127,559 has been raised.
The foundation committed £50,000 from its own funds to prime the appeal. At the time of the 2009 floods, they managed to raise £3m in donations.
Join our new commenting forum
Join thought-provoking conversations, follow other Independent readers and see their replies