Storm Desmond: Thousands left without power as Carlisle and Cumbria hit with severe flooding
More than 50,000 homes in the north of England are cut off - with more at risk after electricity substations are flooded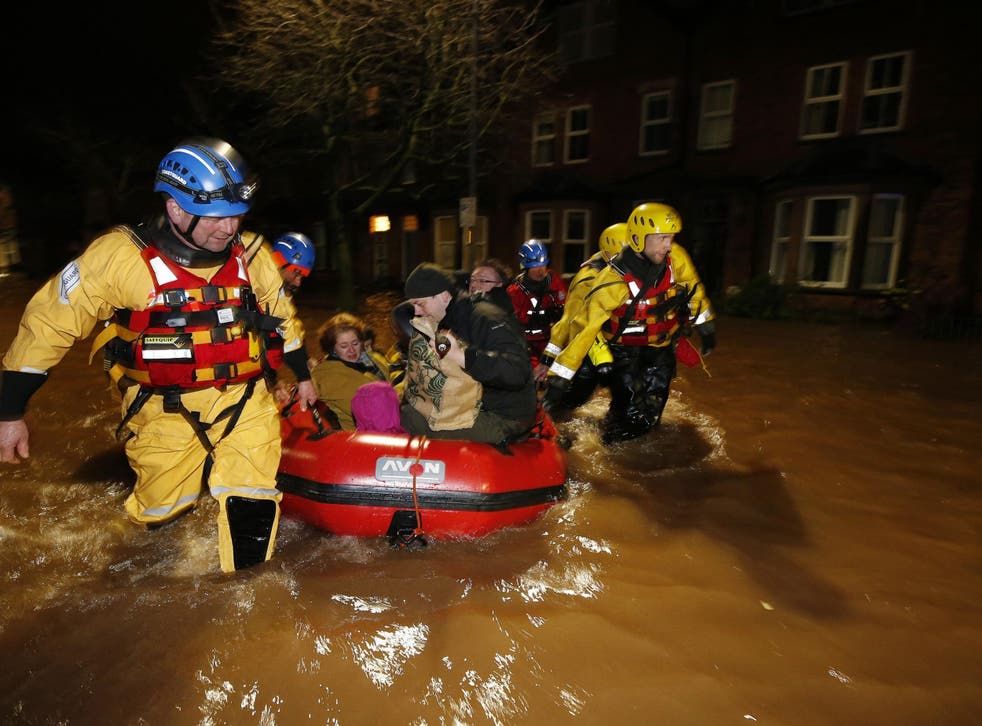 A man has died and hundreds of families have been forced from their homes across the UK as Storm Desmond brought severe flooding and winds of up to 80mph.
Bridges have collapsed, rivers burst their banks and landslides have been triggered by the torrential rains in northern England and Scotland.
In Cumbria, more than a month's rain fell in just 24 hours.
More than 50,000 homes in the North West were left without power after the flood defences at a major electricity substation were breached.
Prime Minister David Cameron announced on Twitter that the army had been deployed to help those affected by the floods and a Cobra meeting had been called.
Electricity North West said it was unlikely its engineers would be able to survey the damage until lunchtime on Sunday but were doing "all they could" to restore power.
In Carlisle, Cumbria police said there was a "major risk" two more electricity substations could flood - which could cut power to 60,000 homes.
A total of 100 people were evacuated from the Cumbrian town of Keswick after flood defences constructed in 2012 were over-topped by the storm.
The British Red Cross set up rest centres in the town and medical groups issued an urgent call to bring in extra doctors over fears the storm may lead to more casualties.
Adrian Holme, from Cumbria Fire and Rescue Service, told the BBC the flood was "absolutely devastating for the town of Keswick".
He said: "The flood defences that were built here in 2012 haven't been breached, they have been over-topped. We have had 24 hours of constant rain.
"The water is huge and there are hundreds of properties that have been devastated and flooded. And some of these people have been flooded three times, our hearts must go out to them."
In the Scottish Borders town of Hawick, part of a riverside street was ripped away by the swollen River Teviot.
Photographs which appeared on local community group, Hawick Flood Group, showed the steel and concrete edge of the street floating in the water.
In north London, a 90-year-old man died after he was blown into the path of a moving bus by strong winds outside Finchley Central Station.
Heavy flooding in Carlisle left the main railway line between London and Glasgow completely submerged in water.
Virgin Trains announced on Twitter that services between Preston and Carlisle were suspended until Monday.
The company said customers with tickets for Sunday would able to travel on Monday.
Cross Country is also accepting Virgin tickets between Birmingham New Street and Edinburgh due to the line closures.
The Environment Agency for England and Wales has issued 94 flood warnings - with 47 severe flood warnings in place in the north meaning there is a "danger to life".
In a statement on its website on Saturday night, the agency warned persistent rain over night would continue to heighten the risk of flooding.
It said: "Heavy and persistent rain will continue across northern England bringing a high flood risk from both rivers and surface water flooding across much of Cumbria, with severe flooding impacts likely.
"Impacts were seen in these areas are likely to include widespread flooding affecting significant numbers of properties and whole communities, danger to life from fast flowing, deep flood water and severe disruption to travel with the risk of motorists becoming stranded.
Storm Desmond in pictures

Show all 12
"Across parts of Northumberland, Lancashire and the western Pennines there is a medium likelihood of significant flooding from both rivers and surface water."
The Scottish Environment Protection Agency has issued 48 warnings with one severe warnings for Hawick.
The Met Office has issued three yellow warnings for Northern England and Scotland.
A spokesman said the storm had now moved into the North Sea but warned that people are still at risk from flooding.
Additional reporting by PA
Join our new commenting forum
Join thought-provoking conversations, follow other Independent readers and see their replies