Storm Frank: Body of kayaker found after floods
Police said the body of a kayaker who got into difficulties on the River Findhorn, near Inverness, had been recovered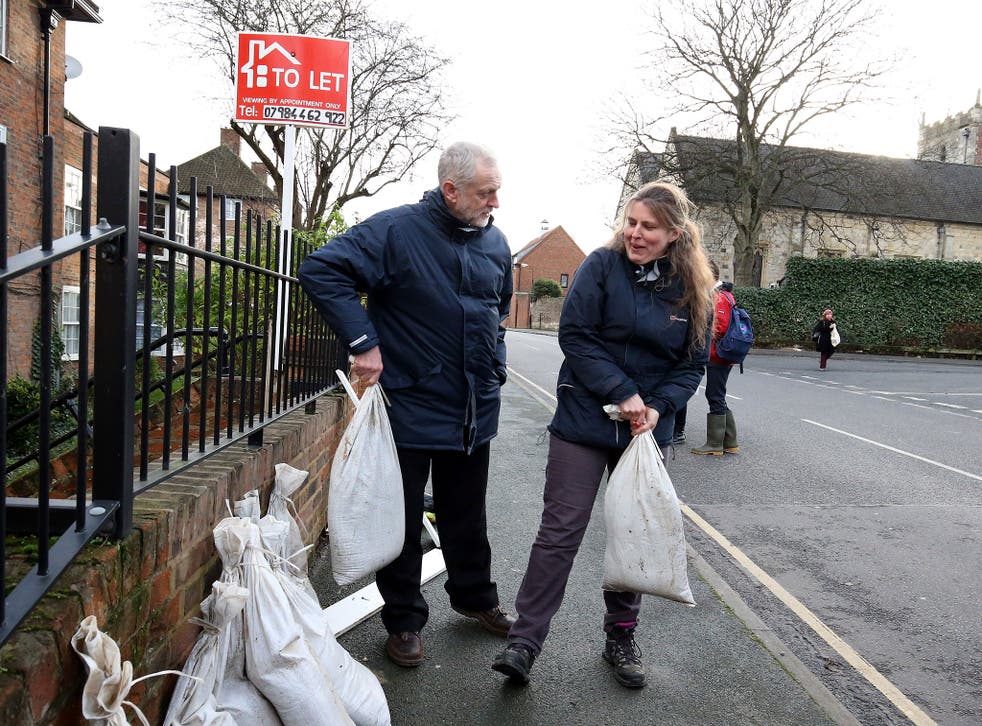 The human cost of the havoc wreaked by Storm Frank has been revealed with confirmation of the first death caused by days of extreme weather.
Police Scotland said the body of a kayaker who got into difficulties on the River Findhorn, near Inverness, had been recovered. Emergency services were called to an area known as Elephant Rock at lunchtime on 30 December, when a member of the public alerted them to a kayaker who was in difficulty navigating the swollen river water. The body of a man in his 50s was recovered from the river on early on 31 December. His family have been told.
Meanwhile, the Environment Agency – with responsibility for England and Wales – came under further criticism for its handling of this month's storms and whether it could have done more to prevent some of the flooding.
Jeremy Corbyn arrived in York on 31 January, where the multi-agency emergency flood response was stood down as river levels no longer posed an imminent threat, and joined local MP Rachael Maskell in lending a hand to residents sandbagging their homes. Speaking ahead of the visit, the Labour leader said he planned to question agency officials about 10 "high volume pumps" his party claims the agency owns but has not deployed to the North.
"I will raise with them why they have failed to deploy these brand new pumps that looks as if they could have helped significantly in alleviating some of the worst impacts of the floods in the north of England," he said.
The Labour leader's criticism comes from an October Environment Agency report in which it says it had bought "10 one cubic metre per second capacity high volume pumps, which have now been received and are being stored at Bradney Depot in Bridgwater, Somerset".
However, a spokesperson for the agency said that all requests for pumps in flood-affected areas have been met with the agency's equipment or that of their contractors.
The 10 new pumps weigh nine tonnes each and are only suitable to be used in specific conditions where they can be supported. One had been sent to Cumbria, with 42 other pumps from other areas sent to the north of England, but as the Somerset levels have pre-prepared locations and hard standing where they can be operated, the remainder have stayed in that county.
An agency spokesperson said: "We have enough pumps in the north of England. We have moved more than 40 pumps and 5,000m of flood barriers from around the country to flood-hit areas in the north, using the quickest and most effective equipment for the conditions those communities were facing."
Asked why he arrived five days after the flooding began, and three days after the Prime Minister was in town, Mr Corbyn said he "didn't want to get in the way".
The Labour leader told residents they had "every right to be angry" after several complained of feeling abandoned by authorities. He praised agency staff for their "superhuman efforts" to protect homes and businesses from floods and called on the Government to review and increase its flood defence spending.
However, Colin Thorne, professor and chair of physical geography, school of geography, Nottingham University, disagreed saying money should be spent more wisely.
He said: "I don't think we need another review: I think we need to accelerate implementation of responses to future flooding identified by the Flood Foresight Projects and envisaged in the comprehensive Catchment Flood Management Plans that have already been worked out for every catchment in England and Wales. That does require investing more money in flood risk management, but the return on this type of investment is a good one - usually the benefit-cost ratio is about 6 to 1.
"We must spend that money wisely though - there is no 'silver bullet' that can prevent flooding entirely."
More than 120 flood warnings and alerts are still in place across the UK, although none of them severe. Further rain forecast on 1 January is not expected to cause more flooding.
Having hit Scotland, Storm Frank served to highlight the difference in flood defence approaches north of the border where they are the responsibility of each local authority, whereas in England and Wales they are the responsibility of the Environment Agency.
Richard Dixon, director of Friends of the Earth Scotland, said the "systematic difference" makes decision-making more locally democratic and councils can be more aware of public mood.
"Flooding is a higher political priority in Scotland," he told the Guardian, although warned of possible recriminations after the shock of floods so much bigger than the country has seen before. "Although the schemes in Scotland are fairly good, the problem at the heart of this is climate change, and what levels of flooding the schemes have been designed to meet. What used to be a one in 200-year flood is now happening much more frequently."
Nicola Sturgeon visited areas in Scotland yesterday/on Thursday where some of the most severe flooding in living memory has hit communities. Dozens of homes were evacuated overnight on Wednesday as flood waters rose, forcing residents to spend the night in temporary accommodation. In Newton Stewart, Dumfries and Galloway, a rest centre was set up at Douglas Ewart High School for residents forced to flee their homes.
Amid yet more heavy rain, Ms Sturgeon said: "The impact is devastating for people, it's absolutely heart-breaking. On the other side of that, the response has been heroic. Emergency services, volunteers, members of the public, the council, are working together. There's a sense here of real community spirit. But there's a long recovery road ahead for some of the people I've been speaking to."
Register for free to continue reading
Registration is a free and easy way to support our truly independent journalism
By registering, you will also enjoy limited access to Premium articles, exclusive newsletters, commenting, and virtual events with our leading journalists
Already have an account? sign in
Register for free to continue reading
Registration is a free and easy way to support our truly independent journalism
By registering, you will also enjoy limited access to Premium articles, exclusive newsletters, commenting, and virtual events with our leading journalists
Already have an account? sign in
Join our new commenting forum
Join thought-provoking conversations, follow other Independent readers and see their replies