Storm Frank moves on - leaving floods and devastation in its wake
No more storms or severe weather warnings in immediate forecast
Samuel Osborne
Wednesday 30 December 2015 22:58 Comments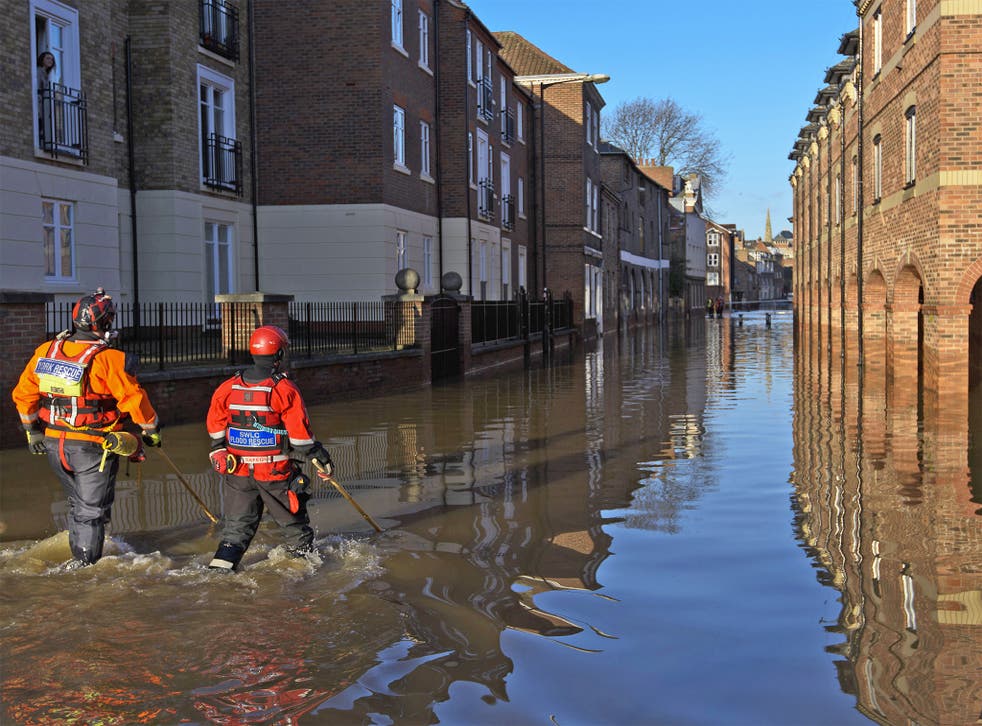 The Met Office has issued no further weather warnings as Storm Frank begins to move on from the UK.
Storm Frank brought heavy rain and strong wings to the UK, leading the Met Office to issue yellow warnings yesterday for large parts of Scotland, North West England and Wales.
In some areas of the UK, there were reports of people looting goods left outside of flooded homes, leading motorcycle clubs to protect Yorkshire homes and businesses which had been evacuted.
But today, the Environment Agency only lists York at medium risk of flooding.
Over the next few days, showers are expected across the country, while the wind should ease overnight.
A statement from the Met Office says: "This evening and overnight to the south of a line from approximately mid Wales to the Humber, rain will continue at times. Showers will follow the rain in northern and western areas.
"Some of these showers will turn wintry with squally winds across Northern Ireland and southwest Scotland for a time this evening before drier weather follows later. The wind should continue to ease overnight."
New Year's Eve and New Year's Day are forecast to be brighter and drier.
"New Year's Eve (Thursday) looks to be a brighter, colder day with sunshine and showers, some heavy with hail and thunder especially during the afternoon. A cold night is then expected with a widespread frost in all parts.
"Many areas should be fine and dry on New Year's Day (Friday), but cloud, rain and strong winds are likely to return from the west over the weekend.
"This very unsettled and occasionally stormy spell was well signalled in our recent three month outlooks and is not unusual for this time of year, indeed this is when climatologically we would expect to have most of our storms."
Analysts have estimated flooding in Northern England could cost over £1.5 billion.
Register for free to continue reading
Registration is a free and easy way to support our truly independent journalism
By registering, you will also enjoy limited access to Premium articles, exclusive newsletters, commenting, and virtual events with our leading journalists
Already have an account? sign in
Join our new commenting forum
Join thought-provoking conversations, follow other Independent readers and see their replies