Street skaters may find their latest moves land them in court – but they are fighting back
Campaigners claim Public Space Protection Orders are 'criminalising young people just for being young'
Serina Sandhu
Saturday 01 August 2015 23:25 Comments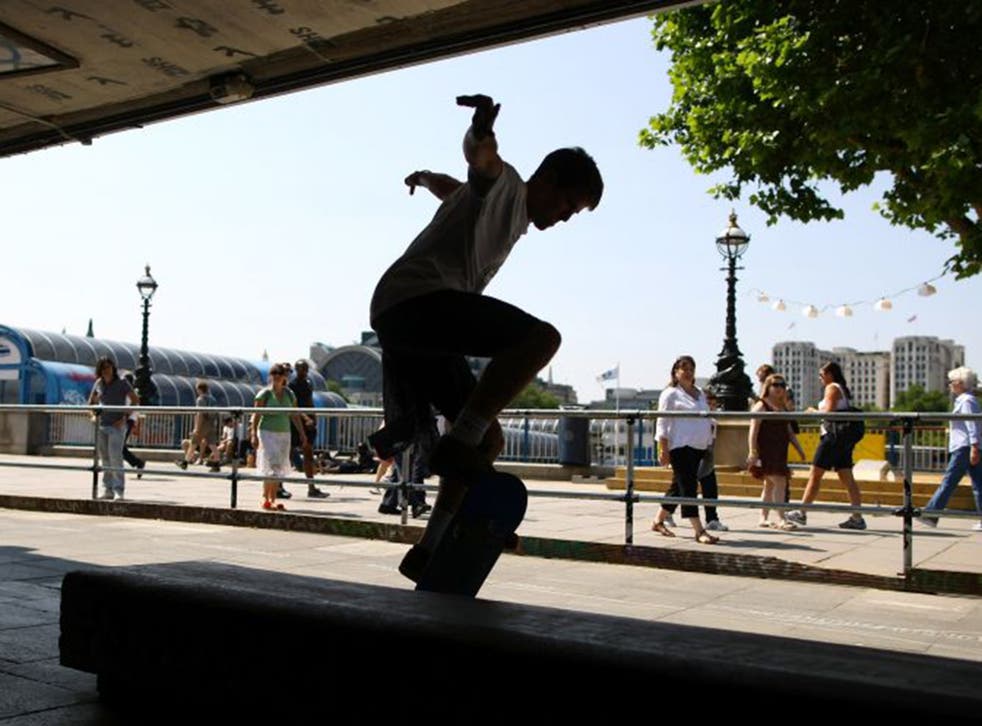 Brett Taylor and his friends get their kicks performing skateboard tricks in the town centre. For the 17-year-old, street skating in Kettering offers a more unpredictable and exciting landscape than purpose-built skate parks. It is also somewhere for his skating "family" to get together. "It's not like we're skating and causing trouble; everyone looks out for each other. It's a unit," he says.
But an increasing number of local authorities are trying to outlaw skateboarding in public spaces using a new breed of control order. Public Spaces Protection Orders (PSPOs), which came into effect in October 2014, can be used to ban any activity councils deem to have a "detrimental effect on the quality of life" of locals.
PSPOs can be used to control where dogs can roam of the lead or prevent street peddling and begging. But critics say they are often used as a way of controlling and criminalising activities and behaviour that are traditionally enjoyed by youth and street skating, which happens in most of Britain's urban centres, is one of them.
Once a PSPO is in place, skateboarding – as well as loitering or simply walking through a certain area at night – can land someone an on-the-spot fine of up to £100. If they are prosecuted and convicted, a fine of up to £1,000 and a criminal record can result.
PSPOs, which can be applied to specific sites such as public car parks or town squares, are much quicker to put in place than by-laws which need to be approved by the Secretary of State for Communities and Local Government. PSPO's can be enforced by a police officer, a police community support officer or a council officer.
Penelope Gibbs, who chairs the Standing Committee for Youth Justice, isn't convinced that all activities targeted by PSPOs are serious enough to require "something as draconian as these laws".
She said: "The law is flawed and it shouldn't be as easy as it is for a council to impose one."
But in one borough at least, the skateboarders are fighting back. Kettering Borough Council has been forced to remove skateboarding from a proposed PSPO after a petition garnered nearly 3,000 signatures. The ban was proposed because boarders allegedly caused "nuisance and damage to the Market Place". For Brett skateboarding is "a way of socialising, keeping us out of trouble" but the council see it more as being trouble so "someone who's having a bit of fun could get a criminal record".
The Kettering PSPO, which still proposes to bar juveniles from the town centre between 11pm and 6am, unfairly targets young people, he added. And Kettering's Chopper Skate Shop was "inundated" with people unhappy about the PSPO, according to co-owner Amanda Healy who helped launch the petition. Skateboarding in public spaces was a positive activity, she said.
"It brings a different vibe, it brings the younger people in … as long as they're not hurting anybody, which they're not, it … should be encouraged. Otherwise you're excluding a certain age group."
A request under Freedom of Information law has revealed that only seven complaints about skateboards were made in seven years.
A meeting of Kettering Borough Council's executive committee scheduled for September will now decide if skateboarding will be permanently removed from the PSPO. The council said it would not comment until after that meeting.
In a second case, Norwich City Council is considering using a PSPO to ban skateboarding in parts of its centre after scrapping a proposed by-law against the activity last November. The council says skating is damaging the city's war memorial and gardens.
A council spokesperson said it was consulting the community about the proposed PSPO. But Norwich's skaters – who helped defeat the by-law by submitting a petition of more than 6,600 people, feel they are being used as a "scapegoat".
London's first indoor skateboard park

Show all 7
"It's mainly a young male thing," said Sam Avery, who works at the skateboarding shop Drug Store. As a result, some perceive it as an "aggressive" activity. Avery is prepared to fight the PSPO. "I don't understand the point ... I think it's just another piece of bureaucracy that is another name for things that already exist … You're already not allowed to damage public property, you're already not allowed to litter".
In Bournemouth, the council wants to outlaw skateboarding in the city's central square. A council member cited "unacceptable" noise and damage to walls as its motivation, and it recently emerged that a woman's arm was broken when she collided with a skater.
Dudley Council also wants a PSPO to ban skating, as well as drinking and graffiti, in one of the West Midland town's car parks.
Josie Appleton, from the campaign group Manifesto Club, said PSPOs were "criminalising young people just for being young".
"I think they're really problematic, primarily because the Government has essentially given councils a blank cheque to create a new crime overnight. The potential for the abuse of them is massive," she said.
Councils viewed "unregulated or spontaneous" activities such as skateboarding as "problematic… and latently antisocial", she said.
Ben Powell, editor of Sidewalk skateboarding magazine, said: "PSPOs seem to be predicated on the erroneous notion that everyone who rides a skateboard … is driven by a desire to cause trouble or annoy people when this is quite evidently not the case. PSPOs may be new but this hounding of the youth from nominally 'public spaces' isn't."
In 2014, the Long Live South Bank (LLSB) group prevented the Southbank Undercroft skate spot from becoming a site for retail units. Paul Richards, a member of LLSB , which has also advised campaigners from Kettering and Norwich, said: "Making something like [skateboarding] illegal sends out a very wrong message to young people and continues the whole process of vilification [and] exclusion.
"If skateboarders – a bit of life and energy in a town square – were evicted, that's to the detriment of that town."
Register for free to continue reading
Registration is a free and easy way to support our truly independent journalism
By registering, you will also enjoy limited access to Premium articles, exclusive newsletters, commenting, and virtual events with our leading journalists
Already have an account? sign in
Join our new commenting forum
Join thought-provoking conversations, follow other Independent readers and see their replies