Strict immigration rules 'drive families apart' by separating British children from their parents
Figures show how restrictions are creating thousands of 'Skype families'
Emily Dugan
Wednesday 09 September 2015 00:10 Comments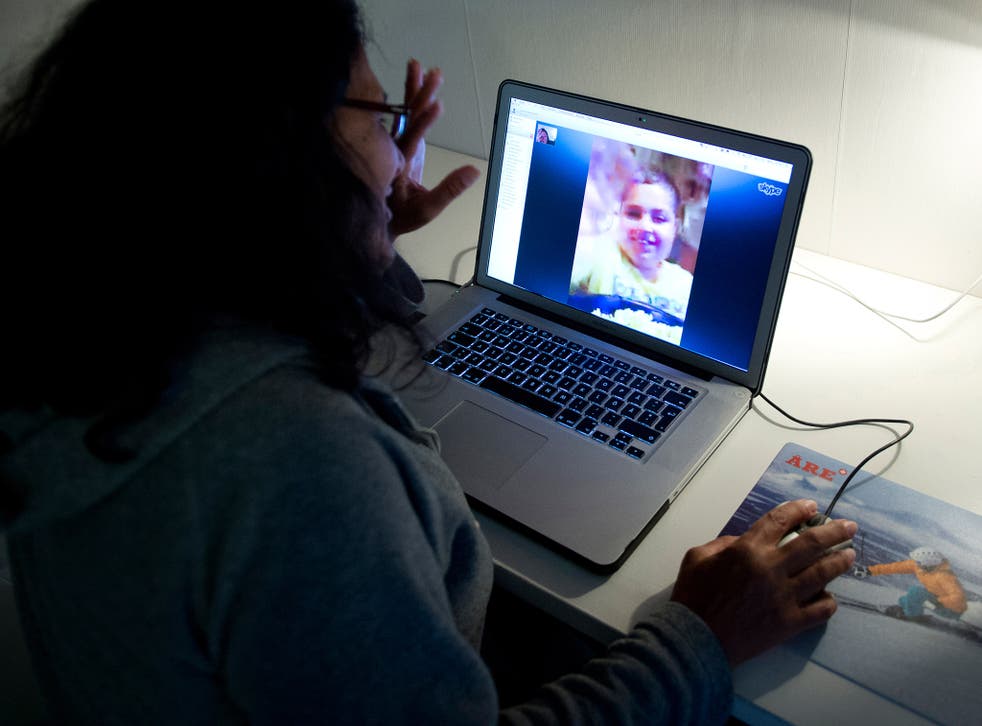 Around 15,000 British children are being forcibly separated from one of their parents because of strict immigration rules introduced by the Coalition, research by the Children's Commissioner for England has found.
Since 2012, only those who earn at least £18,600 a year can sponsor visas for a husband, wife or partner from outside Europe. Researchers found this made Britain the least family-friendly of 38 developed countries for its immigration policies.
The restrictions have created thousands of "Skype families" according to the commissioner, because swathes of children only have contact with one of their parents via the online service. The report charts the extreme distress and anxiety caused to children by the separation. A mother of a six-year-old boy said her son "went from a bubbly little boy to very reserved in the first few months" of being forced to live in another country from his father.
She added: "He was angry at us both but couldn't understand why dad won't want to live with him. He would go from angry kicking out to long periods of cry and thought dad didn't love him. They are still working at rebuilding their relationship and trust."
The mother of a toddler told researchers how much her daughter suffered at being separated from her father. "She wouldn't go to sleep at night, she would scream all the time because he put her to bed quite a lot, so when I tried to put her to bed she was always crying after him to put her to bed. And she stopped eating," she said.
Anne Longfield, Children's Commissioner for England, said she was "very concerned" the 2012 immigration policy "actively drives families apart, and leaves British children able to communicate with one parent only via Skype".
Describing the stress and anxiety they suffer, she said the "inflexible rules" needed to be reconsidered. "We are not talking about having unrestricted access but we need to put the heart back into this policy and consider the profound impact the rules have on this group of British children and their families," she said.
Chai Patel, policy lead at the Migrants Rights Network, which has been campaigning on this issue, said: "Everyone who has been separated from their children and loved ones hopes that the Government will agree to fully review these rules in light of the new evidence from the Children's Commissioner.
"This report highlights that this is not just a problem in the immigration rules, it goes well beyond that. These rules are hugely damaging to families in Britain. The Government now needs to act immediately to prevent further harm to children. The new Immigration Bill which is due to be tabled next week will be an opportunity to address the issues and adopt a fair and measured approach towards genuine families seeking to be reunited."
A Home Office spokesman said: "We welcome those who wish to make a life in the UK with their family, work hard and make a contribution. But family life must not be established here at the taxpayer's expense. That is why we established clear rules for British citizens looking to bring their non-EU spouse to this country, including a minimum income threshold… [which] reflects the income at which a British family generally ceases to be able to access income-related benefits."
Register for free to continue reading
Registration is a free and easy way to support our truly independent journalism
By registering, you will also enjoy limited access to Premium articles, exclusive newsletters, commenting, and virtual events with our leading journalists
Already have an account? sign in
Join our new commenting forum
Join thought-provoking conversations, follow other Independent readers and see their replies