From better lighting to 'safe spaces', students protest across UK to demand action on sexual violence
'This is the time we can talk about this, because this is the time people are listening,' student organiser says. By Zoe Tidman and Darcey Edkins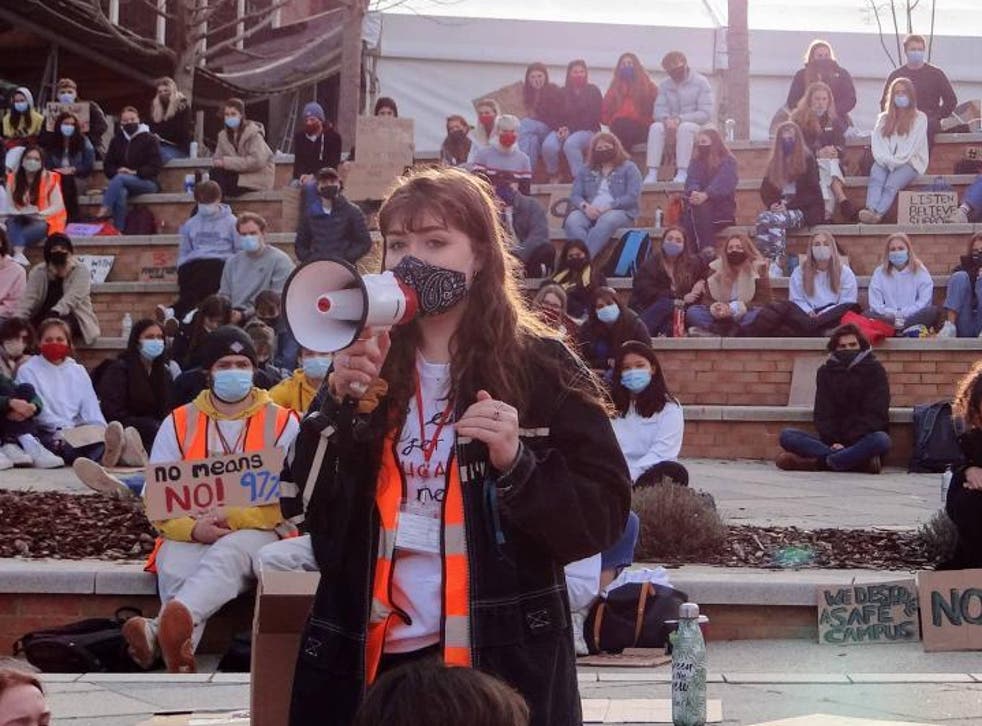 Students across the country have protested against sexual harassment and violence on campus as they call for more to be done to support victims and help women feel safe at university.
Campaigns have taken off after the murder of Sarah Everard, who disappeared while walking home in London earlier this month, which sparked widespread conversations over women's safety.
"People were finally paying attention to the dangers women have to face every day," Alice Orlik, an organiser of a sit-in protest at the University of Exeter, told The Independent.
"We were like, 'This is the time we can talk about this, because this is the time people are listening'."
It also comes as young people have shared thousands of testimonies of sexual abuse on the website Everyone's Invited, many sharing the name of the school or university where abuse happened, or where the perpetrator attended.
Read more:
Ms Orlik estimates around 1,000 people attended a sit-in protest on Exeter's campus last week to raise awareness of sexual assault at university, and which called for more resources towards helping victims of sexual violence, as well as consent workshops at the university.
"Since being here, I've come across many, many people who have been sexually assaulted," the first-year student toldThe Independent.
This includes people who have been assaulted since the start of the academic year, she said, and added that there are "known predators" on campus.
The movement Sit Down N Shut Up, which organises sit-ins to raise awareness of sexual assault at university, was set up when the spotlight was shone on women's safety after Everard's murder, Ms Orlik said.
Over in the Midlands, another campaign group, Reclaim Campus UoB, was launched.
"A lot of the women on campus were feeling really unsafe," Molly Kenyon from the University of Birmingham told The Independent.
She said there were discussions in a women's group chat about experiences they have had on campus, including catcalling, being groped and followed.
Then, she said, the members thought: "Why is no one doing anything about this?"
After getting a group together, they organised a protest against sexual harassment on campus and the surrounding area the next day, which Ms Kenyon estimates saw hundreds attend. "We were not expecting that at all," the first-year said. "But I think it just shows how big this issue is."
Since then, Reclaim Campus UoB has successfully seen the university meet demands to improve safety, including better lighting and security for vehicles coming onto site.
Ms Kenyon said the next step is shaping the mentality around sexual assault – including eradicating victim-blaming – and setting up a co-ordinated national campaign to support women's safety on campus.
"Because this is something that affects every single university campus without fail across the whole country," she adds.
Meanwhile, students at the University of Warwick are holding a sit-in protest to call for more protection for women against sexual violence on campus.
Cai Kennedy, one of the organisers, said they were encouraged to start the protest after hearing stories of assault – and warnings over potential "predators" – shared on Snapchat in the aftermath of Sarah Everard's murder.
Speaking from a sit-in protest on campus, she told The Independent one of the organising groups, Protect Warwick Women, was set up as the organisers were "sick" of hearing stories of sexual assault.
Read more:
"We started it because we were sick of hearing about all these different women that were being assaulted on campus, and all these different men to look out for on campus," the 19-year-old said.
She said: "We've had people before us protesting the same thing. But the university has a tendency not to listen to us. So we wanted to do something that they couldn't ignore."
The sit-in began on 18 March and at its peak, over 400 students were camping out in the middle of campus on the Piazza.
Nearly two weeks later and it is still going strong – with Ms Kennedy telling The Independent it will end when the university "fully agrees" to a list of demands.
Organisers have asked for a revamp in the training of staff and security regarding sexual violence and consent as well as regular, obligatory education and workshops for students.
The demands also include greater protection on campus such as 'signposted safe spaces' that are staffed 24/7 by trained support staff and for the permanent banning of any sexual assaulter from any university or student union-run event, as well as all communal spaces on campus.
The organisers are also urging the university to publish a report each term outlining the number of reports, verdicts and punishments of sexual violence reported by students, among other requests.
The University of Warwick released a statement on 26 March, responding to the demands of the protest movement, and said they welcome the ideas put forward, and that sexual misconduct "will not be tolerated."
"There are many areas where we are in broad agreement and where improvements were already in progress or implemented," it said. "But there are others where they have rightly challenged us to do more – such as engaging more widely on the training we develop, and enhancing the physical safety of campus."
It said organisers of the sit-in have been invited to work with the university through a student advisory group to tackle issues together.
But the organisers vow to continue their sit-in until they are confident that their demands are going to be met by the university.
"I think the thing that's keeping me going is that I've had so many women come forward and thank me for doing this because they have the courage to speak about their own stories and come forward," protester Ms Kennedy told The Independent.
As part of measures to improve safety and wellbeing, the University of Warwick said it is reviewing street lighting, increasing signposting to support around campus and working to further improve training.
In a message to students over safety on campus earlier this month, the University of Birmingham said personal safety was a "community responsibility", which can be helped by "identifying and reporting inappropriate behaviours".
"The university is continuing to invest in enhanced CCTV coverage across the campus, safer walking routes, personal safety campaigns and working with students and through the Guild of Students to tackle sexual harassment and violence in all its forms," it said. 
It added added: "Please remember that whether it is through our Security Services, Wellbeing Teams or the dedicated supporters and responders to reports of sexual harassment and violence, you are not alone and we are here to help."
The University of Exeter has been approached for comment.
Register for free to continue reading
Registration is a free and easy way to support our truly independent journalism
By registering, you will also enjoy limited access to Premium articles, exclusive newsletters, commenting, and virtual events with our leading journalists
Already have an account? sign in
Register for free to continue reading
Registration is a free and easy way to support our truly independent journalism
By registering, you will also enjoy limited access to Premium articles, exclusive newsletters, commenting, and virtual events with our leading journalists
Already have an account? sign in
Join our new commenting forum
Join thought-provoking conversations, follow other Independent readers and see their replies